Meet Jay Inslee, Democratic Presidential Candidate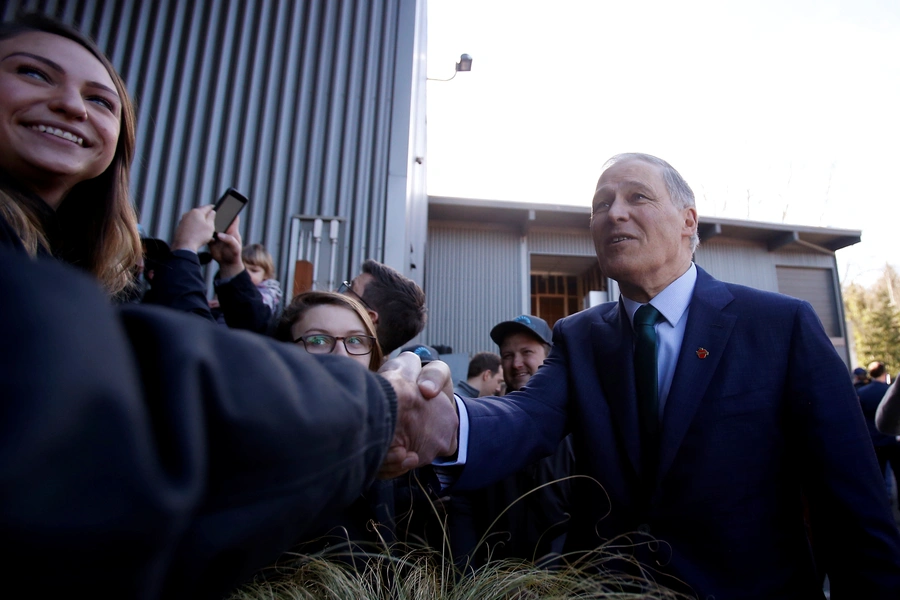 Update: Jay Inslee announced on August 22, 2019, that he was ending his campaign.
The two dozen candidates competing for the Democratic presidential nomination are all hoping to get to Washington. But so far no U.S. president has come from Washington. Governor Jay Inslee hopes to change that. The Washington state native has plenty of experience in the city of Washington. He served nine terms in the U.S. House of Representatives and he did it representing two different congressional districts, one in a rural part of the state and another in suburban Seattle. Inslee is running a somewhat unconventional bid for the White House. Rather than focusing on a range of issues that matter to voters, he's going all-in on one issue: climate change. How well he does will be one indicator of whether climate change has emerged as an issue that drives votes.
The Basics
Name: Jay Robert Inslee
Date of Birth: February 9, 1951
Place of Birth: Seattle, Washington
Religion: Protestant
Political Party: Democratic Party
Marital Status: Married (Trudi)
Children: Three sons (Joe, Jack, and Connor)
Alma Mater: Attended Stanford University; University of Washington (BA); Willamette University School of Law (JD)
Career: Washington State Representative (1989-1993); U.S. Representative (1993-1996; 1999-2012); Governor of Washington (2013-present)
Campaign Website: https://jayinslee.com/
Twitter Handle: @JayInslee
Inslee's Announcement
Inslee used his campaign announcement video to make clear that his presidency would tackle one issue above all: climate change. He calls it "the most urgent challenge of our time."
Inslee is optimistic that Americans can "rise up" and transform the economy to "run on 100 percent clean energy," which will "bring millions of good paying jobs to every community across America."
He did not bring up his plans for U.S. foreign policy.
Inslee's Story
Inslee was born in Seattle. He touts the fact that that he is a "fifth-generation Washingtonian who has lived and worked in urban and rural communities on both sides of the state." His father taught high school—Jimi Hendrix was one of his students—and coached football. His mother worked at Sears. Inslee played basketball in high school. His team made the state championship his senior year.
Stanford was Inslee's original college destination. Financial reasons, however, led him to transfer to the University of Washington, where he graduated with a degree in economics in 1973. Three years later he got his law degree from Willamette University Law School. Inslee then moved to Selah, Washington, a town of about 7,000 people in the south central part of the state, to practice law. Selah is in orchard country, hence, its nickname: Apple Juice Capital of the World.
Inslee's first foray into politics came when he and his wife fought to get a new public high school built in Selah. He was elected in 1989 to serve in the Washington House of Representatives. In 1992, he won a seat in the House of Representatives in the other Washington. His time in the nation's capital was short. He lost his bid for reelection in 1994, as did a lot of Democrats that year. Inslee attributes that defeat to his having voted in favor of a ban on assault weapons. He moved back to Seattle to practice law, lost a gubernatorial bid in 1996, and served a brief stint as regional director for the U.S. Department of Health and Human Services. In January 1999, Inslee was headed back to Washington, DC, having won a seat representing a congressional district covering part of suburban Seattle. He was a good fit for his district. Inslee was reelected seven times. He then won the governorship in 2012 and was reelected in 2016.
Inslee chaired the Democratic Governors Association in 2018, a year in which Democrats picked up seven governorships. That job gave him opportunities to raise his national profile by appearing on the campaign trails and news shows.
Inslee's Message
Inslee sees climate change as his "driving motivation." He rejects the idea, however, that he is running as a single-issue candidate. In his view, climate change is "all-encompassing." It affects economic, health, and national security issues. He also sees climate change as a way to drive economic growth and to connect to the economic anxieties of people in the states critical to beating President Trump.
Inslee contrasts himself to Trump. He describes the president as a "pessimist," while "we are the optimists, we are the can-do people. We don't fear the future, we build it. We don't fear challenge, we embrace it." He equates his call to defeat climate change with JFK's call to put a man on the moon, which he describes as "the bugle of inspiration" that "united the country to a new mission statement."
Inslee's Foreign Policy Views
Inslee focused his congressional efforts on energy and natural resources issues rather than on foreign policy. He voted against the 2002 resolution authorizing the Iraq War, a point he emphasized in subsequent elections.
Like his fellow Democratic presidential candidates, Inslee thinks that Trump's foreign policy choices are hurting the United States. On the first night of the first round of Democratic presidential debates, moderator Chuck Todd asked, "What is the biggest threat—what is—who is the geopolitical threat to the United States?" Inslee answered, "The biggest threat to the security of the United States is Donald Trump. And there's no question about it."
The governor gave perhaps the fullest explanation of his foreign policy views in an address to the Council on Foreign Relations last month in New York. He put climate change front and center in his remarks, calling for "a global climate mobilization" that would make tackling the climate-change challenge "the organizing principle of our entire foreign policy thought process." To that end he has:
proposed twenty-seven separate policy initiatives that you might think of as a full-court press to address this issue and build the international economy. And it only starts—and I want to make this point—it only starts with making sure that we do not leave the Paris Agreement. Obviously, we have not left, as you know. It only starts with that. That is, like, table stakes into the discussion, because we know the Paris Agreement is, frankly, woefully inadequate to the science, and the science demands us to accelerate our efforts dramatically to get this job done.
Inslee calls Trump's withdrawal from the Paris Climate Agreement "a shameful course of action that will jeopardize the health and prosperity of our children and grandchildren." He adds, "The U.S. cannot credibly remain a world leader while withdrawing from an agreement that reflects the overwhelming desire of the global community. President Trump has put our nation on the wrong path, and the wrong side of history." Inslee helped lead the creation of the U.S. Climate Alliance, which coordinates state efforts to implement policies that advance the goals of the Paris Agreement. Inslee's fellow presidential candidate, John Hickenlooper of Colorado, also joined the effort.
Inslee considers climate change to be a national security threat "because it is going to drive mass migrations that destabilize governments around the world," and while "Trump will not listen to his generals. I have, and I have talked to intelligence officials." Indeed, Inslee thinks that:
We have a commander in chief who's AWOL right now on climate change. This is a real national security threat, causing instability around the globe. The last thing we should be doing is using our military bases to ship coal. This would only encourage the further burning of fossil fuels and exacerbate this threat. We are running out of time to act on climate change.
Climate is not the only policy Inslee thinks that Trump has gotten wrong. He also thinks that Trump's trade policies have hurt the economy. He says that "there is no question that we need to make sure that our trading partners abide by their obligations under international trade agreements. But ill-considered tariffs will only hurt Washington companies and other U.S. consumers and industries who rely on competitive access to foreign markets."
Trump's handling of alliances also gets low marks from Inslee: 
He has weakened the United States' national security every way he can by removing the ability to bring alliances to bear on North Korea or Iran or on climate change or in any direct—Venezuela or anything else. He has severely weakened our ability to be effective in protecting international security because he has eliminated virtually every alliance, to have a working relationship with every alliance we have. We are stronger in an alliance against North Korea than singularly. We are stronger in an alliance involving Iran than singularly. And he has made us a single actor. So, he has weakened our ability significantly.
Inslee wants to decrease the risk of nuclear war. He would do so by going beyond trying to reduce the number and type of weapons and to look at regulating how they are maintained:
You cannot continue to have thousands of warheads on a hair trigger and not have, at some point, some accidental discharge. And I believe this is one of the things we have to encourage.... I believe we have to reach international agreements, where you cannot launch without 24-, 48-hour systems, where everyone knows you're heading to the button, so that it allows people to have some discussion before an accidental discharge. There have been two instances in the last 30 years: once when the U.S. believed we were under a full-scale Soviet attack in our command center. And once when the Soviets believed there were six warheads headed toward Moscow. Twice. That's already happened twice. So, I believe we have to change the command and control system where it can't launch within a reasonable period of time, and the world knows you're heading towards a launch."
Trump's refugee policies have also triggered Inslee's ire. He has criticized Trump's travel ban, cuts in the number of refugee admissions, lower funding for UN refugee programs, and closing refugee resettlement offices around the United States. Inslee says he is "proud" that he was the first governor to fight against the travel ban and that his state was the first to sue the Trump administration over the issue.
After Trump ordered air strikes against Syria in April 2018, Inslee wrote a letter to the State Department saying, "While this Administration decries these atrocious attacks against humanity, it still unconscionably condemns Syrians to suffer these atrocities." He added, "It is time for us to renew our American commitment to supporting those in need during a time of crisis." He then tied in his opposition to the travel ban, saying "We could be providing a lifeline, but instead we are turning our back. I urge you to swiftly review and reverse the current policies that are restricting the ability of qualified refugees to be admitted into the United States. This is, after all, about humanity."
More on Inslee
In 2013, Inslee co-wrote Apollo's Fire: Igniting America's Clean Energy Economy with Bracken Hendricks.
The Atlantic looked at the prospect of a campaign focused squarely on climate change, saying "Inslee wants to be the climate guy. But some of the people around him worry that if he is actually going to do this, he can't be only the climate guy—written off as an issue candidate who's not a serious contender to be president."
The New Yorker profiled Inslee, saying he has an "eager and direct manner: his thoughts emerge in lists ("No. 4 is . . .") and his mind moves toward details. And though he has not been a single-issue governor, the case for his Presidential candidacy rests on his decades-long interest in political solutions to climate change."
Ella Nilsen at Vox interviewed Inslee. One of her takeaways? "Inslee is treating climate change like an umbrella issue under which other issues like the economy, health care, and national security also fit."
Rolling Stone also profiled Inslee's candidacy, saying "For someone who's spent his career working on the climate, Inslee is the most unlikely of things: an optimist."
New York Magazine assessed Inslee's chances of running a successful single-issue campaign, saying "the recent precedents aren't great for Inslee or any other single-issue candidate. This approach will, however, make it easier for Inslee to keep his identity separate from that of the other 20 or 30 or 40 presidential aspirants."
Corey Cooper, Brenden Ebertz, and Elizabeth Lordi assisted in the preparation of this post.