Meet Beto O'Rourke, Democratic Presidential Candidate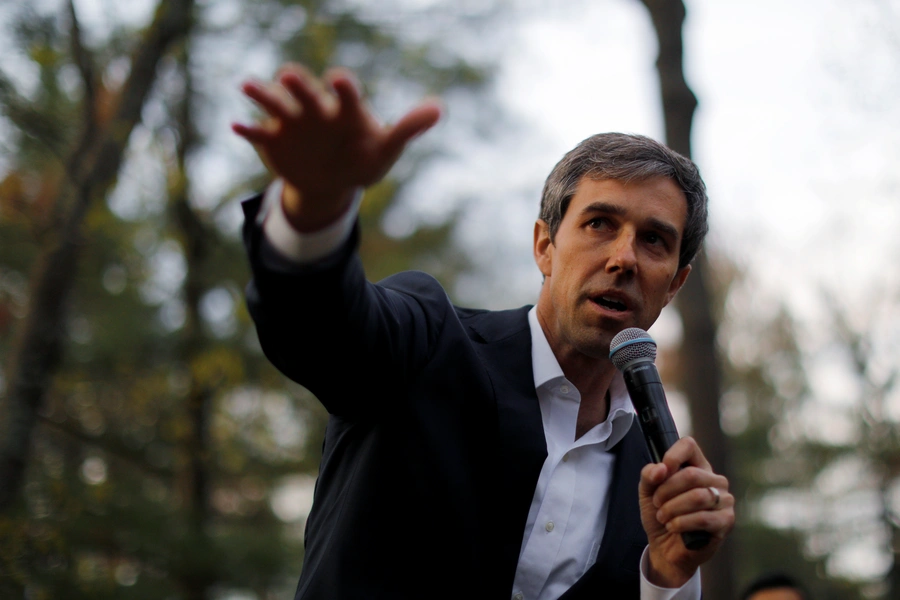 Update: Beto O'Rourke announced on November 1, 2019, that he was ending his campaign.
When Richard Nixon lost California's governor's race in 1962, political pundits declared his dream of becoming president dead. After all, winning presidential candidates usually come off of electoral victories and not electoral defeats. But six years later, Nixon proved the pundits wrong and won the presidency. One Democrat hoping to tap that Nixon magic is Beto O'Rourke. He ran a surprisingly tough campaign in 2018 against incumbent Texas Senator Ted Cruz, sparking talk that deeply red Texas might be turning purple if not blue. O'Rourke came up short in the end, but his strong showing opened up the door to a presidential bid. If O'Rourke does repeat Nixon's feat, he would become the first president since James Garfield to have served in the U.S. House but not also been a governor, senator, or vice president.
The Basics
Name: Robert (Beto) Francis O'Rourke
Date of Birth: September 26, 1972
Place of Birth: El Paso, Texas
Religion: Roman Catholic
Political Party: Democratic Party
Marital Status: Married (Amy Hoover Sanders)
Children: Ulysses (12), Molly (10), and Henry (8)
Alma Mater: Columbia University (BA)
Career: El Paso City Councilmember (2005-2011); U.S. Representative (2013-2019)
Campaign Website: https://betoorourke.com/
Twitter Handle: @BetoORourke
O'Rourke's Announcement
O'Rourke's announced his entry into the presidential race on March 14 by releasing a video on social media. In the video he argued that "the challenges we face right now; the interconnected crises in our economy, our climate, and our democracy have never been greater," adding "they will either consume us or afford us the greatest opportunity to unleash the genius of the United States of America." He also highlighted the need to "reassert our global leadership and end these decades-long wars and be there for everyone woman and man who've served in them."
I am running to serve you as the next president. The challenges we face are the greatest in living memory. No one person can meet them on their own. Only this country can do that, and only if we build a movement that includes all of us. Say you're in: https://t.co/EKLdkVET2u pic.twitter.com/lainXyvG2n

— Beto O'Rourke (@BetoORourke) March 14, 2019
O'Rourke followed up the video release two weeks later with a campaign kickoff event in El Paso. Some 6,000 people turned out for his speech.
Unlike many of his Democratic rivals, O'Rourke discussed foreign policy in his announcement speech:
And when it comes to international leadership—this current administration, responsible for spurning our true friends and alliances forged in sacrifice from the generations before ours, squandering a standing this country has enjoyed for nearly 80 years, must be replaced by an administration that strengthens our historic friendships, earns the respect of the world not just in how we treat people in other countries but how we treat people in our own country and brings the world together around otherwise intractable problems—from building on the Paris agreement to achieve even bolder action on climate, to pursuing nuclear disarmament, to ending our wars and finding peaceful, diplomatic paths forward.
He also addressed the refugee problem at the southern border saying "we must focus on this hemisphere and once again make it a foreign policy priority of this country—we can either address the problems in Central America at our border or help the people of Central America address them at home. This country can once again take its place as the indispensable nation, doing what no other country can, for ourselves and for the world."
O'Rourke's Story
O'Rourke was born in El Paso, Texas. His father was a popular local politician and his mother owned a furniture store. After completing his sophomore year at a high school in El Paso, O'Rourke transferred to Woodberry Forest, an all-male boarding school in Virginia. He then went to Columbia University, where he rowed crew and majored in film before switching to English.
After graduating from Columbia in 1995, O'Rourke moved to Albuquerque. He worked part-time jobs and formed a punk-rock band called the Swedes. He later returned to New York where he nannied for a wealthy Upper West Side family, worked as an art mover, and helped at his uncle's startup Internet-service provider. He moved back to El Paso in 1997, working at his mom's store and playing drums in a band called Sheeps. He also launched his own web-design company, Stanton Street Technology Group, and started an online news magazine about El Paso. After his father was killed in 2001 while riding a bicycle, O'Rourke started an alternative weekly newspaper called Stanton Street. It only lasted fifteen issues, but it sparked his interest in local politics. He won a seat on the El Paso City Council in 2005.
O'Rourke ran for Congress in 2012, defeating an eight-term incumbent. In Congress, O'Rourke was to the right of many of his fellow Democrats.
O'Rourke gained national visibility with his 2018 Senate run. Cruz had defeated his Democratic opponent in 2012 by nearly sixteen percentage points. O'Rourke cut that margin of victory to just two percentage points and raised more than $80 million along the way.
O'Rourke's Message  
O'Rourke is running on optimism about what America can do when it unleashes "the genius" of its people. He says that his campaign is "for everyone in this country, for all of America...no one left behind," and that it is all about bringing people together. He thinks that the key to his success will be his ability "to listen to people, to help bring people together to do something that is thought to be impossible." He is not concerned about finding a clear path to the White House because he knows one is there—"I just feel it." As O'Rourke charts his course he has vowed to run a positive campaign, promising to never "demean or vilify another candidate or really anybody."
O'Rourke said at the start of his campaign that he wanted to highlight El Paso during his travels because "we have something very special here in El Paso, and I'm excited to bring that to this conversation and to share our perspective from the U.S.-Mexico border with the rest of the country." To his horror and the horror of all Americans, El Paso vaulted into the national conversation earlier this month after a white supremacist killed twenty-two people and injured two dozen more at a local Walmart. O'Rourke was in Las Vegas at the time and was visibly (and understandably) shaken as he announced he was suspending his campaigning to return to El Paso. He subsequently said that part of the blame for the shooting lays with President Trump for repeatedly using language that is "promoting racism."
O'Rourke's Foreign Policy Views
O'Rourke believes that "our existential threat is climate change." His first campaign policy proposal was a ten-year, five-trillion-dollar plan that would recommit the United States to the Paris climate agreement and seek to produce zero-net carbon emissions by 2050. The plan had some specifics, like ending government fossil-fuel leases, but it also left unanswered a number of important questions, like whether it would impose a carbon tax. Many climate activists called the plan ambitious, but some complained it was not ambitious enough.
Like many of his Democratic rivals, O'Rourke worries about America's "forever wars." He has pledged to "end the wars that we are in" and vowed that no U.S. troops will be in Afghanistan by the end of his first term. In 2014, he was one of two House Democrats who voted against an aid package for Ukraine, which included $1 billion in loan guarantees and about $150 million in direct U.S. assistance, as well as sanctions on Russian officials. O'Rourke defended his opposition to the aid package on the grounds that a yes vote would have meant "us becoming a participant in yet another war" and that he didn't see how "deepening U.S. military involvement in Ukraine is going to solve that country's problems. I'm not down with more war for the United States." He says that as president he will "support Ukraine's efforts to defend itself against Russian aggression" and stresses that the way to do that is by "helping Ukraine build institutions that will stabilize its democracy" rather than by providing it with military aid. 
More broadly, O'Rourke thinks that the way to avoid forever wars is to take issues of war and peace to Congress. He told Stephen Colbert that "before we send another service member in harm's way" he would get congressional authorization. "It's the only way we stop this country from going to war without end." This formulation overlooks one thing—Congress authorized the very forever wars that O'Rourke, and many Americans, oppose. How to write use-of-force authorization that both empowers and constrains the presidency is a circle that Congress has not yet found a way to square.
O'Rourke would prefer to privilege diplomacy over military operations: "the much tougher but far more important work to do is to lead with diplomacy, holding the card of military involvement as the last resort."
O'Rourke backed the Iran nuclear deal because "without firing a single shot, without sacrificing the life of a single U.S. service member, it was able to stop the country of Iran from pursuing nuclear weapons." He believes that Trump's decision to leave the deal has weakened the United States and made conflict more likely in the future.
O'Rourke's views on trade don't track with those of many self-described progressive Democrats, though they do with Democratic voters more generally. He supports NAFTA. He thinks that after twenty-five years it needed to be updated, but he doesn't think "we had to threaten to leave NAFTA to improve NAFTA." O'Rourke voted to give the Obama administration fast-track authority to negotiate the Trans-Pacific Partnership (TPP), though while he was a member of Congress he never committed to voting for the deal that was struck. He said during his 2018 Senate race that he would have voted against it if it had come to a vote because it didn't do enough to protect worker rights. He says that as president he will not join the successor agreement to TPP "unless we are able to negotiate substantial improvements to protect workers, the environment, and human rights" and get "effective enforcement mechanisms."
O'Rourke opposed Trump's decision to impose tariffs on the import of steel and aluminum as well as his imposition of tariffs on Chinese imports. While acknowledging that Trump has "legitimate" complaints about other countries' trade policies, he doesn't think the United States should "hold other countries of the world accountable…at the expense of our farmers, our growers, our producers, those who are fundamental to the success of the U.S. economy."
More on O'Rourke
O'Rourke co-authored a book in 2011 with El Paso City Representative Susie Byrd, called Dealing Death and Drugs: The Big Business of Dope in the U.S. and Mexico. The book criticizes the War on Drugs and makes the case for decriminalizing marijuana.
Buzzfeed profiled O'Rourke during his 2018 Senate campaign and called him "a prolific, prodigious sweater," adding "Rather than recoiling, his supporters see it as a badge of honor—proof of how relentlessly he's campaigning to win over every voter in the second-largest state in the union."
Vanity Fair profiled O'Rourke as he entered the presidential race and described his lack of specificity on many issues as a strength rather than a weakness because "positions on issues matter, of course, but they aren't everything. Indeed, in the Trump era it may well be that harnessing intense voter passion is more important when facing a bombastic cult of personality who draws on Fox News rage-ratings." The profile also created a bit of a fuss because O'Rourke was quoted as saying "Man, I'm just born to be in it" when talking about the 2020 race. Critics said the comment was presumptuous and suggested male privilege. O'Rourke expressed regret for the remark, which made the magazine's cover.
Just two-and-a-half months after O'Rourke entered the race and with his failure to climb up the polls, the New Yorker asked "Can Beto Bounce Back?" The conclusion was that "the evidence is piling up" that O'Rourke's preference for driving himself from town to town to meet voters and listen to their concerns "will not work on the national level, at least not this year. To have any chance, he must turn to television, where empathy, careful listening, and voracious curiosity are not the coin of the realm."
O'Rourke appeared on a CNN Town Hall in May, replicating for a national audience the more than 150 town halls he had held since announcing his candidacy.
The Washington Post profiled O'Rourke and his wife, Amy, concluding that "they are at once the most modern and most conventional of the families running for president in 2020. They are pioneers of social media, broadcasting much of their lives in real time; affluent, white and traditional—the political equivalent of 'The Truman Show.'"
Politico asked, what is O'Rourke's most distinctive policy position? Its answer: "To be determined. There's no signature issue yet, no single policy proposal sparking his campaign. Convening crowds—and listening to them—is the central thrust of his early presidential bid."
O'Rourke answered eighteen questions for the New York Times. One of the questions was where he would take his first international trip. His answer? "I would go to Mexico, our most important neighbor."
CFR asked O'Rourke twelve foreign policy questions. He cited "shaping the global order following World War II" as America's greatest foreign policy accomplishment since World War II. In contrast, "Our greatest foreign policy mistake was the invasion of Iraq in 2003." 
Corey Cooper and Elizabeth Lordi assisted in the preparation of this post.