Meet Deval Patrick, Democratic Presidential Candidate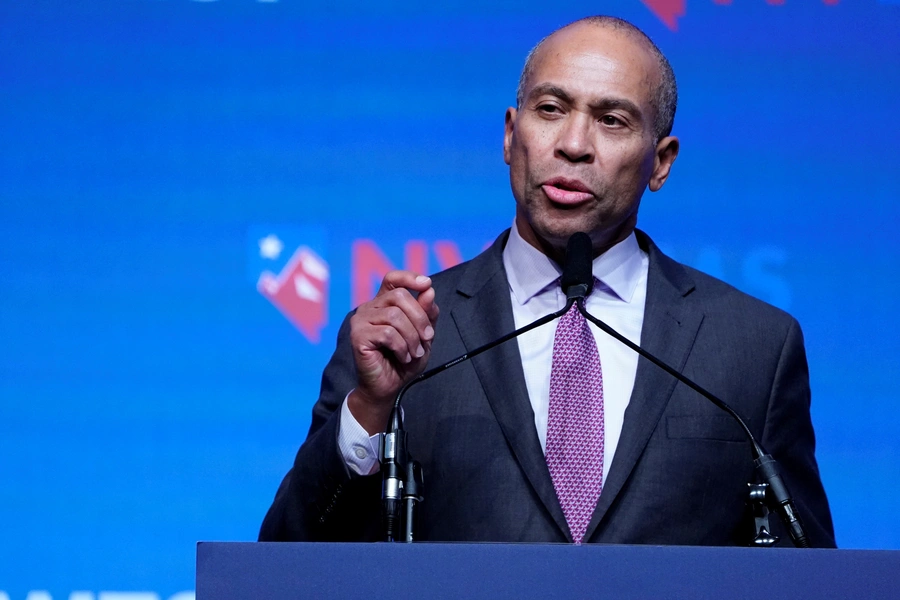 Update: Deval Patrick announced on February 12, 2020, that he was ending his campaign for president.
Deval Patrick is testing the accuracy of the old saying, "Better late than never." Last December the former Massachusetts governor announced he would not run for president in 2020. Among the reasons he gave for sitting out the race was the "cruelty of our elections process." He now says a different reason kept him from running, namely, his wife had been diagnosed with uterine cancer. She is now cancer-free. Just as important, no Democrat is running away with the nomination. Patrick himself acknowledges that his late start means he faces long odds: "If running for president is a Hail Mary under any circumstances, this is like a Hail Mary from two stadiums over." Should that Hail Mary connect, Patrick would become the second African-American president and the first president from the state of Massachusetts since John F. Kennedy. For his part, JFK didn't announce his presidential candidacy until January 1960, just eleven months before Election Day. But that was a different time.
The Basics
Name:  Deval Laurdine Patrick
Date of Birth:  July 31, 1956
Place of Birth:  Chicago, Illinois
Religion: Presbyterian
Political Party: Democrat
Marital Status:  Diane Bemus (m. 1985)
Children: Sarah and Katherine
Alma Mater: Harvard University (BA, JD)
Career: Managing director for Bain Capital (2015-2019), governor of Massachusetts (2007-2015), executive vice president and general counsel for Coca-Cola Company, general counsel for Texaco, assistant U.S. attorney for the Civil Rights Division (1994-1997), lawyer, Legal Defense Fund staffer (1983- 1986)
Campaign Website: https://devalpatrick2020.com/
Twitter Handle: @DevalPatrick
Patrick's Announcement
Patrick announced his presidential campaign on November 14 the way may of his Democratic rivals have; he released a video.
The video tells the story of how Patrick rose from the hardscrabble south side of Chicago to the governorship of the Commonwealth of Massachusetts. He worries that while he has "had a chance to live my American dream," he has "seen the path to that dream gradually closing off bit by bit" for other Americans. Patrick didn't mention foreign policy in the video.
Patrick's Story
Patrick was born and raised on the south side of Chicago. His father was a saxophone player who left the family when Patrick was young to join a jazz group in New York. One of Patrick's middle school teachers recognized his intellectual talent and persuaded his mother to sign him up for a program that sends bright minority students to top high schools. Patrick went on to attend Milton Academy, a prestigious prep school just south of Boston. He later earned both a bachelor's degree and a law degree from Harvard. In between college and law school he spent a year working on a United Nations youth training initiative in the Darfur region of Sudan.
Patrick clerked for a judge on the Ninth Circuit Court of Appeals in  Los Angeles right after law school and then litigated voting-rights and death-penalty cases for the NAACP Legal Defense and Educational Fund. In 1986, he joined the Boston law firm of Hill & Barlow. Eight years later, he moved to the U.S. Department of Justice where he worked as an assistant U.S. attorney in the Civil Rights Division for three years.
Upon returning to Boston, Patrick went to work in the private sector. He served first as Texaco's general counsel and then as general counsel for Coca-Cola. But eventually he turned to politics. In 2005, he launched a race for the governorship. Most political experts at the time dismissed his chances. It is easy to understand why: he wasn't a native of the state; he hadn't held political office before; he didn't have significant name recognition; a popular state attorney general seemingly had the Democratic nomination sewed up; and a Democrat hadn't won the Massachusetts governorship in sixteen years. But by running an old-fashioned campaign that literally had him going door to door to meet voters, Patrick captured the Democratic nomination. He then won 55 percent of the vote in the general election, making him Massachusetts's first black governor and the nation's second. (Virginia's Douglas Wilder was the first in 1989.) He was re-elected 2010, though he won 100,000 fewer votes and just 48 percent of the vote the second time around.
After his governorship ended, Patrick joined Bain Capital, the Boston-based private equity firm that was co-founded by his immediate predecessor as governor, Mitt Romney. Democrats and Republicans have been critical of the firm, accusing it of engaging in "vulture capitalism." Patrick joined to kick start a "social impact investing" platform and raised $350 million for the first fund. In 2018, he described the fund as investing "in companies in order to drive social and environmental impact, and it's part of this impact investing industry or trend." However, Patrick told potential investors he was not planning to run for president. It's not clear what will happen to the fund given that he resigned from Bain Capital to pursue his presidential bid.
Patrick is close friends with former President Barack Obama. Their friendship dates back to the 1990s, before either of them entered politics. They share more than Chicago and Harvard Law School ties. Obama's two top political consultants in 2008, David Axelrod and David Plouffe, were Patrick's top advisors in 2006. Rumors have long abounded that Obama wanted Patrick to run for the presidency. Patrick spoke to Obama the day before Patrick announced his campaign run. The former Massachusetts governor said of the former president: "We both agree he has to remain neutral and wait and see who the nominee is."
Patrick's Message
Patrick's campaign slogan is "Deval for all." It summarizes his goal of creating a "better, more sustainable, more inclusive American dream for the next generation."
Patrick's Foreign Policy
As is perhaps unsurprising for someone whose career has focused on domestic issues, Patrick hasn't said much over the years about foreign policy. He did wade into immigration issues while he was governor. In 2012, he instituted a policy that entitled undocumented immigrants living in Massachusetts to qualify for in-state tuition. He also supported efforts to provide housing to unaccompanied minor migrant children.
Patrick sought to tackle climate change during his time as governor. Under his leadership, Massachusetts joined the Regional Greenhouse Gas Initiative, which aims to use market mechanisms to reduce carbon emissions. He doesn't think, however, that cap-and-trade systems are sufficient to solve climate change.
We sometimes make a mistake in government in arguing that there is only one solution," he said at a recent event at the University of Michigan. "When you consider a challenge as profound as climate change, it feels to me like we have to be doing a lot of different things simultaneously, and to try to get at the problem at a lot of different levels.
Patrick also signed the Green Communities Act as governor, which aimed to decrease greenhouse gas emissions and promote renewable energy.
More on Patrick
Patrick wrote a memoir back in 2011 entitled A Reason to Believe: Lessons from an Improbable Life. Random House's Broadway Books gave him a $1.35 million advance for the book.
The Boston Globe assessed Patrick's two terms as governor back in 2015 and concluded: "The picture of Patrick's legacy that emerged would probably be much more complex than he envisioned that first day overlooking the Common, with some promises fulfilled but others slashed or reshaped by the recession and his rocky relationship with legislators."
Buzzfeed News profiled Patrick when he was considered a potential 2016 presidential candidate. He said "I didn't have to think about it [a presidential campaign] very long. I never ran for governor to be something else."
Last November the New Yorker profiled Patrick's presidential prospects, noting "he is a kind of political heir to Barack Obama, and enjoys broad support from people close to the former President."
The Center for Public wrote up "Nine Things to Know About Deval Patrick," including how in 2007 he repaid the Commonwealth of Massachusetts for using public funds to remodel his office with such things as $10,000 damask drapes.
MassLive recently detailed the ups and downs of Patrick's time as Massachusetts governor.
Earlier this month the Atlantic discussed Patrick's late entry into the presidential race, noting that "with little time, little money, and many potential staff already working for other candidates, a successful Deval Patrick candidacy will require magic of Frank Capra–esque proportions."
During an interview with CBS This Morning, Deval explained why he was running for president. "I'm getting in because I think there's an opportunity right now for big ideas for as big as the challenges we face and in the crafting and development of those ideas to bring us together."
In an interview with WGBH, Patrick emphasized the importance of having a leader who unites Americans instead of dividing them. "We need leadership not just that isn't going to divide us the way the incumbent does, but isn't about dividing us with just better policies attached to it."
Anna Shortridge and Caroline Kantis assisted in the preparation of this post.