Campaign Foreign Policy Roundup: The Fifth Democratic Debate
Each Friday, I look at what the presidential challengers are saying about foreign policy. This week: the Democratic debate, Israeli settlements, China's human rights abuses, and Bolivia.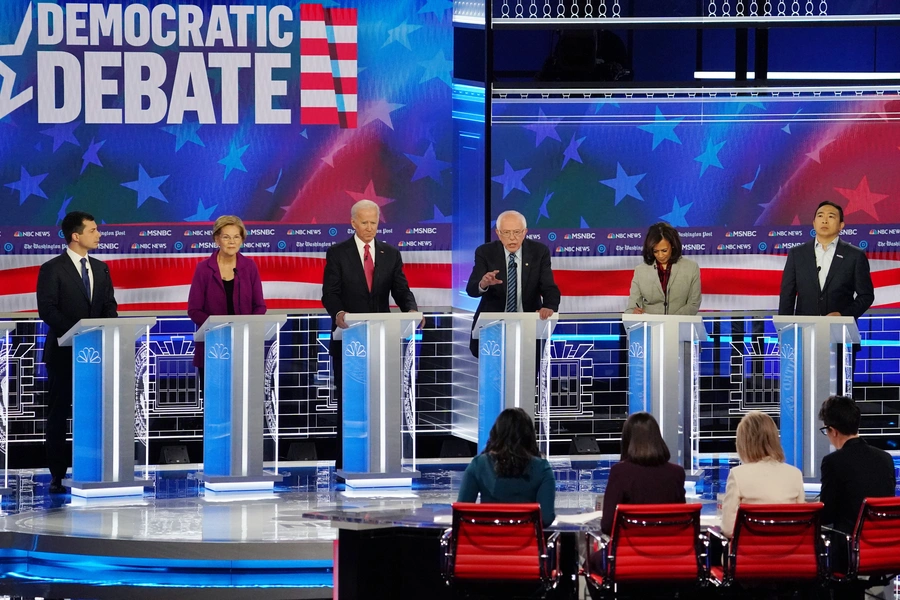 Foreign policy issues got some play in Wednesday night's Democratic debate. One post-debate assessment went so far as to proclaim: "foreign policy makes a comeback." Perhaps. By the New York Times' count, foreign policy garnered more attention than any other substantive issue, logging nearly fifteen minutes of airtime. However, it got less attention than the media's favorite topic, electability, which absorbed more than twenty minutes of discussion. And while the moderators asked smart questions, they generally directed different questions to different candidates. So we learned that Joe Biden intends to make Saudi Arabia "a pariah," that Bernie Sanders is pro-Israel and pro-Palestinian, that Pete Buttigieg would cut defense spending, and that Kamala Harris thinks President Trump was "punked" by Kim Jong-un. But the candidates seldom engaged with each other's views, and the moderators didn't push them to explain how they would translate their aspirations into practical policies.
The one lively foreign policy exchange came at the end of the debate when Tulsi Gabbard criticized Buttigieg for saying he would "send our troops to Mexico to fight the cartels." The Hawaiian congresswoman was referring to a comment the South Bend mayor made at Univision's Democratic presidential forum in California over the weekend after being asked whether he would consider sending U.S. troops to Mexico to confront the drug cartels. Buttigieg answered that "there is a scenario where we could have security cooperation," adding that he would send U.S. troops into combat "only if American lives were on the line and if it was necessary to meet treaty obligations." His campaign later added the additional caveat that he would use military force only as a "last resort." Buttigieg accused Gabbard of taking his comments out of context, which seems like a fair point given the qualifications he tacked onto his original comment. But the more interesting aspect of the exchange is that it highlighted how little attention the Democratic debates, and campaign conversations more generally, have devoted to U.S.-Mexico relations. It just happens to be one of the most important U.S. bilateral relationships.
Israeli Settlements
The Trump administration's announcement this week that it does not believe Israel's West Bank settlements are "per se inconsistent with international law" drew criticism from the Democratic candidates. Biden, for example, issued a statement declaring that "this decision harms the cause of diplomacy, takes us further away from the hope of a two-state solution, and will only further inflame tensions in the region."
Buttigieg hit a similar theme, tweeting: "The Trump administration's statement on West Bank settlements is not only a significant step backward in our efforts to achieve a two-state solution to the Israeli-Palestinian conflict, it is the latest in a pattern of destructive decisions that harm our national interests."
Both Biden and Buttigieg stopped short, however, of calling the settlements illegal under international law. Not so Sanders and Elizabeth Warren. The Vermont senator tweeted:
Israeli settlements in occupied territory are illegal. This is clear from international law and multiple United Nations resolutions. Once again, Mr. Trump is isolating the United States and undermining diplomacy by pandering to his extremist base.
The Massachusetts senator tweeted:
Another blatantly ideological attempt by the Trump administration to distract from its failures in the region. Not only do these settlements violate international law—they make peace harder to achieve. As president, I will reverse this policy and pursue a two state solution.
It's an open question, though, whether a two-state solution will still be viable come January 2021. Indeed, some Middle East experts believe its time has already passed, even if they disagree on the reasons why.
China's Human Rights Abuses
The New York Times published a devastating report on China's internment of its Uighur minority in Xinjiang. The story prompted several Democratic candidates to denounce Beijing's policies. Julián Castro's tweet was typical:
Horrific evidence of the atrocities being committed against the Uighur people. President Trump's silence on this human rights abuse is shameful. We must speak out and restore America's moral leadership.
The challenge, of course, is how to get China to change its behavior. Beijing bristles at what it considers to be interference in its domestic affairs, and as we saw last month when an NBA executive voiced support for the Hong Kong protests, it will use its economic might to stifle criticisms. Further complicating matters is the fact that any president needs China's cooperation on a range of issues. None of the Democratic candidates have so far suggested fresh ideas on how to square that circle.
Bolivia
The ongoing political turmoil in Bolivia also came up at Univision's Democratic presidential forum. Sanders repeated his view that the ouster of Bolivian President Evo Morales amounted to a coup:  
I think Morales did a very good job in alleviating poverty and giving the indigenous people of Bolivia a voice that they never had before. Now we can argue about his going for a fourth term, whether that was a wise thing to do. … But at the end of the day, it was the military who intervened in that process and asked him to leave. When the military intervenes, Jorge, in my view, that's called a "coup."
Andrew Yang declined to characterize whether Morales's ouster constituted a coup. Not so Cory Booker. He argued that debating whether it was or wasn't a coup missed a bigger point:
We have to understand when you call something a coup, it triggers certain things to happen, so let me just tell you what I believe, and let's not get into semantics ... The principle we should be fighting for before arguing over semantics should be going against corruption, dealing with poverty with our neighboring nations and making sure our Latin American countries have robust access to free and fair elections.
Warren tweeted on Monday that "the Bolivian people deserve free and fair elections, as soon as possible."  
Candidates in Their Own Words
Colorado Senator Michael Bennet didn't make the cut for the Atlanta debate. He didn't, however, take the night off. He came to CFR's DC office to lay out his foreign policy vision. He identified his top three priorities as climate change, confronting China's rising power, and countering attacks on democracy. 
Yang sat down with Ian Bremmer to explain his policy proposals. Among other things, the former tech entrepreneur argued that "the Yang Doctrine is number one to end the forever wars. We've been in a constant state of armed conflict for eighteen-plus years, and that's not the way our Constitution is designed. Our Constitution says that it's for Congress to authorize use of force, and it should not be for Congress to abdicate that authority, give it to the executive branch, and then wash their hands of it for a couple of decades."
Joe Sestak penned a piece for the Harvard International Review highlighting the dangers that China's surveillance and 5G technologies pose. He called for the United States to work with like-minded countries to "ban the use of Chinese-made technology in our internet-connected infrastructure, whether they be 5G towers or electrical grids. We must invest in cyber-security far more than we ever have before—even if that means cuts to other defense programs."
Military Times asked Democratic candidates to answer a range of defense and foreign policy questions. Bennet, Biden, Booker, Buttigieg, Castro, Amy Klobuchar, Sanders, Sestak, Tom Steyer, and Warren also provided answers.
Global Americans collected what the Democratic candidates have said about their Latin American policies.
What the Pundits Are Saying
Dan Spokojny, a former foreign service officer, reviewed Warren's plan to rebuild the foreign service. (Yes, she even has a plan for that.) He doesn't think it goes far enough. The problem? Doubling the size of the roughly 8,000-person foreign service, as Warren proposes, "will do little to empower U.S. diplomacy if their hard-earned expertise is not seen as valuable in the policy process." Fixing that problem is easier said than done. Not only is the State Department a deeply damaged institution, as former Deputy Secretary of State Bill Burns recently wrote, lots of cabinet departments have a legitimate say on foreign policy. They won't simply step aside in deference to the State Department.
Campaign Update
Wayne Messam, the major of Miramar, Florida, formally ended his bid for the Democratic presidential nomination. He announced his candidacy back in March, but failed to qualify for any of the Democratic debates.
There are 73 days until the Iowa caucuses and 347 until Election Day.
Margaret Gach helped with the preparation of this post.