Meet John Hickenlooper, Democratic Presidential Candidate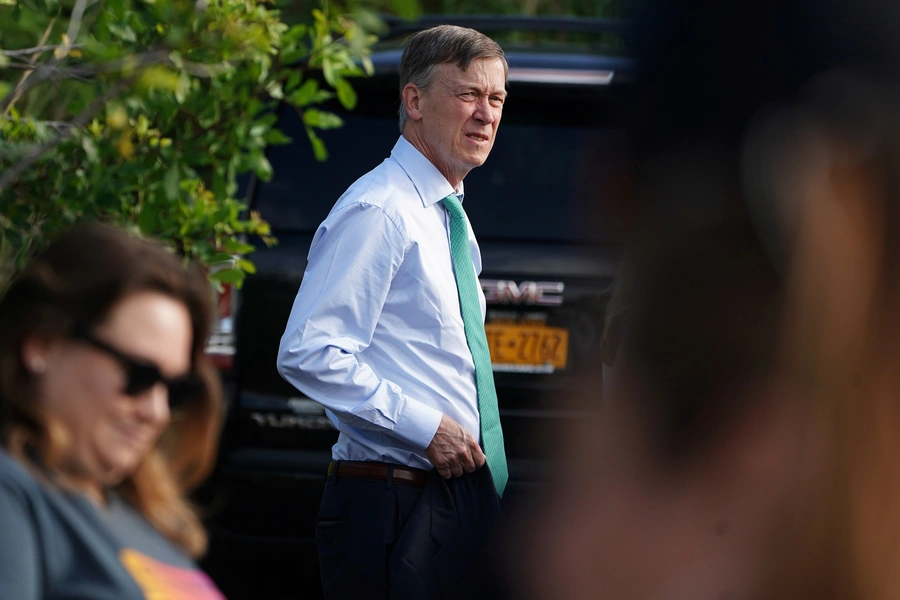 Update: John Hickenlooper announced on August 15, 2019, that he was ending his campaign.
Political strategists often ask whether a presidential candidate is someone a voter would want to have a beer with. In the case of former Governor of Colorado John Hickenlooper, they have a candidate who knows how to make beer. The geologist-turned-entrepreneur-turned-politician made his fortune operating brewpubs. If Hickenlooper succeeds in becoming the forty-sixth president of the United States, he won't be the first to take office with experience in the brewing arts. George Washington had his own recipe for "small beer."  
The Basics
Name: John Wright Hickenlooper Jr.
Date of Birth: February 7, 1952
Place of Birth: Narberth, Pennsylvania
Religion: Quaker
Political Party: Democratic Party
Marital Status: Married (Robin Pringle); Divorced (Helen Thorpe)
Children: One son (Teddy)  
Alma Mater: Wesleyan University (BA, MS)
Career: Geologist; Entrepreneur; Mayor of Denver (2003-2011); Governor of Colorado (2011-2019)
Campaign Website: https://www.hickenlooper.com/
Twitter Handle: @Hickenlooper
Hickenlooper's Announcement
Hickenlooper opened his campaign by saying he's running for president because Americans are "facing a crisis that threatens everything we stand for." The threat? You guessed it, President Donald Trump. Hickenlooper added that "as a skinny kid with Coke bottle glasses and a funny last name, I've stood up to my fair share of bullies."
The governor wants to be known for more than opposing Trump, however. He says his time as mayor of Denver and governor of Colorado shows that he can bring the "progressive change Washington has failed to deliver."
Foreign policy was noticeably, but not surprisingly, absent from the announcement video.
Hickenlooper's Story
Hickenlooper was born in Narberth, Pennsylvania, a suburb of Philadelphia. He is the great-grandson of Andrew Hickenlooper, a Union general in the Civil War, and the grandson of Smith Hickenlooper, a federal judge. Hickenlooper was eight years old when his father died of intestinal cancer. One of the elder Hickenlooper's friends was Kurt Vonnegut. The famed novelist gave the younger Hickenlooper advice he says he took to heart: "Be very careful who you pretend to be, because that's who you're going to be."
Hickenlooper describes himself as a socially awkward child and teenager who had few friends. He suffered from acne, bad eyesight, dyslexia, and prosopagnosia (or face blindness), a condition that makes it difficult to remember familiar faces. He nonetheless managed to get into Wesleyan University in Connecticut. He graduated in 1974, a year ahead of Bill Belichick, the coach of the New England Patriots.
Hickenlooper majored in English as an undergraduate. He then traded in the humanities for the sciences, earning a master's degree at Wesleyan in 1980 in geology. That led him to trade in the East Coast for the Rocky Mountains, moving to Colorado to work in the petroleum industry. He was laid off in 1986. After failing for months to find a new job, he started his own business—a brewpub in a run-down section of Denver. It was the right move. The business—and the neighborhood—flourished. He went on to open fourteen other brewpubs and restaurants across the country.
The geologist-turned-entrepreneur then decided to try his hand at politics. In 2003, he was elected mayor of Denver, a post he held for two terms. In 2005, Time named him one of "The 5 Best Big City Mayors." Hickenlooper is credited with putting the city's finances in the black and for tackling homelessness.
In 2010, Hickenlooper ran for governor and won. Colorado voters re-elected him in 2014. Frequently described as a pro-business Democrat, he oversaw a surge in Colorado's economy during this time in office. Part of Colorado's economic boom owed to the success of hydraulic fracturing, which Hickenlooper supported and which led environment critics to nickname him "Frackenlooper." Hickenlooper opposed as "reckless" the ultimately successful 2012 effort by Colorado voters to legalize the possession of up to one ounce of marijuana for recreational use, just as he had opposed a similar effort by Denver voters six years earlier. He has since softened his stance and says legalizing marijuana use "might work."
Hickenlooper and fellow presidential candidate Michael Bennet have a history. When Hickenlooper was Denver's mayor, Bennet was his chief of staff. When Colorado Senator Ken Salazar resigned in 2009 to become Secretary of the Interior, Hickenlooper was rumored to be the pick to finish his term. Colorado's governor, however, appointed Bennet, who by that time was superintendent of Denver Public Schools.
Hickenlooper's Message
Hickenlooper's campaign pitch can be summarized in two words: "problem solver." When George Stephanopoulos asked the governor what sets him apart from the other candidates, he answered: "I am really the one candidate out there that has a very strong record of bringing people together and getting things done." He regularly points to his success in curbing methane emissions in Colorado, extending healthcare coverage to most Coloradans, and instituting universal background checks for firearms purchases in Colorado.
Hickenlooper calls himself an "extreme moderate." When asked earlier this year about the traction that ambitious ideas like the Green New Deal and Medicare for All were gaining in the Democratic Party, Hickenlooper said "I reject the notion that it should become a litmus test of what it takes to be a good Democrat." At the same time, he thinks, "In many ways, I'm a lot more progressive than a lot of these other folks." Hickenlooper is running on the idea that he can defeat Trump with a progressive brand of pragmatism.
Hickenlooper caused a stir back in March when he refused to call himself a capitalist during an interview on MSNBC's Morning Joe. He said that he did not like labels because "I'm not sure any of them fit." He changed his mind two days later, telling CBS's Face the Nation that he was "happy" to call himself a capitalist. Then in May he penned an op-ed for the Wall Street Journal headlined, "I'm Running to Save Capitalism." He followed that up by telling delegates to the California Democratic Convention in June that "if we want to beat Donald Trump and achieve big progressive goals, socialism is not the answer." The crowd booed.
Hickenlooper's Foreign Policy Views
Hickenlooper has discussed his foreign policy views only in broad terms. He dislikes Trump's approach to the world. The governor believes that we need "to work together as a country" and that we "can't be threatening our closest allies" or "disregarding our top experts," specifically mentioning those in the Department of Homeland Security and the National Security Council. He also thinks that having allies serves U.S. national interests. "We gauge our standing in the world by the number of allies who trust us and stand with us through the worst of times."
The first round of Democratic debates did not give Hickenlooper—or any of the other candidates—much opportunity to discuss foreign policy. The topic barely came up. When moderator Chuck Todd asked all ten candidates "what is the first relationship you would like to reset as president," Hickenlooper and Andrew Yang were the only ones who answered "China." The governor noted that the Chinese "have been cheating and stealing intellectual property," but argued that Beijing's cooperation will be critical if "we are going to deal with all of the challenges of the globe."
Trade is one area where Hickenlooper has experience and developed views. While governor he led trade delegations overseas to drum up business and investments for Colorado. It is not surprising, then, that he says that Trump's use of tariffs has hurt U.S. industries and left "large numbers of our citizens worse off." Last September, he co-wrote a letter with Ohio Governor John Kasich that laid out his objections:
We appreciate the desire to revise and seek updated, fair and equitable trade agreements. However, we strongly urge our negotiators to address these opportunities without closing markets, imposing tariffs or enacting government regulations that threaten to negatively affect our manufacturers and agricultural producers, as well as the businesses and rural communities so dependent upon their profitability.
Hickenlooper sees climate change as "a defining challenge of our time." After Trump announced in 2017 that the United States would withdraw from the Paris climate agreement, Hickenlooper signed an executive order committing Colorado to join the U.S. Climate Alliance, a group of states committed to upholding the Paris Agreement's goals. At the signing ceremony, Hickenlooper said that Colorado will "tap into this market force that is already moving" and accelerate work toward climate goals "regardless of what the federal government decides to do."
That said, Hickenlooper is not a fan of the Green New Deal, at least not in form that Sen. Edward Markey (D-MA) and Rep. Alexandria Ocasio-Cortez (D-NY) advanced earlier this year. While agreeing that a massive federal effort to reduce carbon emissions and develop clean energy is needed, Hickenlooper thinks that the Markey/Ocasio-Cortez approach sets unachievable goals, relies too much on government, and addresses too many issues unrelated to climate change. Hickenlooper's preferred version of a Green New Deal would: 
also involve historic federal investments and incentives in electric storage, modern transmission and science to nurture the industries that will serve as the pillars of the clean economy we need to save our planet. The federal government also must play a very active role through smart regulation and well-calibrated tax policy to shape the markets in which these firms compete.
Hickenlooper repeated his criticism of the Green New Deal at the first Democratic presidential debate.
More on Hickenlooper
In 2016, Hickenlooper wrote a memoir, The Opposite of Woe: My Life in Beer and Politics. One of the stories he tells there is how he took his mother to the movie Deep Throat because he did not know what X-rated meant.
The New Yorker profiled Hickenlooper in 2012 when he was a governor tackling social issues in a swing state, saying "The cautious moderate has become a liberal hero" because of his efforts to tighten guns laws in the wake of the Aurora, Colorado mass shooting and his support for same-sex marriage.
Before Hickenlooper formally joined the Democratic presidential race, the Denver Post assessed his chances and asked whether he would be bold enough to make it to Oval Office: "Colorado political observers also are wondering whether the cautious, consensus-building approach that has marked his governorship is too timid for the national stage or whether it's just what the United States needs after the chaos of the Trump administration."
James Hohmann at the Washington Post speculated that Hickenlooper's entrance "should be viewed as the opening salvo in a broader battle to pull the center of gravity in the Democratic debate back toward the middle and to emphasize the importance of electability if President Trump is going to be defeated in 2020."
Politico characterized Hickenlooper as a down-to-earth person willing to pick up a broken glass and to admit he's "not the smartest guy out there," but then wondered whether those same traits might keep him from winning the nomination.
Corey Cooper, Elizabeth Lordi, and Brenden Ebertz assisted in the preparation of this post.