Meet Joe Biden, Democratic Presidential Candidate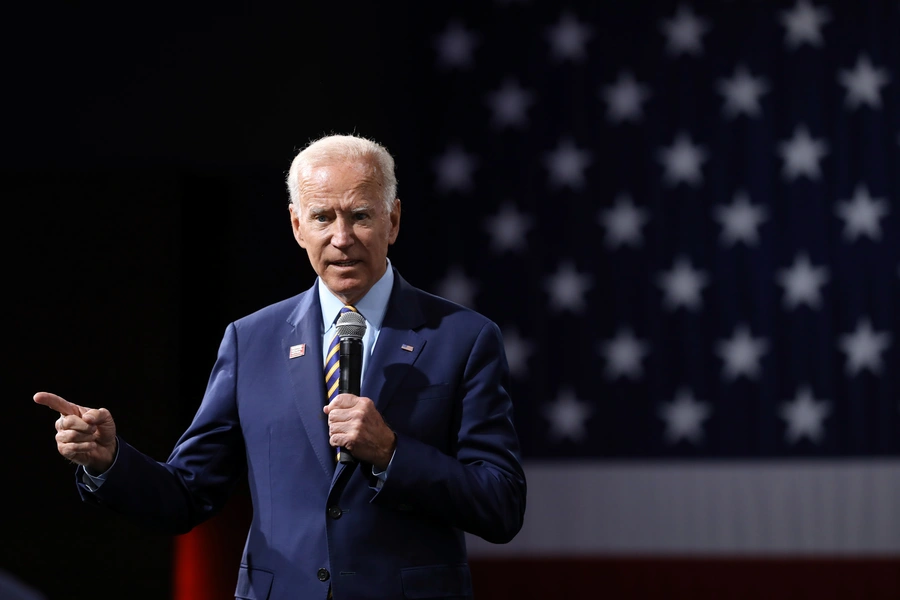 Is the third time really the charm? Former Vice President Joe Biden certainly hopes so. He first threw his hat in the ring for the 1988 Democratic nomination but ended up dropping out of the race months before the Iowa caucuses—then, as now, the first official nominating event—because of charges that he had plagiarized from a British politician's speech and exaggerated his own accomplishments. He tried again two decades later. He stuck around until the Iowa caucuses, but finished fifth and dropped out of the race. If Biden does win next November, he will become only the third vice president in one hundred and eighty years to become president by election rather than by the death or resignation of the sitting president. Richard Nixon and George H.W. Bush are the other two.
The Basics
Name: Joseph Robinette Biden Jr.
Date of Birth: November 20, 1942
Place of Birth: Scranton, Pennsylvania
Religion: Roman Catholic
Political Party: Democratic Party
Marital Status: Married (Jill Jacobs); previously married to Neilia Hunter (died in 1972)
Children: Joseph "Beau" (died in 2015 at age 46); Robert Hunter (49), Naomi (died in 1972 at age 1); and Ashley (37),  
Alma Mater: University of Delaware (BA); Syracuse University (JD)
Career: Lawyer; U.S. Senator (1973–2008), U.S. Vice President (2009–2017)
Campaign Website: https://joebiden.com/
Twitter Handle: @JoeBiden
Biden's Announcement
Biden announced his candidacy on April 25 by releasing a video. Building on an argument he first laid out in an op-ed he wrote after the neo-Nazi rally in Charlottesville in 2017, he recounted America's values and argued that President Donald Trump posed a "threat to this nation…unlike any I have ever seen in my lifetime." Biden went on to say that "everything that has made America America is at stake" in November 2020.
Notably missing from the announcement video was any mention of foreign policy.
Biden's Story
Biden was born in Scranton, Pennsylvania. When he was ten, his father moved the family to Claymont, Delaware. Biden played football and baseball in high school, and was also a good student. He studied history and political science at the University of Delaware, where he also played football. He then earned a law degree at Syracuse University. Biden says that "during my adolescent and college years, men and women were changing the country—Martin Luther King, Jr., John F. Kennedy, Robert Kennedy—and I was swept up in their eloquence, their conviction, the sheer size of their improbable dreams."
After getting his law degree, Biden moved to Wilmington, Delaware to practice law. He jumped into politics in 1970 and he won a seat on the Newcastle County Council. Two years later, he became the fifth-youngest person ever elected to the Senate. He was twenty-nine on Election Day; he hit the constitutionally mandated minimum of thirty years of age thirteen days later.
Biden liked life in the Senate, and Delaware voters liked having him there. They re-elected him five times. His thirty-six years and thirteen days of service make him the eighteenth longest serving senator in U.S. history. Part of his appeal to his constituents was that he commuted daily between Wilmington and Washington on Amtrak rather than move to the nation's capital. That trip on the Acela, Amtrak's fastest train, takes about eighty minutes each way if everything goes according to plan, which as anyone who takes Amtrak knows, often isn't the case.
During his six terms in the Senate, Biden chaired both the Senate Judiciary Committee (1987-95) and the Senate Foreign Relations Committee (2001-2003 and 2007-2009).
When Barack Obama announced Biden as his running mate in 2008, he said of Biden: "He's an expert on foreign policy whose heart and values are rooted firmly in the middle class. He has stared down dictators and spoken out for America's cops and firefighters. He is uniquely suited to be my partner as we work to put our country back on track."
Biden's professional successes have come against a backdrop of tragic personal losses. Weeks after winning his first Senate election, Biden's wife, Neilia, and his one-year-old daughter Naomi, were killed in a car accident that also injured his young sons, Beau and Hunter. As an adult, Beau was diagnosed with brain cancer and died in 2015.
Biden's Message
Biden's 2020 campaign slogan is "Our Best Days Still Lie Ahead." He argues that Election 2020 is a battle for the "soul of America." He believes that "history will look back on four years of this president, and all he embraces, as aberrant moment in time." However, if Trump wins reelection, "he will forever and fundamentally alter the character of this nation." Lest anyone miss the point, Biden has labeled Trump as an "existential threat" to the nation.
Biden's Foreign Policy Views
Biden has been involved in national politics and foreign affairs since he took his first oath of office as U.S. senator back in January 1973 as a thirty-year old. A thorough discussion of the foreign policy positions he has taken would fill books. A sense of his worldview can be seen in the votes he cast during his thirty-six years in the Senate: War Powers Resolution (for); Panama Canal treaties (for); funding for the Contras (against); INF Treaty (for): Gulf War (against); NAFTA (for); permanent normal trading relations with China (for); creation of the World Trade Organization (for); Comprehensive Test Ban Treaty (for); post-9/11 military authorization (for); and the Iraq War (for). In all, Biden charted a mainstream, liberal internationalist approach to foreign policy. That, of course, is precisely the foreign policy that Trump ran against.
As might be expected from someone with traditional foreign policy views, Biden wants to turn the clock back on Trump's America First. In an address to the Munich Security Conference back in February, the former vice president stressed restoring U.S. foreign policy. He criticized the Trump administration's approach to transatlantic relations and offered his firm support for NATO and the European Union. Noting the rifts that had developed between the United States and many of its allies, Biden said that "this too shall pass" and that the United States "will be back" to its position of global leadership.
The restoration theme ran through the foreign policy speech Biden delivered in July. As part of his "blueprint" for repairing what he called "the damage wrought by" America First, Biden vowed to pursue a "forward-thinking foreign policy." He would restore U.S. membership in agreements like the Iran nuclear deal and the Paris climate agreement, as well repair relations with America's closest friends and allies. Biden also pledged to convene a summit of the world's democracies during his first year in office "to put strengthening democracy back on the global stage." A challenge that Biden would face in enacting his foreign policy vision is one that haunts any restoration effort—the damage that has been done may not be reparable.
Biden says he would take a tougher line on Russia than the Trump administration has. Writing on the pages of Foreign Affairs last year, he argued that "the Russian government is brazenly assaulting the foundations of Western democracy around the world." Biden's proposed solution is U.S. global leadership: "The United States must lead its democratic allies and partners in increasing their resilience, expanding their capabilities to defend against Russian subversion, and rooting out the Kremlin's networks of malign influence." That said, Biden thinks that "Washington must keep the channels of communication open with Moscow. At the height of the Cold War, American and Soviet leaders recognized that, whatever their differences, they could not afford a miscalculation that might lead to war. They had to keep talking. The same is true today."
Biden has not taken a similarly tough line on China. He made news back in May when he dismissed claims that China poses a serious economic threat to the United States, saying: "China is going to eat our lunch? Come on, man…. They're not competition for us." At a subsequent campaign stop in Iowa, Biden turned to a time-tested congressional maneuver: he revised and extended his remarks. He admitted that "we are in a competition with China. We need to get tough with China. They are a serious challenge to us, and in some areas a real threat." Biden went on to note that Trump's tariffs were "exacerbating the challenge" facing the United States. He argued that the United States would be better served by focusing its efforts on improving its domestic economy to outcompete China.
Although restoration looks to be a guiding theme of Biden's foreign policy, he is seemingly lukewarm on reviving the Trans-Pacific Partnership (TPP) as a way to compete with China. Although he supported TPP while a member of the Obama administration, he now says that he would not rejoin it "as it was initially put forward." He instead wants to renegotiate it, and "to make sure that there's no one sitting at that table doing the deal unless environmentalists are there and labor is there." More broadly, Biden has borrowed language from the protectionist playbook as he has tried to rebrand himself as something other than the free-trader he was while in the Senate and the Vice President's office. Back in May he told reporters:
I'm a fair trader. That's why I've been arguing for a long time that we should treat other countries the way in which they treat us, which is, particularly as it relates to China: If they want to trade here, they're going to be under the same rules.
Has Biden truly abandoned the trade views he championed for more than forty years? Or has he merely had a convenient campaign conversion? One piece of evidence for the latter position is that he has repeatedly and correctly pointed out that the United States stands to lose a lot if it walks away from trade agreements:
When it comes to trade, either we're going to write the rules of the road for the world or China is–and not in a way that advances our values. That's what happened when we backed out of TPP–we put China in the driver's seat. That's not good for our national security or for our workers. TPP wasn't perfect but the idea behind it was a good one: to unite countries around high standards for workers, the environment, intellectual property, and transparency, and use our collective weight to curb China's excesses. 
That phrasing suggests that Biden, more so than say, Bernie Sanders or Elizabeth Warren, would look for a way to get trade deals done.
Of course, striking trade deals and getting others to join a collaborative effort to pressure China would require making concessions as well as demands. Those concessions would likely alienate some voting blocs. In what looks to be a bid to reassure supporters, and one that probably would be a smart thing to do on the merits, Biden says he "would not sign any new trade deal until we have made major investments in our workers and infrastructure." 
Like most of his Democratic rivals, Biden says he "would bring American combat troops in Afghanistan home during my first term." That doesn't mean, however, that he has pledged to take all U.S. troops out of Afghanistan. In virtually the same breath as his promise to withdraw troops, Biden admits he may maintain a "residual U.S. military presence in Afghanistan" that would focus "only on counterterrorism operations." His reason for the caveat is understandable, especially after what he witnessed when the Obama administration withdrew U.S. troops from Iraq:
We need to be clear-eyed about our limited enduring security interests in the region: We cannot allow the remnants of Al Qa'ida in Afghanistan and Pakistan to reconstitute, and we must destroy the Islamic State presence in the region. Americans are rightly weary of our longest war; I am, too. But we must end the war responsibly, in a manner that ensures we both guard against threats to our Homeland and never have to go back.
The problem, of course, is that counterterrorism operations could end up looking a lot like current U.S. military operations in Afghanistan.
Biden has also joined with his fellow Democratic candidates in calling for an end to U.S. support for the Saudi-led war in Yemen. He also wants to reassess the U.S. relationship with Saudi Arabia, especially in the aftermath of the brutal murder of journalist Jamal Khashoggi. Biden says he would stand up to Saudi Arabia: "I would want to hear how Saudi Arabia intends to change its approach to work with a more responsible U.S. administration." This approach is consistent with Biden's broader complaint that Trump has abandoned traditional U.S. support for human rights and instead pursued a "love affair" with dictators: "I just don't know why this administration seems to feel the need to coddle autocrats and dictators from Putin to Kim Jong Un to Duterte." 
Speaking of dictators, Biden favors taking a harder line against Nicolas Maduro:
The violence in Venezuela today against peaceful protesters is criminal. Maduro's regime is responsible for incredible suffering. The U.S. must stand with the National Assembly & Guaidó in their efforts to restore democracy through legitimate, internationally monitored elections.
Biden wants the United States to enforce "stronger multilateral sanctions" against Maduro's supporters of the regime. He has also called for Temporary Protected Status (TPS) for Venezuelans currently in the United States and for more support to countries caring for Venezuelans who have fled abroad.
Biden has joined with other Democrats in calling for major steps to combat climate change. Besides rejoining the Paris Climate Accord, he proposes to lead "a diplomatic initiative to get every nation to go beyond their initial commitment." His $1.7 trillion climate change plan would, among other things, prohibit the Overseas Private Investment Corporation (OPIC), the Export-Import Bank, and the International Development Finance Corporation from financing coal-fired power plants in developing countries. Biden says his goal is to get the United States to net-zero emissions by 2050.
More on Biden
Biden wrote Promise Me, Dad: A Year of Hope, Hardship, and Purpose in 2017. It reflects on the year that he spent carrying out his vice presidential duties while dealing with his son Beau's losing struggle with brain cancer. Biden's other book, Promises to Keep: On Life and Politics, which he wrote before running for the 2008 Democratic presidential nomination, is a traditional political memoir.
In January, POLITICO Magazine detailed the personal tragedies that Biden has endured with the death of his wife and infant daughter in a 1972 car accident and the 2015 death of his son Beau from a rare form of brain cancer.
The New Yorker argued in April that Biden "is going all in on the old conventional wisdom, which is that Presidential elections four years into a Presidency are almost always referendums on the incumbent, and this incumbent presents a very large target."
POLITICO Magazine wrote back in June about what it called the "Two-Biden Problem," saying that "during his long career, he [Biden] has frequently engaged with controversial issues—from busing to judges to abortion to crime. In doing so, he's tried to push for the most liberal position that could still appeal to a majority of voters. The danger for Biden is that this story leaves him open to the charge that he was never all that liberal in the first place."
Back in June the New York Times examined Biden's first presidential campaign in the 1980s, calling it a "calamity."
The New York Times Magazine profiled Biden in July and asked whether Democrats would embrace Biden's effort "to take America back to a time before Trump."
Biden answered eleven questions from the New York Times on executive power. In response to a question about the limits of any presidential war power, he answered, "As is well established and as the Department of Justice has articulated across several administrations, the Constitution vests the President, as Commander in Chief and Chief Executive, with the power to direct limited U.S. military operations abroad without prior Congressional approval when those operations serve important U.S. interests and are of a limited nature, scope, and duration.
CFR asked Biden twelve foreign policy questions. When asked to name America's greatest foreign policy accomplishment since World War II, he said it "was the work of the United States and our western allies to rebuild after a devastating global conflict." He said that biggest mistake the United States has made since World War II "was President Trump's decision to withdraw from the Paris Climate Accord. Climate change is an existential threat. If we don't get this right, nothing else matters."
Corey Cooper, Brenden Ebertz, Elizabeth Lordi, and Anna Shortridge assisted in the preparation of this post.