Meet Joe Walsh, Republican Presidential Candidate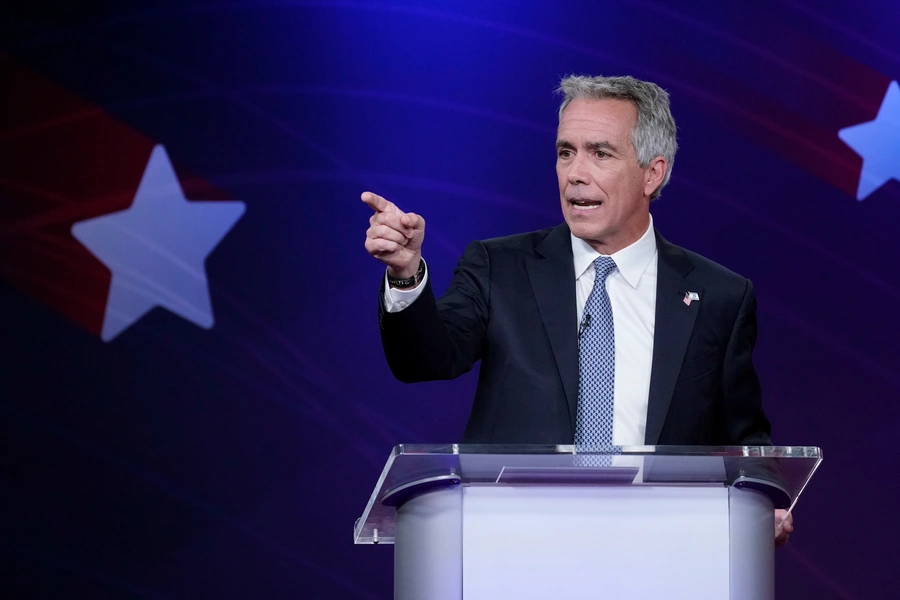 Buyer's remorse. That is perhaps the best description of the situation that former Illinois Congressman and radio talk show host Joe Walsh finds himself in. Back in 2016, he championed Donald Trump's presidential bid, going so far as to tweet that he would "grab his musket" if Trump wasn't elected. But now he thinks the president is "a madman," someone who is "completely unfit and unhinged." The result is what Walsh admits is a longshot bid to win the Republican presidential nomination. Should he defy the odds, he would become the first graduate of a Big Ten university to be elected president, though not the first graduate of a Big Ten university to become president.
The Basics
Name: William Joseph "Joe" Walsh
Date of Birth: December 27, 1961
Place of Birth: North Barrington, Illinois
Religion: Roman Catholic
Political Party: Republican
Marital Status: Married (Helen Miller)
Children: Three children and two step children
Alma mater: University of Iowa (BA), University of Chicago (MPP)
Career: Conservative talk show host (2013-2019), U.S. Representative (2011-2013)
Campaign Website:  http://www.joewalsh.org/
Twitter Handle: @WalshFreedom
Walsh's Story
Walsh was one of nine children born into a conservative Irish-Catholic family in a far northern suburb of Chicago. In 1980, he graduated from Barrington High School, where he was senior class president. He started his college career at Grinnell College in Grinnell, Iowa. In 1982, he transferred sixty-five miles down I-80 to the University of Iowa, where he eventually earned a bachelor's degree in English. In 1991, he added a master's degree in public policy from the University of Chicago. In between degrees, he tried his hand at acting and studied at the Lee Strasberg Theatre and Film Institute in New York City. Walsh has also worked as a teacher, fundraiser, and financier.
Walsh first ran for Congress in 1996. He positioned himself as "open and tolerant," not "some right-wing conservative," and he supported abortion rights and gun control. He lost by twenty-six points. Two years later, he set his eyes on a seat in the Illinois State Legislature. He lost again.
The third time, however, was the charm. In 2010, Walsh rode the Tea Party wave to a seat in the U.S. House of Representatives. Unlike his two state races, in his congressional race he staked out hardline conservative views. Most notably, he abandoned his pro-life stance, saying that after seven years of prayer he had become pro-life without exception. Even then, he won by just 290 votes out of the more than 200,000 votes cast.
Walsh's stint in Washington was brief. He lost by ten percentage points to Tammy Duckworth, a double amputee veteran of the Iraq war who is now Illinois's junior senator. Walsh lost in part because redistricting made his district friendlier to a Democratic candidate. But he was also hurt by his own behavior, which included failing to make his child support payments and shouting at his constituents. Democrats persuaded the rock guitarist Joe Walsh, who recorded the classic Rocky Mountain Way before joining the Eagles, to criticize his political namesake.
With Washington in the rearview mirror, Walsh began a new career as a conservative radio talk show host. The Joe Walsh Show debuted on a local Chicago station in 2013. The show gradually added new markets and became syndicated in 2017. Walsh championed the "birther" conspiracy theory on his show and pushed the equally false claim that President Obama is secretly a Muslim. Once Walsh announced his presidential candidacy, his network canceled the show.
Walsh cites Trump's press conference in Helsinki in July 2018 as the breaking point for his support for the president. Walsh says that by siding with Russian President Vladimir Putin over the U.S. intelligence community, the president made it clear he did not care about the Constitution and wasn't ready to defend U.S. interests.
Walsh's Announcement
Walsh announced his candidacy during an interview on ABC's This Week. He was blunt about why he entered the race: "I'm running against Trump because he's morally unfit. Period. It's about Trump. It's not about the issues. It's about Trump." Walsh also apologized for supporting Trump's candidacy and for pushing the myth that Obama is secretly a Muslim. He admitted that he never believed the story he pushed so hard on his radio show.
Walsh released an announcement video in conjunction with his appearance on This Week:
Other than making a brief reference to Trump siding with Putin over the U.S. intelligence community, the video doesn't discuss foreign policy—or any issues for that matter.
Walsh's Message
Walsh's campaign slogan is "Be Brave." He sees the election as a referendum on Trump rather than a contest of policy ideas.
Walsh's Foreign Policy Views
Unsurprisingly for a candidate who says the 2020 campaign is about Trump's character rather than his policies, Walsh hasn't said much about foreign policy. He is a fan of free trade and a critic of Trump's trade policy. He argues that Trump has pursued an erratic policy that is triggering a slowdown in investment and hurting the American middle-class. Walsh has pledged to undo the tariffs Trump has imposed.
Like most other presidential challengers, and the president himself, Walsh supports bringing U.S. troops home from Afghanistan.
Walsh has vowed to be "more pro-Israel" than Trump. The former congressman opposes the two-state solution for settling the Israeli-Palestinian conflict, dismissing the idea as "insanity." He also supports Israel's right to annex the West Bank, with the Palestinians living there given "limited voting power."
Walsh says that "humans have played a role in climate change and that the Republican Party needs to acknowledge that a warming planet is a problem." Before his personal epiphany on Trump, Walsh applauded the president's decision to cut federal spending on climate change research.
Walsh supports building a wall and tightening border security. He views asylum as an issue separate from the border wall and says he does not want to separate families at the border. He thinks that stronger border security is necessary to prevent "terrible diseases from overtaking" the United States.
More on Walsh
In 2018, Walsh appeared on Showtime's "Who is America?" The political satire has Walsh endorsing an "intensive three-week Kinderguardian course" that "introduces specially selected children from 12 to 4 years old to pistols, rifles, semiautomatics, and a rudimentary knowledge of mortars. In less than a month—less than a month—a first-grader can become a first grenade-er." The video ends with Walsh saying, "Happy shooting, kids." Walsh claims that the show's star, Sacha Baron Cohen, tricked him into uttering those lines.
Walsh wrote an op-ed for the New York Times back in August in which he made the "case for President Trump to face a Republican primary challenger."
New York magazine interviewed Walsh back in September. He admitted he was "stunned and disappointed that a bigger Republican isn't challenging" Trump.
The Center for Public Integrity compiled "9 Things to Know About Joe Walsh."
The Hill compiled "5 controversial things Joe Walsh has said."
Walsh answered eleven questions from the New York Times on executive power. In response to a question about the limits of any presidential war power, he answered: "On the matter of the military and use of force, our founders assigned to Congress the power to declare war and to support the military, as a means to ensure that the President could not abuse his role as Commander-in-Chief. This balance reflects very practical logic: Through our elected representatives, we, the people, should have a say before we use military force overseas, imperil the lives of our men and women in uniform, and spend taxpayer money on expensive wars."
Anna Shortridge and Caroline Kantis assisted in the preparation of this post.