#MeToo Hits the Humanitarian Aid Sector: Time to Close the Accountability Gap
Recent allegations of sexual abuse in Syria illuminate the difficulty of holding aid workers accountable for sexual crimes in war zones. As the humanitarian aid sector faces its own #metoo moment, the United Nations should set a standard in the sector.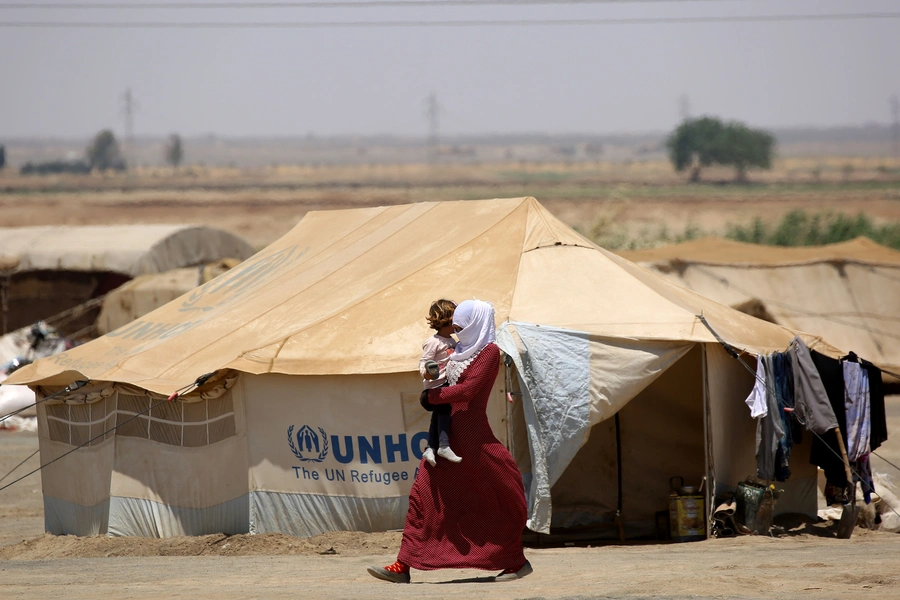 This post is co-authored by Maiya Moncino, research associate for international economics, at the Council on Foreign Relations. 
With recent allegations against staff at Oxfam and Medecins Sans Frontier (MSF), the international aid sector is currently experiencing a #MeToo movement of its own, part of a wider global movement. Reports of sexual misconduct by employees of these nongovernmental organizations in the humanitarian aid sector come in the wake of criticism of the United Nations, whose response to disturbing reports of sexual abuse by blue helmets was viewed as sluggish and inadequate. The latest chapter is a report from war-torn Syria, where women have reported being exploited by local men delivering humanitarian aid.
A new report by the United Nations Population Fund (UNFPA), "Voices from Syria 2018," documents evidence of men demanding sex for aid from numerous women who have sought humanitarian assistance in southern Syria. The Syrian women involved allege they were coerced into marrying local officials for brief periods, providing "sexual services" in exchange for necessities like food. Aid distributors reportedly asked for the phone numbers of women they were helping or offered rides home "in exchange for services, such as spending a night with them."
According to BBC, the abuse has become so widespread that some women are foregoing aid—not only for fear of abuse—but also based on anxiety that their reputations would be tarred, as neighbors may assume any woman who receives aid has done so in return for sexual favors.
Reports of sexual abuse in the humanitarian aid sector raise a new and troublesome dimension of the concerns highlighted by the #MeToo movement. And these problems have now surfaced at several levels—with allegations of abuse by UN peacekeepers (for example in 2013 and 2014) as well as more recently reports by staff at non-governmental organizations such as Oxfam and MSF and now by local aid workers in Syria. These reports raise serious questions of accountability.
The Voices of Syria report surveyed victims of sexual abuse without identifying particular perpetrators, so the data collected could only identify the broad problem rather than pinpoint specific individuals who are committing these acts. This, combined with the fact that these abuses are taking place in a war zone, makes it particularly difficult to isolate and address the offending individuals. Women in war zones are particularly vulnerable to abuse because they have little to no legal recourse locally, where women's rights protections and rule of law are fragile even in the best of times. It is therefore the responsibility of humanitarian aid organizations to develop processes that prevent such sexual crimes and to hold future perpetrators accountable for their acts.
Past efforts to prevent such abuses have been insufficient. In Syria, reports of sexual abuses have been swirling for years, with little intervention. They were first brought to international attention in March 2015 by Danielle Spencer, an aid worker in a Jordanian refugee camp who heard stories of sexual abuse from Syrian refugees at the camp. In June of that year, the International Rescue Committee (IRC) conducted a survey of 190 women and girls in southern Syria, finding that as many as 40 percent of those surveyed reported experiencing sexual violence while accessing services that included humanitarian aid. (The IRC report itself is not public, but the BBC and other news outlets have reported on its findings.)
"Sexual exploitation and abuse of women and girls has been ignored," said Spencer. "Somewhere there has been a decision made that it is OK for women's bodies to continue to be used, abused, violated in order for aid to be delivered for a larger group of people."
Humanitarian aid organizations have taken differing approaches towards preventing these abuses. CARE, an aid agency that operates in southern Syria, has discontinued using local contractors to distribute aid in the region following reports of abuse. Oxfam and MSF have also begun to take steps to clean up their own institutions. MSF fired 19 people last year, who were found to have committed sexual harassment or abuse. Oxfam has committed to implementing stronger vetting procedures for senior staff, instituting a whistle-blowing hotline, and addressing legal barriers to sharing information about ex-employees' sexual misconduct with other organizations in the humanitarian sector. The UN has a strict code of conduct, which includes a zero tolerance policy on sexual abuse and exploitation.
While each organization in the humanitarian sector should be developing its own tailored processes for addressing this issue, it falls to the UN to set a standard.
According to a 2003 bulletin issued by then-UN Secretary-General Kofi Annan on special measures for protection from sexual exploitation and sexual abuse, the UN's policies on sexual misconduct potentially cover even non-UN entities or individuals with whom the UN has cooperative arrangements. The 2003 bulletin states that "failure by those entities or individuals to take preventive measures against sexual exploitation or sexual abuse, to investigate allegations thereof, or to take corrective action when sexual exploitation or sexual abuse has occurred, shall constitute grounds for termination of any cooperative arrangement with the United Nations."
Yet, even with this code of conduct in place, UNHCR spokesman Andrea Mahecic claimed that the UN can do little do prevent abuses, noting that "the mere suggestion that the UN can somehow control the situation in a war zone and the implied conclusion that we can somehow turn this on and off is rather simplistic," continuing on to say that "it is disconnected from the reality of what an aid operation looks like in an open and fierce conflict."
As CBS News Reports, "in spite of the new U.N. Population Fund report, UNICEF and other UN agencies told the BBC that they have yet to receive credible reports of partner organizations being accused of exploitation, and UNFPA stressed that it does not distribute aid via local councils in Syria." While disclaiming knowledge of sexual abuse by the UN's own local contractors, nonetheless, UN agencies have tried to put in place mechanisms to address such abuse. Following the 2015 reports of abuse, UNICEF conducted a review of local partners in southern Syria and began work on a community-based complaints mechanism to alert management to abuses.
And the UN could look to other solutions to closing the accountability gap. The organization Justice Rapid Response (JRR), partnering with UN Women, is investigating acts of sexual and gender-based violence as international crimes. JRR experts have been deployed for sixty-nine missions in Syria and Iraq and are the subject of a documentary, Evidence of Hope. Though JRR cannot bring immediate justice to these women, by documenting the acts of violence, they can bring hope of future prosecutions.
In addition, as part of UN Secretary-General Antonio Guterres' effort to stop sexual harassment within the UN, a new and confidential "Speak Up" hotline has been set up, where trained personnel field calls from victims twenty-four hours per day. The hotline appears to be designed for accusations internal to the UN workforce, but is a good step and potential model for advancing its zero tolerance approach.
The accountability gap plagues the humanitarian aid sector and deeply undercuts trust in it as a whole. Yet, as countries around the world strategize solutions to sexual harassment, violence, and abuse, it is time that the United Nations and other humanitarian aid organizations lead the charge in addressing such abuse on their watch.