Mexico's Midterm Elections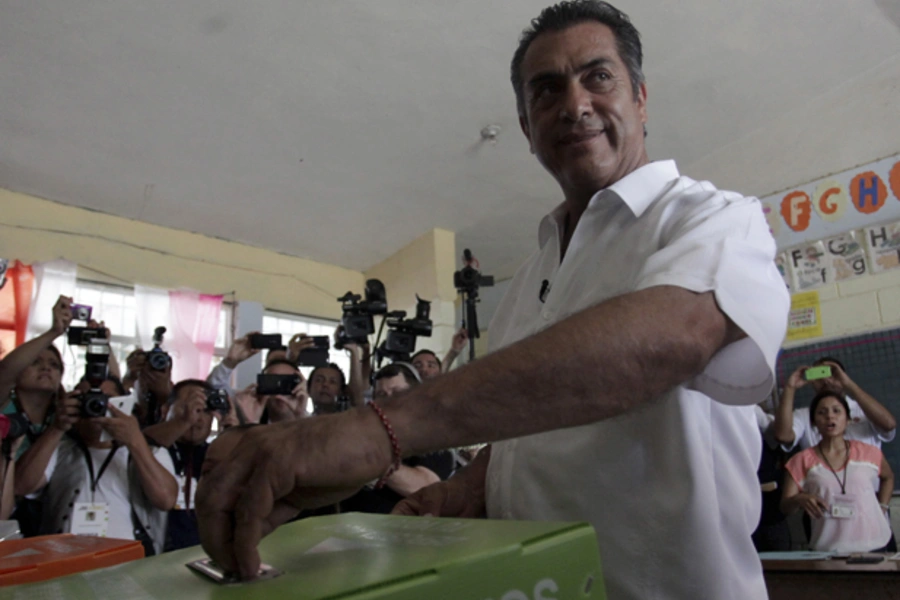 Yesterday, Mexicans headed to the polls to vote for 500 federal deputies, 17 state legislatures, 9 governors, and more than 300 mayors. Corruption and security dominated many local discussions. And both new and old tactics emerged to influence votes. On the positive side, IMCO, a Mexican think tank led a 3 for 3 campaign, asking candidates to disclose their assets, potential conflicts of interests, and proof of paid taxes. While fewer than 400 of thousands of candidates participated, the effort and demand are a start toward greater transparency and accountability.
Less encouraging, violence spiked in the lead up to elections. Several candidates and many campaign activists were murdered on the campaign trail. In the states of Chiapas, Guerrero, and Oaxaca protestors—many led by the CNTE teacher union—stole, burned, or disappeared ballot boxes. And in the week before the elections the Partido Revolucionario Institucional (PRI)-led administration decided to make the final push from analog to digital television, handing out free TVs to potential voters. Still in the end, the National Electoral Institute (INE) and the special prosecutor for electoral crimes (FEPADE) found that less than one percent of polling sites had been disrupted.
The biggest news was in Nuevo León, where independent candidate Jaime Rodríguez "El Bronco" beat out the PRI's Ivonne Álvarez for governor, garnering half of all votes. El Bronco benefited from his colorful rhetoric, bad behavior on the part of the current PRI governor Rodrigo Medina and his family, and general dissatisfaction with the establishment parties. The PRI and the Partido de la Revolución Democrática (PRD) split the governorships in violence-torn Michoacán and Guerrero, the former electing Silvano Aureoles (PRD) and the latter Héctor Astudillo (PRI) for six year terms.
In Mexico's capital, home to over twenty million citizens, preliminary results indicate the PRD took six of Mexico City's delegations, one more than offshoot party Morena headed by Andrés Manuel López Obrador. The PRI won three delegations and the Partido Acción Nacional (PAN) won two. Morena also beat out the PRD for control of Mexico City's legislative assembly.
At the federal level, the PRI and its Green and New Alliance party allies won somewhere between 246 and 263 seats, giving it a near to slight majority in the lower house. An internally divided PAN, the left's split, and a recovering economy helped maintain the status quo.
It is likely the coming days will bring numerous challenges to individual races, testing the somewhat new INE's and the electoral court's (TEPJF) ability to adjudicate fairly and strengthen their independence and authority. It is also unlikely that the PRI's victories—assuming they hold—will jumpstart a government battered by corruption scandals, low approval ratings, and strong-armed by a teacher's union. And the implementation of its many structural reforms—education, telecommunications, financial, antitrust, and energy among others—hang in the balance.