Morning Brief: Tech Leaders Assist Undocumented College Students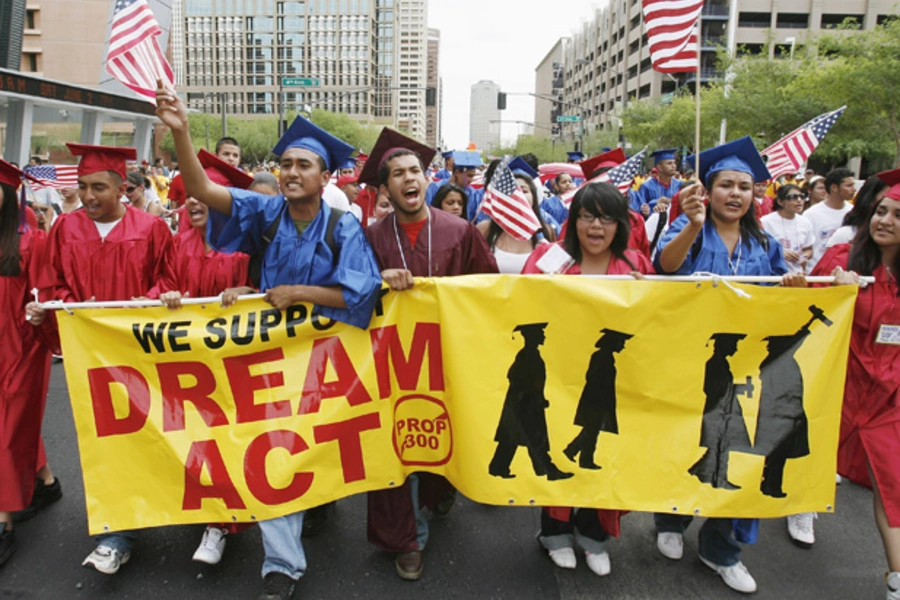 The Wall Street Journal reports that Silicon Valley leaders recently donated hundreds of thousands of dollars to Educators for Fair Consideration (E4FC). E4FC provides scholarships, career advice, and legal service to college students who were brought to the United States illegally as children. The uptick in donations was inspired by the failure of the DREAM Act, the proposed federal legislation that would make these students and others eligible for permanent residence and citizenship.
This CFR Backgrounder provides an overview of the immigration policies proposed by President Obama and his potential Republican competitors. CFR's 2009 Independent Task Force on U.S. Immigration Policy, chaired by Jeb Bush and Thomas F. McLarty III, recommends policies with three goals: reform of legal immigration to improve efficiency and U.S. competitiveness; effective enforcement of immigration laws; and a fair, humane, and orderly way to deal with migrants illegally living in the United States.
Education and human capital. Read more from experts discussing ways to improve U.S. education and immigration policies.
International Trade and Investment
Congress Passes Anti-Subsidy Legislation
Congress passed a bipartisan measure to allow the U.S. Commerce Department to continue imposing countervailing duties on subsidized goods from non-market economies (Reuters). While antidumping duties apply to goods sold below "fair value," countervailing duties (CVDs) apply to goods that are subsidized. Both duties are legal under WTO rules, but a federal appeals court ruled in December that CVDs could not be used against non-market economies like China. The bill would overturn this ruling. The China Daily quotes former Chinese officials advocating a tough stance against this policy.
International Trade and Investment. Read more from leading analysts on the debate over next steps in U.S. trade policy.
Innovation
Technological Innovation Requires Integrative Thinking
To continue to be the world's innovation leader, the United States must develop "integrative thinkers" who can creatively approach problems in business, science and technology. This is the argument of Merck's executive vice president of human resources, Mirian Graddick-Weir, in the Harvard Business Review's Blog. She sees the K-12 education system as the main problem in achieving this end—particularly science education's current focus on memorizing facts rather than understanding large, interconnected concepts—and suggests that business leaders provide a clear vision for improving education. Merck's non-profit organization, the Merck Institute for Science Education, provides an example of how businesses can invest in public education through public/private partnerships.
Innovation. Read more on how the U.S. capacity to innovate could play a chief role in economic growth.
Corporate Regulation and Taxation
Company Size is Not Related to Job Growth
A recent survey of American firms found that after adjusting for the age of firms, there is no correlation between company size and job growth (The Economist). The claim that small business are the economy's "jobs engine" rests primarily upon start-ups—which create jobs when they come into existence—but most are small and either remain small or fail. Big firms often are more efficient due to their larger size; European manufacturers with over 250 workers are 30-40 percent more productive than firms with fewer than ten. In considering changes to tax and regulatory policy to raise employment, politicians should focus on the growth potential of firms rather than their size, says the Economist.
Corporate regulation and taxation. Read more from top economists and business experts on solutions for addressing corporate tax reform.