Nationalism and the China-Japan Island Disputes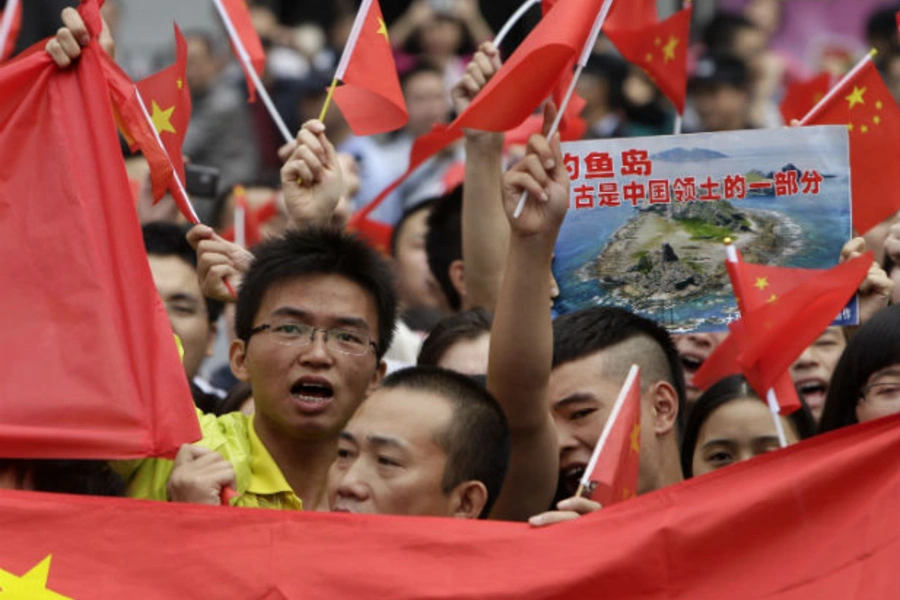 Professor Yinan He, an expert on Sino-Japanese relations, offers her assessment on the ongoing crisis over the disputed Diaoyu/Senkaku Islands.
In the past week mass protests against Japan's nationalization of the disputed Diaoyu/Senkaku Islands have swept Chinese cities across both coastal and inland areas, unprecedented since 2005 when many Chinese took to the streets to oppose Japan's revision of history textbooks that whitewashed its wartime aggression. Since then, the damage has been slowly mended thanks to years of painstaking diplomatic efforts on both sides. But in no time things have been pushed back to square one—or even worse. Both long-standing historical grievances powered by nationalist indoctrination and the emerging shift of power in the region account for the new escalation of tension.
It all seems to have started in April when the hawkish governor of Tokyo, Ishihara Shintaro, made a bid to purchase the islands. The central government then stepped in with a nationalization deal. But attentive watchers of Sino-Japanese relations can find deeper roots of the recent crisis. One may point to the previous flare-up two years ago as a trigger for Ishihara's move. In that incident Tokyo attempted to prosecute the captain of a Chinese fishing boat that collided with Japanese Coast Guard ships near the islands, but ultimately submitted to Beijing's high-handed diplomacy.
A more profound cause of mutual animosity is the decades of nationalist preaching in both countries about a traumatic war they fought from 1937 to 1945, as explained in my book. In an effort to salvage the weakened legitimacy of the Communist regime, patriotic propaganda emphasizing Japanese wartime atrocities and heroic Chinese resistance have since the 1980's replaced the tired communist ideology. It fueled victim consciousness and a sense of entitlement toward Japan among the Chinese. Meanwhile, with its economic miracle stunted and political reform stagnating, many Japanese politicians played to nationalist groups in order to boost national confidence and win popular votes. While pacifism and the Japanese feeling of war guilt used to keep anti-Chinese nationalism marginal, the old culture has gradually faded, much due to people's anxiety about an increasingly powerful and assertive China in East Asia.
When an ancient feud is inflamed by new fears, overreactions occur. Not only are the anti-Japanese demonstrations in China the largest and vandalism the worst since the two countries normalized relations in 1972, but Chinese surveillance ships also entered Japan's claimed territorial waters near the islands, hiking the danger of a military clash. Should armed conflicts erupt, the U.S. would have to intervene based on its alliance commitment to Japan, which is about the last thing that Washington wants to do at the moment. But given Japanese public sentiment and oppositional pressure, backpedalling is hardly conceivable for Tokyo. Beijing's hands are equally tied, as it faces the dilemma of either appearing soft-kneed if it suppresses mass protests too harshly, or suffering damage to China's social stability and international image should the chaos drag on.
The timing is also highly sensitive as China's leadership transition is pending in an upcoming party congress. How to resolve the crisis would be a critical test for both the outgoing leaders concerned with their legacies and new leaders keen on demonstrating their credentials. Restraint is what is needed for all parties, but it will have to be exercised on the condition of saving face for both Beijing and Tokyo. Symbolic gestures for domestic consumption aside, concrete actions must be taken immediately in order to quell the extremists at home. Back in 2005, Beijing was able to end the three-week-long anti-Japanese demonstrations without event, a decent record that can be replicated. And Hong Kong activists who landed on the islands in mid-August have been told that their ship was not fit for a repeat journey. Further provocations can also be prevented by an explicit pledge by Tokyo to prohibit landing by Japanese nationals and to refrain from developing infrastructure on the islands.
Still, a fundamental solution to the island disputes and other outstanding problems between China and Japan is to confront the monster of xenophobic nationalism that has fed on historical myth and that has been emboldened by the uncertain future of the region. Wise leaders of a rising China and of a Japan wishing for a rebound should not let emotional prejudices eclipse their larger shared interests.