Natsuo Yamaguchi: Will the Japanese Change Their Constitution?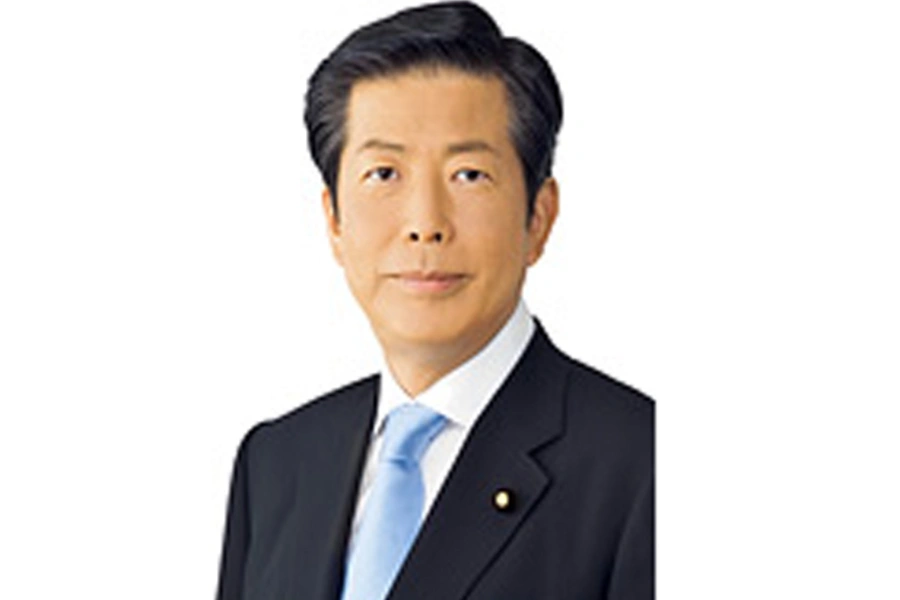 This blog post is part of a series entitled Will the Japanese Change Their Constitution?, in which leading experts discuss the prospects for revising Japan's postwar constitution. 
Natsuo Yamaguchi, president of the Komei party, offers a third essay on Japan's constitution from the perspective of a national legislator. He has served two terms in Japan's Lower House (1990-1996); three terms in the Upper House (2001-present); and has led his party since 2009. The Komei Party is affiliated with the populist Buddhist organization, the Sokkai Gakkai, and its members have been strongly pacifist since the party formed in 1964 under the leadership of Daisaku Ikeda. The party split in 1994, with some aligning themselves with the New Frontier Party, but came back together as the New Komeito in 1998. As a member of the ruling coalition from 1999-2009 and again from 2012-present, Komeito has been in a unique position to influence the legislative debate over the interpretation of Japan's constitution. In responding to my invitation, Representative Yamaguchi agreed to share his personal reflections rather than present the official view of his party.
The Status of Our Constitutional Debate by Natsuo Yamaguchi
May 3rd is constitution day in Japan, and this year was the sixty-ninth anniversary of our current constitution. The Japanese people accepted this constitution while in shock from their nation's defeat in World War II and the consequent occupation by U.S. forces. This constitution introduced three principles that distinguished the postwar from the Meiji era's constitutional monarchy: popular sovereignty, respect for fundamental human rights, and the preservation of everlasting peace. These three principles guided our postwar politics, and have permeated the values of our postwar society.
Throughout the postwar, tensions between those who supported our constitution and those who wanted to revise it were pervasive. But two factors changed this: the end of the Cold War and the coalition politics that emerged in Japan since 1993.
International changes [after the Cold War] demanded an expansion of Self Defense Force activities abroad, and our parliament has debated a variety of new legislation that affects their operations. We have debated participation in UN Peacekeeping,[1] greater alliance cooperation with the United States,[2] the conditions for mobilizing our forces in a contingency,[3] and most recently, the new security legislation that allows for limited collective self-defense operations.[4] Our parliamentary debates on Article Nine have exposed the limitations of constitutional interpretation. Moreover, the Japanese people over these years have begun to consider the realistic demands of our defense needs rather than simply seeing the Constitution in terms of ideology.
On the other hand, in this era of coalition politics, the Liberal Democratic Party (LDP) cannot insist on its own ambitions for constitution revision.
Today, there are few political parties that would reject outright the idea of revising Japan's constitution. The debate today is less about whether to revise but rather about how to revise. The trend now is to discuss methods for revision, and what would be revised, while considering the possibility of cooperation among ruling and opposition parties. The LDP, Japan's ruling party for much of the postwar era, has prepared its own draft for a constitution, and is seeking to compromise with other parties on parts of this draft. The Komeito, while a member of the ruling coalition, takes a different tack, viewing positively our current constitution. We advocate adding to our existing constitution where needed so long as these new rules represent values that were nurtured in the last sixty-nine years and are consistent with the current constitution.
While the LDP and the Komeito differ in how they would approach revision, we agree that a partial revision of the existing constitution is more realistic than attempting to revise the document entirely. No consensus has yet to be reached on the specific contents of revision.  A number of issues have been raised for discussion, including new human rights, a clause to strengthen our response to crises, electoral reforms, the establishment of a constitutional court and a rebalance of power between central and local autonomy.
Indeed, the people's interest still lies in Article Nine, and whether the right of self-defense and the status of the Self Defense Force in our society should be explicitly written into the constitution. While the Japanese people approve of their Self Defense Force, they remain cautious about expanding its role and tend to disapprove of removing limits on the use of force. As a result, popular opinion is skeptical of changes to Article Nine. The Legislation for Peace and Security that came into effect this year allows the limited exercise of the right of collective self-defense, but our government has openly acknowledged that any further expansion would require constitutional revision. Popular opinion will be sensitive to how effectively this new legislation is implemented.
Article Ninety-Six provides a high hurdle for constitutional revision. As long as the Japanese people are skeptical of changing Article Nine, revising this to lower the bar for revision will be difficult. Popular sentiment suggests that anything that requires changes in Japan's security policy should be dealt with through constitutional reinterpretation and new legislation. There is little indication yet that the Japanese people see any value in creating a new constitution.
Given these circumstances, even if the LDP expands its seats or the ruling coalition secures a two-thirds majority in both Houses, constitutional revision will not begin immediately. In order offer ideas for popular approval through a national referendum, ruling and opposition parties will need deeper discussion. It will take some time for a consensus to form among Japan's legislators.
日本における憲法改正論議の現状 
本年5月3日は、現行憲法が施行されて69回目の憲法記念日となる。国民は、敗戦のショックと占領状況のもとで、新憲法を受け入れた。明治憲法と異なる3原理、すなわち国民主権主義、基本的人権の尊重、恒久平和主義は深く浸透し、その後の政治の指導理念となってきた。
長く続いた改憲派と護憲派の対立に変化をもたらしたのは冷戦終結と93年から始まった連立政権の時代である。
国際社会の変化の中で、自衛隊の活動の拡大が求められ、PKO協力法、周辺事態法、有事法、平和安全法制などの議論の過程で、9条は憲法解釈の限界にさらされてきた。国民は観念論から現実的な思考に変わり始めている。
自民党は、連立政権の時代を迎えて自主憲法制定にこだわることが困難となった。
今日、改正を拒否する政党は限られ、与野党とも改正を視野に入れながら、その方法と内容を議論する方向に変わりつつある。与党である自民党は、改正草案を用意し、他党と合意できる部分から改正の実績を作ろうとしている。連立与党の公明党は、現行憲法を肯定的に捉え、施行後形成された憲法に相応しい価値を新しい規定にして加える「加憲」という方法を提唱する。改正の方法に隔たりがあるが、丸ごとではなく、部分改正が現実的である。
改正の内容についても、9条以外に、新しい人権、緊急事態条項、選挙制度、憲法裁判所、地方自治など多岐にわたる問題提起がなされているが、合意には至っていない。
実際の国民の関心は、今も9条にあり、自衛権や自衛隊の位置づけを明文化すべきか否かにある。国民は、自衛隊の存在を肯定するが、活動の拡大には慎重であり、無限定な自衛権の行使には否定的である。従って、9条の変更には懐疑的になる。本年施行された平和安全法制は限定的に集団的自衛権を認めるが、政府はこれ以上の自衛権の拡大は、憲法改正が必要であると説明している。国民はこの法制の有効性をしばらく見守るだろう。
第96条の改正条項は高いハードルである。9条の変更に国民が懐疑的になるかぎり、ハードルを低くする改正そのものが困難であろう。国民は、現実的に対応を変化させるべきものは、できる限り憲法の解釈変更や立法措置ですませようと考える。憲法改正しかないと国民が思えば高いハードルも越えられると考えている。いまのところ、国民は改正しかないという対象は何かを認識していない。
こうした状況を踏まえると、与党が両院で3分の2を占めたとしても、すぐに改正が進むわけではない。国民の理解を伴って、国民投票にかけるには、与野党の議論の深まりが不可欠であり、合意形成には時間もかかる。
[1] Law Concerning Cooperation for United Nations Peace Keeping Operations and Other Operations, 1992.
[2] Law Concerning Measures in Order to Secure Peace and Safety of Japan in Situations in Areas Surrounding Japan, 1999.
[3] Law Concerning Ensuring National Independence and Security in a Situation of Armed Attack, 2003.