This is the New India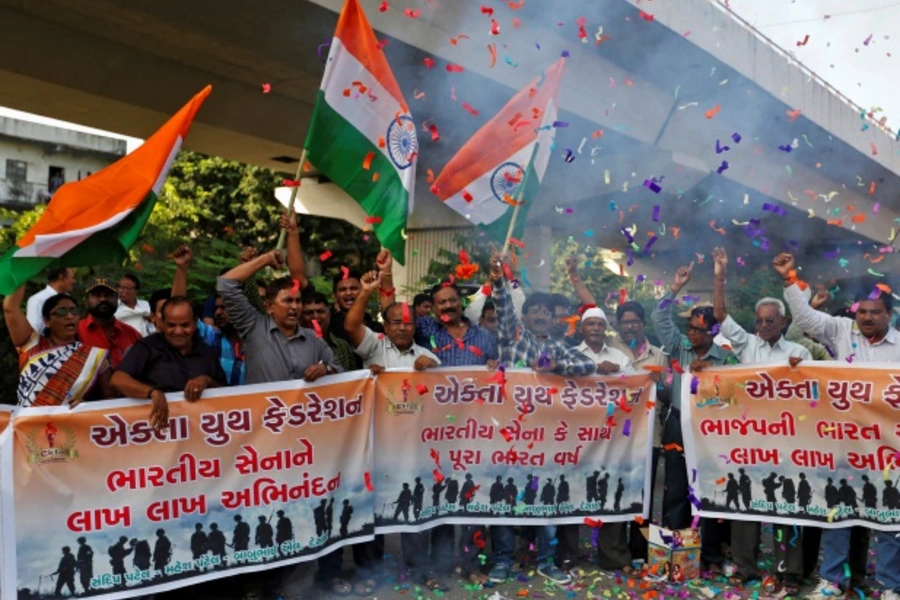 Narendra Modi has laid down the gauntlet.
Sari-and-shawl exchanges, then birthday diplomacy, failed to produce breakthroughs with Pakistan. Cross-border terrorist attacks continued. This week, New Delhi signaled the end of its patience by expanding its diplomatic coercive strategies as well as military actions to deal with terrorism and Pakistan.
On September 18, four terrorists crossed the Line of Control in Kashmir and mounted an attack on an Indian army base in Uri, resulting in the deaths of 19 Indian soldiers. India pointed to two Pakistan-based terrorist groups, the Jaish-e-Muhammad (JeM) and the Lashkar-e-Tayyaba (LeT) as perpetrators. Pakistan first rejected blame, calling it India's "habit" to blame Pakistan for terrorist attacks. Then, Pakistan's defense minister proclaimed in a looking-glass theory that Indian authorities had mounted the terrorist attack themselves, as an "inside job." As if that weren't irresponsible enough, on September 28 Pakistan's defense minister gave a television interview in which he threatened the use of nuclear weapons against India.
I wrote earlier this week that Pakistan's denials of responsibility for terrorist attacks have no credibility because internationally-designated terrorist groups continue to operate openly in Pakistan. This month alone, individually-designated terrorist Hafiz Saeed, the head of the UN- and U.S.-designated LeT, led public Eid prayers in a major Lahore stadium. Over the summer he led a 30,000 person rally focused on jihad in Kashmir. If internationally-proscribed terrorist groups have permission to hold huge jihad rallies in Pakistan's national capital, Pakistani authorities can hardly cry foul if people look to those same terrorists when attacks in India occur.
This week we have seen India unfurl a new, more coercive diplomatic strategy. The Indian government has coordinated with neighboring countries Afghanistan, Bangladesh, and Bhutan to jointly boycott the upcoming South Asian Association for Regional Cooperation (SAARC) summit planned for Islamabad. Modi has convened meetings with his ministers and senior advisors to examine India's use of water resources under the Indus Waters Treaty with Pakistan. Modi has also scheduled an internal meeting to review the possibility of withdrawing the "most favored nation" designation granted to Pakistan in 1996 under the World Trade Organization, which Pakistan has never reciprocated. Each of these steps marked new arenas where the Indian government signaled a willingness to look for new diplomatic sticks, since the carrots haven't worked.
With the public announcement on September 29 that Indian forces had carried out "surgical strikes" on terrorist "launchpads" across the Line of Control (LoC) separating Indian- from Pakistani-controlled Kashmir, the Narendra Modi government has now indicated a willingness to escalate militarily, though with limited actions. It is not entirely clear what took place; the Indian director general of military operations described operations to "pre-empt terrorist infiltrations," with no "plans for further continuation."
Pakistan has responded by saying that no strikes took place, and that there was cross-border shelling. Regardless, the Indian government has broken with past practice by announcing strikes across the LoC. As Siddharth Varadarajan has examined, the Indian government's account of the strikes focused on pre-emption of a readying terrorist attack "set against the background of Pakistan's refusal to act against these groups," a defensive act.
As tensions increase, the world will be looking to Pakistan to meet its obligations as a state to prevent terrorism and de-escalate tensions with India. Indeed, U.S. National Security Adviser Susan Rice has condemned the Uri attack and called upon Pakistan to "combat" terrorism emanating from its territory. The U.S. Senate India Caucus has written a letter to Modi expressing their concern about terrorism from Pakistan.
No one wants to see escalation to a nuclear conflict in South Asia, and the recent events are alarming. In the new India, dialogue is the preferred option and first resort, but terrorist attacks from Pakistan will now be met with a wider array of responses.
Follow me on Twitter: @AyresAlyssa. Or like me on Facebook (fb.me/ayresalyssa) or Instagram (instagr.am/ayresalyssa).