A New Transatlantic Agreement Could Hold the Key to Green Steel and Aluminum
An imperfect U.S.-EU deal could set the stage for decarbonizing global steel and aluminum production—but only if negotiators can avoid certain pitfalls.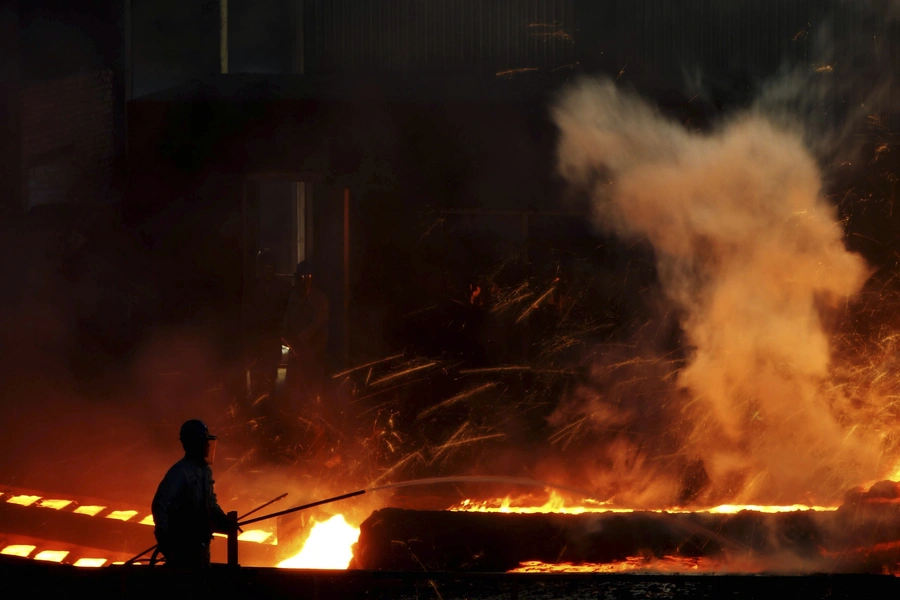 On October 31st, in the immediate leadup to the 26th United Nations Climate Change Conference, representatives from the United States and European Union (EU) announced that they had resolved a longstanding dispute related to steel and aluminum tariffs. While it is too early to assess if it will ultimately be successful, this agreement also heralded the start of a transatlantic effort to decarbonize steel and aluminum production.
This trade dispute began in 2018 when the Trump administration, claiming they were acting to protect U.S. national security, imposed twenty-five and ten percent duties on steel and aluminum imports respectively. The EU responded with retaliatory tariffs on iconic U.S. exports like Harley-Davidson motorcycles and Kentucky bourbon and challenged the U.S. tariffs at the World Trade Organization (WTO). Since their imposition, these tariffs have been a major irritant in U.S.-EU relations, helping undermine coordination on key issues. The recently announced deal eliminates the tariffs imposed by the EU, suspends the WTO litigation, and allows a substantial yet strictly limited amount of steel and aluminum—3.3 million metric tons of steel, 18,000 tons of unwrought aluminum, and 336,000 metric tons of semi-finished aluminum—to enter the U.S. market duty-free under what is known as a tariff-rate quota (TRQ).
The agreement is far from a complete removal of the tariffs and due to its reliance on quotas is likely to result in substantial administrative burdens on both sides of the Atlantic. The United States will need to continue to monitor the tariff exclusions it previously granted, review new requests for exemptions, and administer the complicated TRQs. On the European side, exporters will have to be extraordinarily attentive to the timing and classification of their shipments given the highly atomized nature of the TRQs. For example, the 3.3 million metric ton quota for steel will be divided up into 54 different sub-categories of steel, allocated on a quarterly basis, with individual quotas for each of the European Union's twenty-seven member states, at least ten of whom produce steel. As a result, the 3.3-million-ton quota is in reality more than 2,000 separate quotas that will be filled on a first-come, first-served basis. Exporters and their U.S. customers will have to monitor these quotas carefully as products exceeding the allotment will face a twenty five percent tariff; potentially disadvantaging smaller firms that lack the administrative capacity enjoyed by their larger competitors. 
Broadly speaking, however, allowing more European steel and aluminum to enter the United States tariff-free will lower costs for the huge number of firms that use these products as inputs—a victory for U.S. consumers and producers—while eliminating European tariffs on U.S. goods will be beneficial for both European consumers and U.S. exporters.
While imperfect—and another sign that "managed trade" is back—the deal should be lauded for removing a major irritant in the transatlantic relationship, particularly when the United States and Europe need to be cooperating on a wide-range of issues in the run-up to the WTO's important Ministerial Conference and the Biden-led Summit for Democracy.
The most significant reason to celebrate this deal, however, is that the EU and U.S. indicated it opened the door to a joint effort to reduce the carbon emissions associated with steel and aluminum production.
As of 2018, steel production alone accounted for eight percent of global carbon dioxide emissions, while aluminum production was responsible for over one billion tons of carbon dioxide or roughly two percent of global emissions. With the demand for steel and aluminum expected to climb over the coming years, reducing the emissions associated with this sector will be critical if the world hopes to forestall the worst impacts of climate change. 
In their announcement, both parties indicated that they would look to strike a joint agreement by 2024 that would enable them to encourage global investments in clean steel and aluminum while protecting domestic producers from carbon-intensive or subsidized products from China and elsewhere. This is likely to come in the form of a common external tariff on carbon-intensive steel and aluminum products which would protect cleaner U.S. and European producers, discourage U.S. and European firms from moving to locales with less restrictive emission rules, and push trading partners to adopt cleaner production methods.
In the near term, the United States and Europe stated that they will establish a working group to create a common methodology for assessing the emissions associated with steel and aluminum products. This effort is particularly encouraging as such shared standards could make it easier for the United States to adopt measures more closely aligned with the European carbon border adjustment mechanism (CBAM)—which is expected to come into force in 2023—or for the transatlantic partners to find some rough equivalence in potentially differing approaches to achieving their shared goal of net-zero emissions by 2050.
For the proposed U.S.-EU agreement on green steel and aluminum be successful, however, it will have to avoid several potential pitfalls. First, the deal cannot devolve into a stalking horse for protectionist interests. As currently conceived, the deal appears intended to incentivize reforms abroad by promising largely unrestricted access to U.S. and European markets for countries that meet certain standards. The allure of the European and U.S. markets pushes trade partners to make domestic reforms so they can meet those standards, helping to address overcapacity and reduce carbon emissions along the way. This only works, however, if the standards are clear and genuinely achievable while stringent enough to be impactful.
The United States and the European Union will also have to disentangle improper production or export subsidies from subsidies intended to lower carbon emissions. Greening steel and aluminum production is an expensive endeavor and, in most countries, will likely only occur with state aid. That aid, however, is liable be construed as granting an unfair advantage to recipients. U.S. steel producers, for instance, are already beginning to gripe about subsidies intended to help EU steel producers reduce their carbon footprint. Without clear redlines delineating permissible forms of state action, effort to encourage decarbonization could be derailed by finger-pointing over improper subsidization. At the same time, however, overly onerous restrictions on state action could delay the transition away from carbon-intensive production methods. Developing a shared set of standards for appropriate and inappropriate subsidization should be a priority for U.S. and European negotiators.
Finally, any final deal should include some sort of framework for technology sharing, both between Europe and the United States and between the United States and Europe and those countries working to green their own steel and aluminum industries. Enabling green manufacturing techniques to flow smoothly between the United States and Europe while also demanding ever-cleaner production at home would ensure that a U.S.-EU deal also helps reduce domestic emissions. While U.S. and EU steel producers do emit less than their counterparts overseas, a significant portion of that difference is due to the prevalence of electric arc furnaces in the United States and the EU. Electric arc furnaces are cleaner and smaller than the blast furnaces common in China and elsewhere. Rather than using this quirk of the modern steel market to avoid further modernization efforts, however, the United States and Europe should strive to have even cleaner production at home—with the goal of net-zero steel and aluminum production. At the same time, ensuring these green production technologies are readily available beyond Europe and the United States is essential to ensuring a rapid and equitable transition.
The opportunity to turn a trade irritant into a win-win for U.S. and European steel and aluminum producers, their workers, their customers, and the planet is one that should not be missed. Our trade negotiators should use this chance to flesh out an agreement that aligns our trade policy with the goal of decarbonization of steel and aluminum production around the world.