New Year's Greetings From Kim Jong-un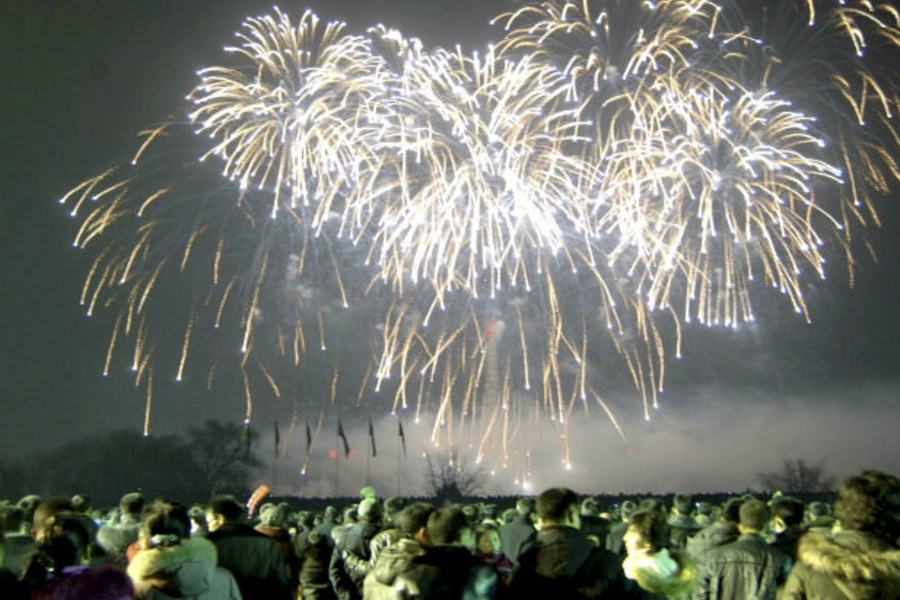 From fireworks over the Potonggang to the inauguration of a mysteriously newly procured ski lift at Masikryong Pass, North Korea's leaders have undertaken great efforts to project a return to normalcy and the façade of unity under the Party's leadership, progress in economic development, and the strengthening of national defense. These themes were reflected in Kim Jong-un's New Year's Day address, which annually sets the tone and states the priorities of the North Korean leadership. The speech focused on practical steps to improve North Korea's domestic economy across a wide range of sectors under the Party's centralized leadership. "Factional filth" of uncle Jang Song-taek is gone; keep calm, labor on.
What about prospects for inter-Korean relations? In his speech, Kim called for the establishment of a "favorable climate for improved relations between north and south" and stated North Korea's intent to "develop relations of friendship and cooperation with all the countries that respect our sovereignty and are friendly to us." These are refreshing words to hear from Kim, considering recent contact with Seoul focused on the deteriorating trust between North and South. Two weeks ago, a North Korean fax to Seoul from Pyongyang threatened "retaliatory strikes without warning" if Korean conservatives continue to criticize North Korea. And just one week ago, North Korea's Committee for the Peaceful Reunification of Korea (CPRK) published a "questionnaire" via the Korean Central News Agency to President Park that characterized her "Trustpolitik" policy as "surpass[ing] that of the Lee [Myung-bak] regime in its crafty and vicious nature."
The CPRK questionnaire released on December 25 is similar to one that was issued prior to Park's inauguration (and which I discussed last year in analysis of Kim Jong-un's 2013 New Year's speech), except that this questionnaire also answers its own questions. The answers allege that "the Park regime has become all the more dangerous in its moves to provoke a war against the DPRK in collusion with the US," that Park has "challenged head-on the social system in the DPRK," and that Park has allowed a "puppet group of conservatives" to "malignantly slander the DPRK." Kim Jong-un himself indirectly criticizes Park Geun-hye's appeals for "international cooperation" on inter-Korean relations as "a humiliating treachery of leaving [the nation's] destiny in the hands of outside forces."
All of these criticisms make clear that North Korea's fundamental condition for the improvement of inter-Korean relations is for both Koreas to "hold fast to the standpoint of By Our Nation Itself [uri minjok kkiri], and respect and implement the declarations with sincerity." Under conditions where South Korea recognizes the primacy of improving inter-Korean relations and forswears international interference, the stage will be set for improvement in inter-Korean relations. This principle has been at the center of inter-Korean relations since 1972, and was reaffirmed inter-Korean summit declarations in 2000 and 2007. But North Korea's interpretation of adherence to this principle in 2014 contains three implications that Park Geun-hye will find it difficult if not impossible to accept:  1) acceptance of a nuclear North Korea, 2) South Korean governmental and non-governmental censorship and suppression of criticisms of North Korea's internal system and practices, and 3) dissolution of the U.S.-ROK alliance and U.S. forces on the Korean peninsula.
The Kaesong talks last summer and negotiations on reunions of divided families constituted North Korea's first opportunity to test the Park administration's willingness to prioritize inter-Korean relations on the principle of By Our Nation Itself [uri minjok kkiri], with the primary evidence of good faith from North Korea's perspective being South Korean willingness to resume economic transfers that had undergirded inter-Korean rapprochement between 1999 and 2008. But the unwillingness of the South Korean side to reopen talks on resuming the Mount Kumgang tourism project and the ultra-sensitivity to Park's public criticisms of a North Korean regime that we now know has been riven by internal divisions suggest that for the time being, despite calls for better relations on both sides, progress in inter-Korean relations will be hard to come by.