Nigeria Releases Three Israelis and a Nigerian Jew Accused of Separatism
The arrest of three Israeli dual-national filmmakers and a Nigerian Jew on flimsy accusations of supporting separatism underlines the Nigerian government's high sensitivity to any perceived separatist sentiment.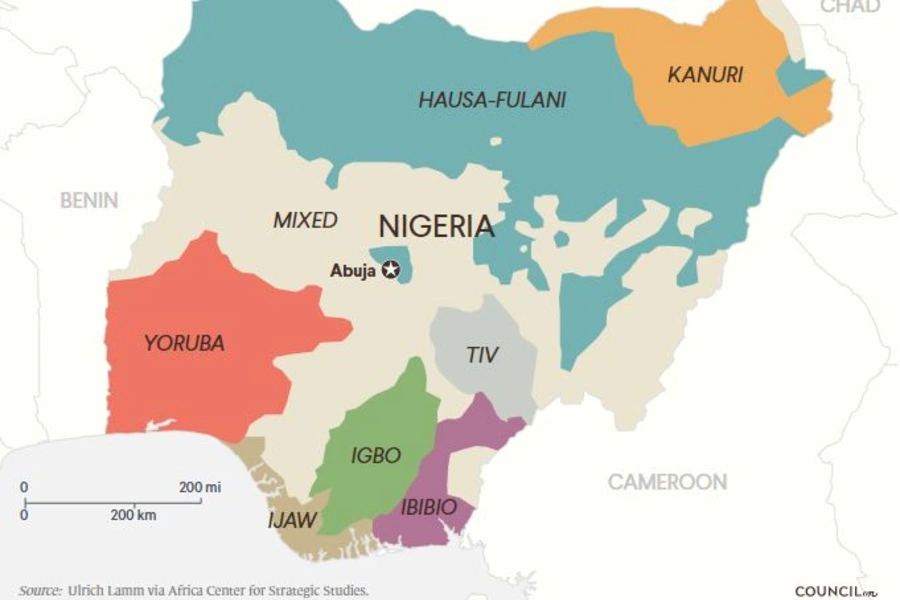 Nigeria's State Security Service (SSS) in July arrested three Israeli filmmakers and their Nigerian liaison. Following apparent, unpublicized diplomatic intervention, the three Israelis were released; none were ever charged after eighteen days in jail. Their Nigerian liaison was held an additional eleven days before she was released, also never having been charged. The episode illustrates the high sensitivity and overreaction of the Nigerian security services to anything with a whiff of Igbo or Biafran separatism, even at the risk of offending international friends and allies. It also calls attention to the Igbo Jewish community. Nnamdi Kanu, the highest-profile Igbo separatist leader—now under arrest—is a convert to Judaism, and some advocates for an independent Biafra say they wish to create a 'Judeo-Christian' polity.
The three filmmakers were dual nationals of Israel and either France or the United States. They are making a documentary about little-known Jewish communities in Africa and elsewhere. Their liaison, Lizben Agha, is identified by the media as a local Igbo Jewish leader without ties to separatism. Early in their stay, the filmmakers met with a traditional Igbo ruler and presented a Torah scroll to the local Jewish community. The SSS arrests could have been provoked by stories in the local separatist media speculating falsely that the filmmakers were in league with Mossad (the Israeli secret service) and that their visit was a step toward Israeli recognition of Biafra as somehow a Jewish state. That likely accounts for SSS overreaction in arresting the nationals of three friendly states making a documentary and an apolitical Igbo woman.
There are around 40 million Igbo in Nigeria. Many believe the legend that Igbos are one of the Ten Lost Tribes of Israel. Some believe they have been second-class citizens ever since the defeat of Igbo-dominated Biafra in the 1967-70 civil war. Igbo separatism has grown in the current climate of economic hardship, the breakdown of security, and a national government seemingly dominated by Fulani Muslims. Muslim Fulani herdsmen moving into Igboland in search of pasture also exacerbate ethnic and religious tension.
The Igbo are overwhelmingly Christian, but there are an estimated 12,000-15,000 who self-identify as Jews, keeping traditional devotional practices, including the dietary laws. However, their claim to being among the Ten Lost Tribes is not recognized by the Chief Rabbinate in Jerusalem, and they are ineligible for Israeli citizenship as provided for under the Law of Return—unless they formally convert. A larger group practices a religion that appears to be a mix of Jewish, Christian, and traditional elements. Despite the lack of formal recognition, many young and liberal Israelis are sympathetic to Igbo and other African communities that self-identify as Jews.
Over the years, Igbo Jewish groups have sought to have the United States pressure the Chief Rabbinate or the Israeli government to recognize them as authentically Jewish, and, therefore, entitled to immigrate to Israel under the Law of Return. No Washington administration has ever done so.