Nigeria Security Tracker Weekly Update: May 22–28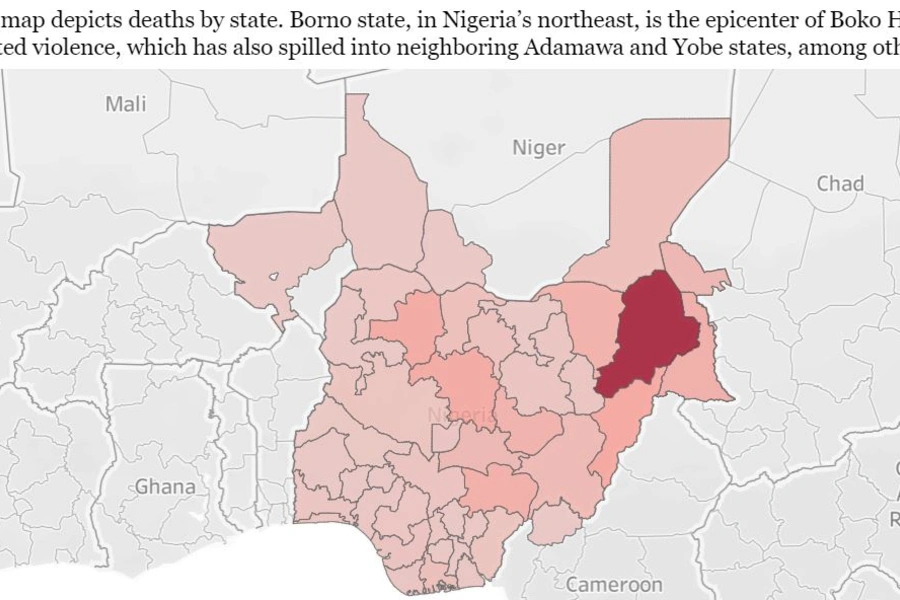 Below is a visualization and description of some of the most significant incidents of political violence in Nigeria from May 22 to May 28, 2021. This update also represents violence related to Boko Haram in Cameroon, Chad, and Niger. These incidents are included in the Nigeria Security Tracker.
May 22: Two police officers and "several" (estimated at ten) bandits were killed in a shootout in Gusau, Zamfara.
May 22: Bandits killed eight in Maradun Local Government Area (LGA), nine in Zurmi LGA, and ten in Kaura-Namode LGA in Zamfara.
May 22: Sectarian violence led to one hundred deaths in Katsina-Ala, Benue.
May 23: One police officer and one attacker were killed during an attack on a police station in Ebonyi, Ebonyi.
May 23: Police killed four attackers during an assault on an Independent National Electoral Commission (INEC) office in Awka, Anambra.
May 23: Gunmen killed eight in Jos South LGA, eight in Riyom LGA, and six in Wase LGA in Plateau.
May 23: Herdsmen killed five in Takum, Taraba.
May 23: Bandits killed twenty-one vigilantes in Rabah, Sokoto.
May 24: Bandits killed ten while police officers repelled the attack, killing ten bandits in Bungudu, Zamfara.
May 24: Bandits kidnapped fifteen in Tafa, Niger State.
May 25: Gunmen killed five police officers during an attack on a police station in Ezeagu, Enugu.
May 25: Police killed two bandits in Ohaji/Egbema, Imo.
May 25: Bandits killed one and kidnapped one in Sabon Birni, Sokoto.
May 26: Gunmen killed one police officer in Oshimili North, Delta.
May 26: Boko Haram kidnapped "some" (estimated at ten) in Kaga, Borno.
May 26: Police officers killed five bandits in Batsari, Katsina.
May 26: Land grabbers killed two in Ado-Odo/Ota, Ogun.
May 27: Herdsmen killed thirty-six in Katsina-Ala LGA and seven in Gwer West LGA in Benue.
May 27: Herdsmen killed twelve in Gassol LGA and two in Bali LGA in Taraba.
May 27: Security operatives killed seven Eastern Security Network (ESN) members in Eleme, Rivers.
May 27: Bandits killed three while two bandits were also killed in Giwa LGA, bandits killed four in Igabi LGA, and bandits killed one in Chikun LGA in Kaduna.
May 28: Bandits killed twenty across the Wushishi and Lavun LGAs in Niger State.
May 28: Three police officers and two attackers were killed during an assault on a police station in Ukwuani, Delta.
May 28: Nigerian troops killed ten Boko Haram militants in Kala/Balge, Borno.
May 28: Gunmen killed five soldiers in Ihiala, Anambra.
May 28: A Boko Haram attack in Diffa, Niger resulted in the deaths of three militants, four Nigerien soldiers, and four civilians.
May 28: Kidnappers abducted "many" (estimated at ten) around Kachia LGA, Kaduna.