Nigeria Security Tracker Weekly Update: September 16 - September 22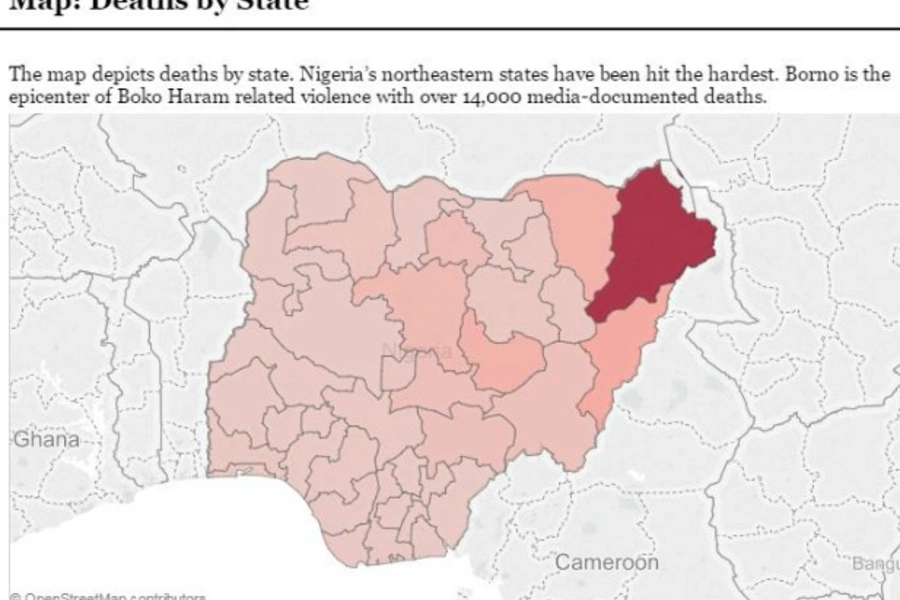 Below is a visualization and description of some of the most significant incidents of political violence in Nigeria from September 16 to September 22, 2017. This update also represents violence related to Boko Haram in Cameroon, Chad, and Niger. These incidents will be included in the Nigeria Security Tracker.
September 16: Gunmen killed three in Lokoja, Kogi. 
September 17: Boko Haram killed five in Magumeri, Borno.
September 17: Kidnappers abducted five in Akoko South-West, Ondo.
September 18: Three suicide bombers killed themselves and fifteen others in Konduga, Borno. Boko Haram was suspected.
September 18: Pirates kidnapped five in Calabar, Cross River.
September 18: A cult clash resulted in six deaths in Lagos Island, Lagos.
September 19: Nigerian troops killed eighteen Boko Haram militants in Damboa, Borno.
September 20: Boko Haram killed nine IDPs in Kala/Balge, Borno.
September 21: Gunmen killed one Federal Road Safety Corps official and soldiers killed one gunman in Chafe, Zamfara.
September 22: Pirates killed three in Southern Ijaw, Bayelsa.