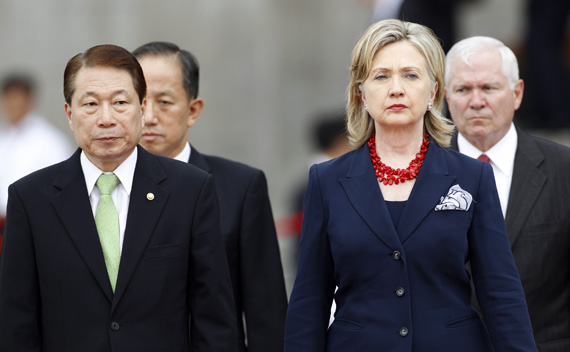 Two months ago, the sinking of the South Korean corvette Cheonan appeared to mark a turning point in inter-Korean relations. The South Korean interim investigation identified a North Korean torpedo as the cause of the sinking, providing South Korea and the United States with a strong case to take the issue to the UN Security Council and hold North Korea accountable for its actions. But the July 10th UN Presidential Statement failed to explicitly hold North Korea accountable.  This series of events has turned out to represent a setback for all concerned:
Despite close coordination with the United States—most recently evidenced by the 2+2 in Seoul during which Secretary Clinton and Secretary Gates reaffirmed with their South Korean counterparts the closeness of the alliance, followed by the "Invincible Spirit" naval exercises—South Korea has failed to make North Korea pay a price for its actions and has over-reached in its efforts to mobilize international condemnation of Pyongyang. The effort has strained Sino-ROK relations and has introduced potential frictions in U.S.-ROK coordination over "how much is enough". The perception inside South Korea that the Lee administration's tough line on the Cheonan was driven by domestic politics has arguably weakened South Korea's hand by showing the limits of its capacity to punish North Korea for provocations without incurring the unacceptable risk of precipitating military escalation.

Differing views between the United States and China over how to handle the sinking of the Cheonan have emerged as a source of friction in U.S.-China relations. Following meetings on the sidelines of the G-20 in Toronto, President Obama characterized China's approach to the Cheonan as one of "willful blindness." The U.S. response has also been criticized by some in South Korea who privately complain that the United States was unable to convince China to sign up to a stronger UN presidential statement or take a more robust approach to military exercises that might send a message to China and North Korea.

China's initial misjudgment of the seriousness of the Cheonan incident has increased China's responsibility both to provide sufficient financial support to keep North Korea's economy afloat and to ensure that its actions have not enabled further North Korean provocations. Chinese objections to U.S.-ROK military exercises clearly aimed at North Korea have unnecessarily raised regional tensions and has provided North Korea with reassurance that China will provide protection in the event of future provocations.

North Korea may have initially hoped it could pull off the perfect crime, but it has lost a few hundred million dollars in trade with South Korea. Although North Korea may want to be left alone as pursues purges and political consolidation in preparation for a leadership transition, a less stable internal and external environment diminishes prospects for a successful family leadership succession or for North Korea to achieve its goal of becoming a "strong and powerful state" by 2012. North Korea's dependence on China has increased, the United States has returned to a focus on sanctions implementation, and prospects for inter-Korean stability and expanded economic support from the South have diminished.
The way forward will be harder as a result of an apparent widening of the gap between Russia and China and the United States, South Korea, and Japan. Following military exercises, a shift in focus and tactics will be necessary to restore regional cohesion, which is a prerequisite for shaping an environment that promotes North Korea's transformation and integration into the region rather than furthers its isolation.
(Photo: Jo Yong hak/ Courtesy Reuters)