North Korea's Renewed Trajectory: Kim's Priority Is Status As A Powerful Nuclear State
The recent North Korean missile tests are primarily aimed at fulfilling Kim Jong-un's objectives of new military capabilities rather than reordering President Joe Biden's list of international priorities.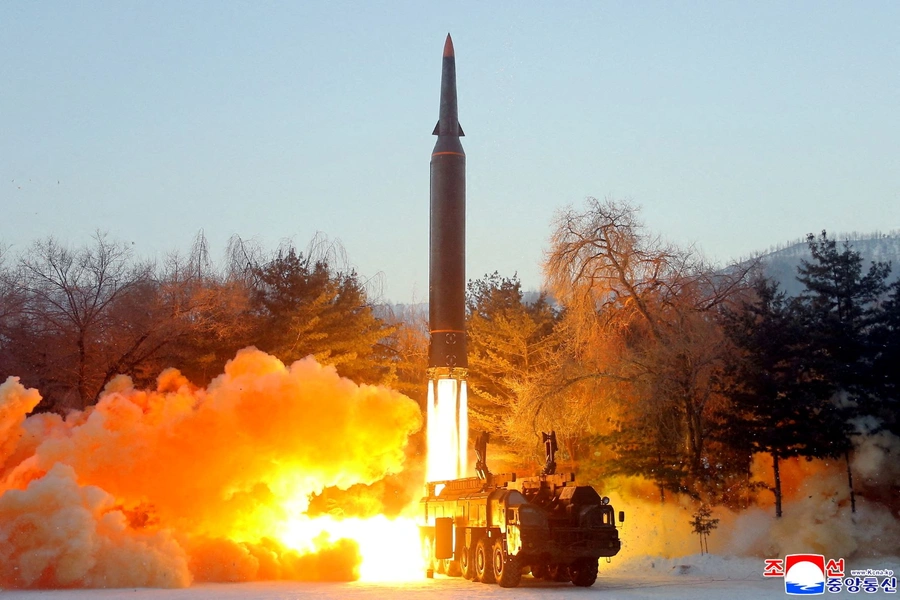 North Korea's launch of a record number of missiles in January of 2022 was described by Secretary of State Antony Blinken as North Korea "trying to get attention." But Kim Jong-un's omission of references to diplomatic objectives in his review of North Korean priorities at the beginning of 2022 suggests that the country is not primarily aimed at reordering President Joe Biden's list of international priorities. Instead, Kim is focused on fulfilling his own priority list of military capabilities announced a year ago at the January 2021 Eighth Workers' Party Congress, and that he sees a pathway to further lock in North Korea's status as a powerful nuclear state.
Kim's military wish list includes several of the items tested in recent weeks, including hypersonic gliding flight warheads and maneuverable short-range missiles. Also on the list are the development of nuclear-capable, solid-fuel submarine-launched ballistic missiles and intercontinental ballistic missiles, the launch of a military reconnaissance satellite, and the development of tactical nuclear weapons and multi-warhead missiles.
As Kim moves down his checklist of objectives in pursuit of new military capabilities, it has been only a matter of time before North Korea's missile testing would bump up against 2018 pledges of not conducting tests beyond short-range missiles. Those pledges were made in anticipation of Kim's summit diplomacy with the leaders of China, South Korea, Russia, and the United States. Meanwhile, UN Security Council resolutions restrict North Korean testing of all ballistic missiles.
At a Party Central Committee meeting on January 20, 2022, to plan for the 110th anniversary of Kim Il-sung's birth and the 80th anniversary of Kim Jong-il's birth, the Committee determined that in light of ongoing U.S. hostility and sanctions, North Korea would "reconsider in an overall scale the trust-building measures that we took on our own initiative and to promptly examine the issue of restarting all temporally suspended activities." This pronouncement opened the door for North Korea to shed its self-restraint on January 30th by launching the Hwasong-12 intermediate-range ballistic missile on a lofted trajectory for the first time since 2017. The Central Committee's discussion of preparations for the impending anniversaries alongside its renunciation of self-imposed restraints on the North's capabilities brings to mind North Korea's failed April 2012 satellite launch, a capability that remains on Kim's list of military development objectives.
If North Korea's latest missile test indicates that it has indeed returned to the path it was on in 2017, the overall situation is very different from the escalating "fire and fury" and name-calling that accompanied North Korea's 2017 missile-testing campaign.
Major power rivalry between the United States and China and the establishment of a closer strategic relationship between Xi Jinping and Kim Jong-un have paralyzed the ability of the UN Security Council to increase international sanctions on North Korea and opened the door for renewed North Korean testing. Chinese and Russian opposition to further sanctions on North Korea deprives the Biden administration of the UNSC as an instrument for signaling international condemnation of North Korea's tests.
The Moon Jae-in administration, in its waning days, is no longer well-positioned as a potential intermediary to serve as a safety valve in the event of crisis escalation between North Korea and the United States. The direction of South Korea's future policies toward North Korea will depend on the outcome of the March 9 presidential election.
North Korea most likely perceives the Biden administration's focus on Ukraine, Iran, or strategic rivalry with China as evidence of both a distraction and an opportunity to further entrench its nuclear capabilities as a fait accompli. Sino-U.S. strategic competition in particular has eroded incentives for the United States and China to jointly contain and pressure North Korea on denuclearization.
The stakes may be even higher for Kim Jong-un in 2022 than they were in 2017, at which time Kim's policy of pursuing simultaneous economic and military development emphasized both national strength and prosperity. We cannot know fully the extent of political reverberations inside North Korea of Kim's summit failures with Trump, but it appears that Kim has utilized North Korea's self-isolation under the Covid-19 pandemic as an opportunity to recentralize economic control and underscore the priority on political loyalty to Kim. In the absence of economic accomplishments, Kim today can only stand on his military accomplishments as a justification for his leadership.
These factors suggest that North Korea's 2022 missile-testing campaign will continue on the trajectory set by Kim at the Eighth Workers' Party Congress. North Korea's approach emphasizes that "the strong defense capability of the state never precludes diplomacy but serves as a powerful means to propel it along the right course and guarantee its success." This path seeks to exploit Sino-U.S. rivalry and escalate tensions on the assumption that the United States will offer concessions rather than risk nuclear conflict and finally legitimize North Korea's nuclear capabilities under Kim Jong-un.