Obama's Mission in Asia: Bring the Allies Together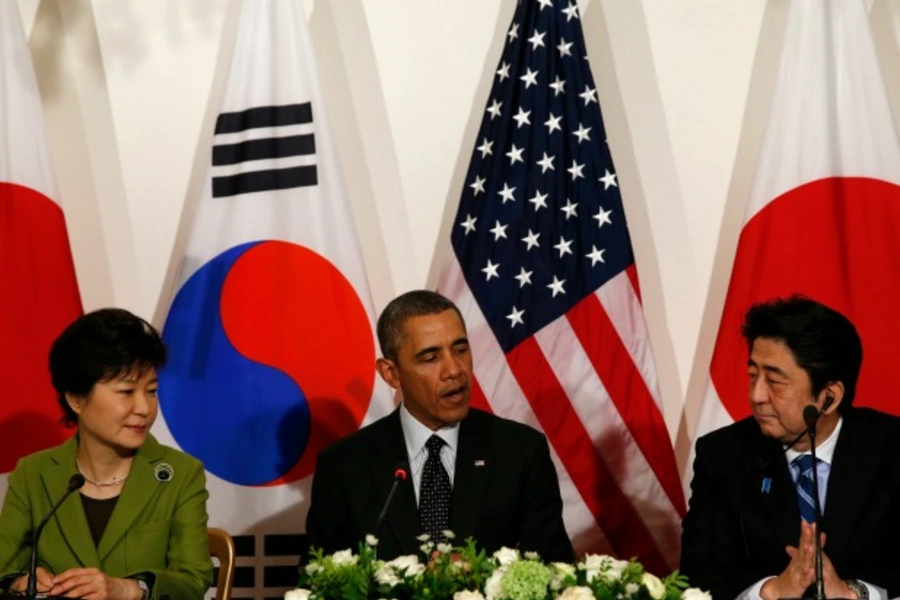 President Obama took an important step before this week's visit to Asia by bringing together Japanese and South Korean leaders for a trilateral summit at The Hague a few weeks ago. That meeting sent a crucial message that the president should hammer home at every opportunity in Asia this week: for the Obama administration's rebalancing strategy toward Asia to be successful, America and its allies must work more closely with each other.
The trilateral summit revealed that while U.S. officials state that they will not pursue a mediating role in addressing bilateral issues between South Korea and Japan, the Obama administration has an interest in creating an environment that enables stable South Korea-Japan relations.  Following The Hague summit, the Obama administration has stepped up U.S.-Japan-ROK trilateral coordination by hosting two trilateral coordination meetings on North Korea for senior foreign ministry and defense officials.  These efforts have proved valuable in ensuring that America's Northeast Asian allies are on the same page.
But the growing estrangement between South Korea and Japan over the past two years is likely to be an ongoing concern and even a distraction for Washington.  Frictions in Japan-South Korea relations have become institutionalized through the establishment of competing holidays to honor respective territorial claims over Dokdo/Takeshima, protests over Japan's treatment of those claims in its textbooks, and most recently by Prime Minister Abe's December visit to Yasukuni Shrine. South Korean and Japanese leaders did not meet during their first year in office, and the meeting in The Hague would not have occurred without President Obama's help.
To the extent that Japanese domestic political decisions result in negative reactions in South Korea or to the extent that South Korean domestic political decisions do the same in Japan, the divisions caused by these actions are a drag on the Obama administration's rebalancing strategy.  These actions have required the Obama administration to step in periodically to quietly urge political leaders to exercise greater political self-discipline so as not distract from the more important strategic task of upholding rules-based mechanisms for promoting East Asian regional cooperation.
A worrisome symptom of estrangement between Japan and South Korea is the emergence of attitudes in both countries that despite sharing a common ally in the United States, the political and security needs of one country is divisible from those of the other.  South Koreans, perceiving a more conservative trend in Japanese politics, worry that a "normal" Japan may at some point in the future militarily threaten the Korean peninsula.  Some Japanese hint in turn that if South Koreans impugn Japan's national pride, Japan might withhold support for South Korea in the event of a North Korean contingency.
A further concern is the "lobbying" competition between South Korea and Japan for favor from the United States on specific issues, extending even to whether U.S. state textbooks should call the sea separating the two countries the East Sea or the Sea of Japan.
Ever since President Obama referred to the U.S.-ROK alliance as a "lynchpin" of security strategy alongside the "cornerstone" of the U.S.-Japan alliance, South Korean and Japanese diplomats studied their dictionaries to discern which role is more important. But this rhetoric emphasizes the management of bilateral relations rather than promoting multilateral cooperation
The agenda President Obama will discuss in Japan and South Korea is crowded with parallel trade and security themes:  establishment of the Trans-Pacific Partnership, the need for coordination to deter North Korea's nuclear and missile programs, and the need for enhanced multilateral cooperation to ensure a rules-based regional order in Asia.  These parallel agendas reveal a clear convergence of interests among the three countries.
President Obama can bolster these efforts this week by stressing in his public remarks at every stop that America's network of alliances rather than any single bilateral alliance is the foundation of his rebalance and the essential underpinning of U.S. strategy in Asia. This point is already evident in the administration's placement of multilateral approaches as the centerpiece for implementing the rebalance through efforts to establish a multilateral trade regime, the embrace of the East Asian Summit, and the diversification of military basing arrangements.  In addition to selling America's commitment to the rebalance, President Obama should also encourage greater commitment by the allies to each other. A small rhetorical shift is all it would take to support this objective.