Obama's Visit to Laos: Part 2—The Legacy of the War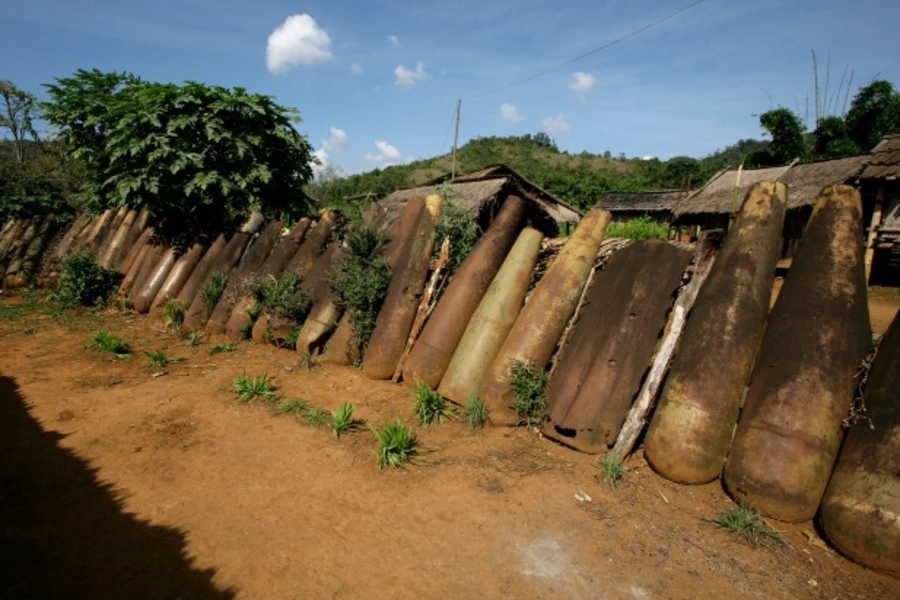 In my previous blog post, I noted that the bilateral relationship between the United States and Laos remains limited, and will likely remain very limited for years to come. Sure, Laos is the chair of ASEAN this year, which gives the tiny country some influence, but Laos remains a minor destination for U.S. investment, and a country of more strategic relevance to China, Vietnam, and Thailand (among others) than to the United States. U.S. assistance to Laos is primarily focused on humanitarian areas.
In addition, the United States's history with Laos includes some of the most horrific in modern U.S. history. During the Vietnam War, successive U.S. administration authorized a secret conflict in Laos, which came to include arming a large, mostly Hmong army, heavy bombing, and the insertion of small groups of CIA trainers and other contractors into the country. There, they trained Hmong and other forces, spotted for air strikes, helped forces allied with the U.S. attack the Ho Chi Minh Trail, managed radar and other communications sites, and occasionally got into firefights directly with Pathet Lao and North Vietnamese forces in Laos.
In the late 1950s and the 1960s, Laos was far from irrelevant to U.S. policy. President Dwight Eisenhower spent a considerable amount of time speaking with president-elect John F. Kennedy about Laos during the transition period between administrations after November 1960; the United States was becoming increasingly involved in Indochina at the time, and a coup in Laos in 1960 had triggered panic in Washington that the country would become dominated by a communist government. Some senior U.S. military leaders wanted the incoming president to insert a large ground force into Laos. Kennedy held the first foreign policy related press conference of his administration about Laos, where he warned that unrest in Laos, sparked by the coup and an ensuing battle for Vientiane, posed a threat to the United States. He would eventually authorize a growing covert operation in Laos in which the United States funded and armed an army comprised primarily of Hmong fighters. In addition, the Thai government would increasingly involve itself in Laos's war; Thai commandos played an integral role quashing the coup in 1960, and fought alongside Hmong and other Laotian forces against the Pathet Lao.
Laos was more heavily bombed than any other country in modern history, and at times the U.S. bombings seemed to have no strategic purpose. Obama will be confronted with the legacy of the bombing during his trip, as other senior U.S. officials have been; to visit Laos today, virtually anywhere in the country, it is impossible to avoid the legacy of the war. Bombers released payloads on Laos reportedly because they were returning from North Vietnam without hitting targets. Today, according to a comprehensive story in Mother Jones, "80 million live bomblets lurk under Laos' soil" and more than 100 Laotians are killed each year by unexploded cluster bombs left over from the war. As I examine in my forthcoming book on the war, which will be released in January, the Laos war was important to U.S. policy in many ways, even if it is largely forgotten in Washington now. The Laos war can be seen, in some ways, as a forerunner of other, later U.S. war efforts, in which the line between the Central Intelligence Agency and Special Forces becomes blurred---and in which the United States manages a large proxy army. Many CIA leaders viewed Laos as an example of a highly successful operation. Veterans of the CIA's Laos war effort went on to involvement in Afghanistan in the 1980s and Central America in the 1980s, and some aspects of the Laos war mirror the CIA's tactics in the global war on terrorism. In fact, Laos was the largest covert war in U.S. history, and one that needs to be better understood today.