Pakistan's General Election 2018: So Far, No Cause for Celebration
Ahead of national elections in Pakistan this week, allegations of pre-poll rigging, press intimidation, and the mainstreaming of militant groups are all cause for concern.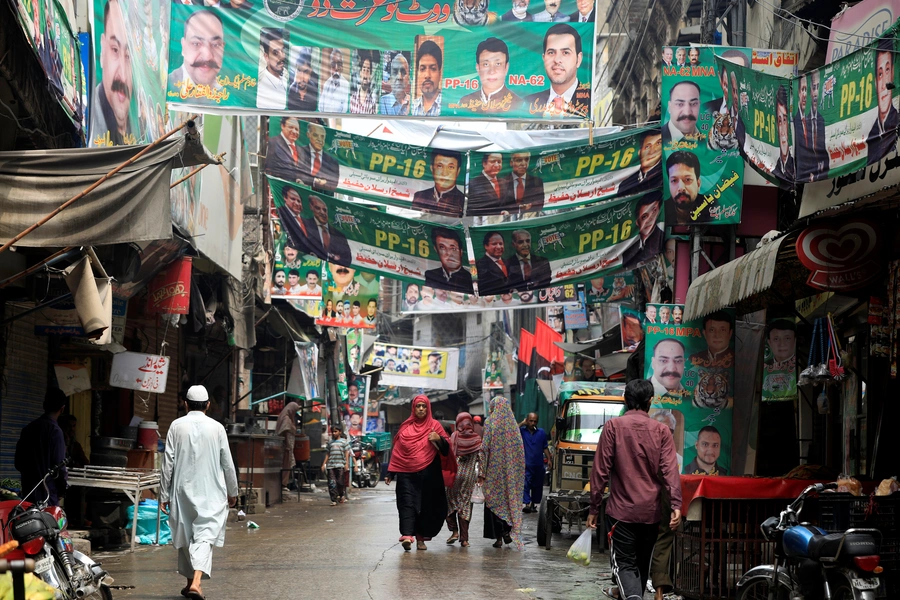 Pakistanis go to the polls on Wednesday, July 25, to elect another National Assembly for a five-year term. But instead of prospectively celebrating the second peaceful transition of power from one civilian government to another—which in the case of Pakistan is an important marker indeed—the general mood among observers appears to be one of great concern.

This is for three reasons. First, the run up to the elections has been filled with reports of impediments to the course of normal democratic politics. As the Economist, never known for its overstatement, put it: "Violence and claims of election-rigging overshadow Pakistan's election." The Pakistan Muslim League (Nawaz) group (PML-N) complains that its supporters were arrested ahead of former Prime Minister Nawaz Sharif's return home on July 13 to be jailed on corruption charges; the Pakistan People's Party (PPP) has said their workers were stopped from holding rallies. The now nearly universal speculation sees the military shaping the environment ahead of the polls to favor Imran Khan, head of the Pakistan Tehreek-e-Insaaf (PTI).

There have also been terrorist attacks on rallies. A suicide attack near Quetta, in Baluchistan province, on July 13 killed 153 people and injured nearly 200 attendees at a political rally in the second deadliest attack in Pakistan's history. Other terrorist attacks have targeted politicians in Khyber Pakhtunkhwa.

Second, ongoing reports of physical attacks on members of the press, restrictions on media, and reports of self-censorship as a result have created a media environment unable to cover parties, the issues, and the election freely. Today, the Human Rights Commission of Pakistan (HRCP) released a sobering summary of their investigation into restrictions on freedom of expression in Pakistan. The HRCP reported that military personnel have harassed newspaper distributors; intelligence agency officials called cable operators to direct that certain channels be taken off the air (or moved to a high number); and that members of the press have received threatening calls with instructions ("advice") about how to cover the elections. Journalists Gul Bukhari, and separately, Asad Kharal, were assaulted in early June in Lahore. Hameed Haroon, CEO of Dawn Media Group, has spoken about the "deep state" choosing favorites, and an "unprecedented assault" on the Pakistani press.

Third, for these polls the Election Commission of Pakistan has permitted the candidacies of people with known and overt ties to internationally-designated terrorist groups and violent sectarian outfits. Pakistani Senator Pervaiz Rashid said, "Terrorists were being brought inside the parliament, and parliamentarians were being sent to jails." In the most egregious example, the son and the son-in-law of Lashkar-e-Taiba founder Hafiz Saeed are contesting seats in Punjab. Hafiz Saeed is an individually-designated terrorist on the UN- and U.S. terrorism lists, and the Lashkar-e-Taiba has been proscribed by the UN and the United States. (The United States first listed this group in 2001; it is held responsible for the 2008 Mumbai attacks). These are not the only candidates with similar backgrounds, and the fact that the Election Commission has allowed their candidacies illustrates how feebly the country takes its responsibility to uphold its international obligations to fight terrorism. Instead, they are being mainstreamed.

Against this landscape, unlike five years ago when democracy appeared to be taking root, Pakistan's general elections this week offer more to worry about than to celebrate.
Further reading:
Economist, "Violence and claims of election-rigging overshadow Pakistan's elections"
Khaled Ahmad, "Election Omens," Newsweek Pakistan
Husain Haqqani, "No Matter Who Wins Pakistan's Vote, the Nation Loses," ForeignPolicy.com
Human Rights Commission of Pakistan, "Curbs on freedom of expression in Pakistan: Summary of HRCP fact-finding exercise"
M. Ilyas Khan, "Pakistan election raises fear of 'creeping coup,'" BBCNews.com
Christina Lamb, "Pakistan's military uses menace to ease Imran Khan's path into power," The Times (London)
Ahmed Rashid, "Is Democracy Dying in Pakistan?" ForeignAffairs.com
My book about India's rise on the world stage, Our Time Has Come: How India Is Making Its Place in the World, was just published by Oxford University Press in January. Follow me on Twitter: @AyresAlyssa. Or like me on Facebook (fb.me/ayresalyssa) or Instagram (instagr.am/ayresalyssa).
Correction: Hameed Haroon is CEO of Dawn Media Group, not the editor of the daily paper Dawn.