Park Geun-hye's Impeachment: What Next?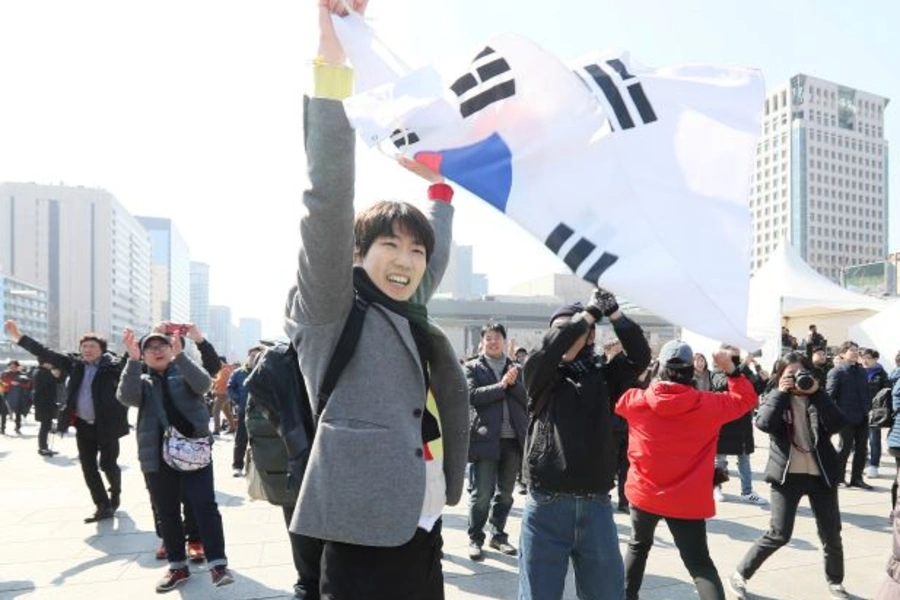 South Korea's Constitutional Court unanimously upheld the National Assembly's impeachment of Park Geun-hye today, paving the way for new elections to be held within 60 days of the ruling. May 9 has been reported as the most likely date for the election of a new president, who will replace President Park and serve a five-year term.
Park announced that she would immediately move out of the Blue House to her private residence in Gangnam. And with her removal from office, Park will almost certainly face a criminal trial now that she no longer enjoys immunity from prosecution.
South Korea's Presidential Scandal: What Happened? 
 The decision paves the way for an early resolution of a leadership vacuum that has engulfed South Korea for months. Acting President Hwang Kyo-Ahn has made decisions in a caretaker role, but with no political mandate to take new initiatives. A compressed presidential campaign and early election would be the quickest way to return to political normalcy within South Korea, but only following intensified polarization of differences between conservative and progressive factions resulting from the impeachment ruling.
Polarized factions on both sides
Most notably, the Park's impeachment has taken its toll on South Korean conservatives, who are weakened and divided following a party split over whether to impeach Park. Conservative legislators who supported the National Assembly motion for Park's impeachment left the ruling Saenuri Party to start the Barun (Righteous Party), while pro-Park stalwarts changed the Saenuri Party name to the Korea Freedom Party and appointed an interim party leadership. There were hopes that former UN Secretary General Ban Ki-moon would mobilize a unity candidacy, but they quickly evaporated in early February.
As public support for conservatives has waned, Democratic Party support rates among the Korean public have surged to the high 40% range, with former Roh Moo-hyun chief of staff and 2012 Democratic Party presidential candidate Moon Jae-in emerging as the current frontrunner with a 30-35% support rate. A four-person Democratic Party primary also features South Chungcheong Province Governor An Hee-jung and Seongnam City Mayor Lee Jae-myung, both of whom have broken into double digits in recent Korean presidential polls. Current levels of support for these three presidential candidates suggest that the winner of the Democratic Party primary will be heavily favored to win the presidency.
But as the public focus shifts from Park's impeachment to the presidential campaign, Moon Jae-in's candidacy will face greater scrutiny, especially from older Korean conservatives who are distrustful of his progressive politics. Thus, the major question likely to shape the campaign is whether any presidential hopeful can unify and mobilize the Korean public in an effort to stop Moon's candidacy.
People's Party leader Ahn Chulsoo, who unsuccessfully challenged Moon for the Democratic Party leadership in 2012, remains hopeful that he can emerge as that candidate (despite languishing 8-10% public support ratings) if he can garner conservative support. With no viable conservative option, Ahn might have a chance to emerge as a viable challenger to Moon.
Questions for a progressive South Korean presidency
A progressive South Korean presidency would raise a number of questions about the future direction of the country's foreign policy. While all the major presidential candidates will run on platforms that emphasize a strong alliance relationship with the United States, progressives want to reopen dialogue and possible economic relations with North Korea and hope to take the edge of China's rise by promoting regional cooperation as a counter to rising regional rivalries.
On the domestic end of things, they will want to address income inequality and are more likely to confront chaebol privilege.
A major challenge for South Korea's next president will be the task of managing an effective political transition.
A tough transition
The extraordinary circumstances surrounding this election will mean that the president will be sworn in the day after being elected, but it will likely take weeks to nominate a cabinet and hold hearings before a National Assembly in which no party controls a parliamentary majority. Thus, a new president will initially lead a government in composed of either a cabinet he did not choose or acting ministers that hold interim leadership while a new cabinet is selected.
While most administrations struggle to organize themselves following a two-month transition period, South Korea's next leader must be prepared to go from zero to sixty in only a day.
Then, the hard work of rebuilding trust in the country's leadership begins.
A version of this post originally appeared on Forbes.