Policy Initiative Spotlight: The Bounty of Bikeshares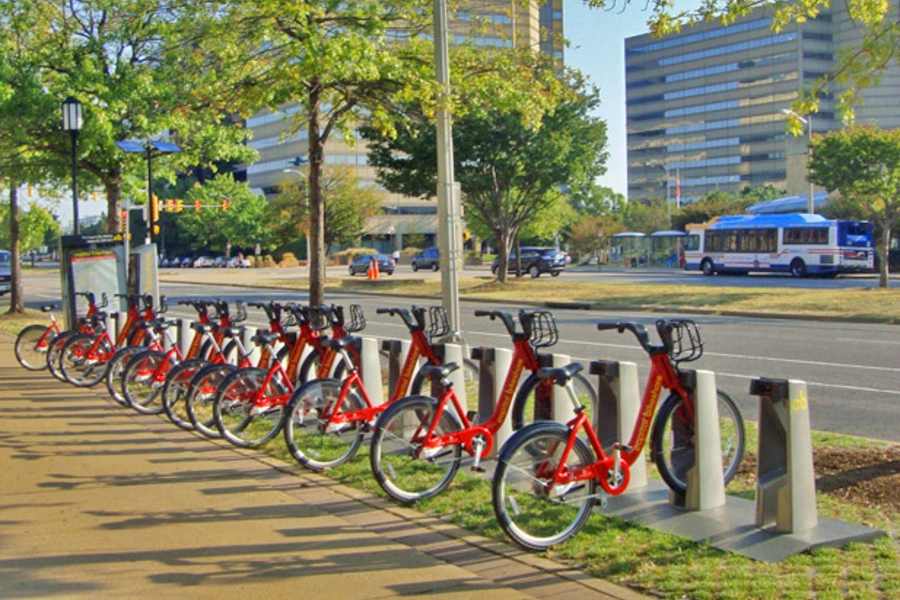 In just a matter of days, New York City will officially become the most recent U.S. metropolis—joining the likes of Washington, DC (Capital Bikeshare), Denver (Denver B-cycle),  Boston (Hubway), and Minneapolis (Nice Ride Minnesota), among others—to unveil a large-scale bikesharing program. Citi Bike, as it's known, will add yet another mode to the city's diverse suite of public transportation, with a planned fleet of 10,000 bikes and some 600 docking stations scattered about the boroughs of Manhattan, Brooklyn, and Queens. It will be the largest such program in the country, marking what some supporters have touted as a "watershed moment" in the city's transportation history (NYT).
Notably, Citi Bike will not impact the Big Apple's taxpayers and, therefore, may serve as a test case for those fiscally challenged cities with bikesharing dreams. The program is privately sponsored by Citigroup ($41 million), which will stamp its brand on each bike, and MasterCard ($6.5 million), which will help finance the docking stations. The program will also be privately operated (Alta Bicycle), although the company will share revenue in its partnership with the city.
In contrast, DC's Capital Bikeshare (US News), while partnered with the same company, funded its capital expenses ($ 7 million thus far) with federal dollars. The program has also doled out more in operating expenses ($2.54 million) than it has taken in ($2.47 million) as of April, although it is now considering putting ads on its bikes. Similarly, Minneapolis' program used federal dollars to fund 2/3 of its capital investment, and does not expect "to ever get to the point" where it operates in the black, according to officials.
However, even if they don't turn a profit, city leaders hope bikesharing programs, which are also due to hit Chicago this summer, Portland next spring, and Los Angeles within the next couple of years, will increase the mobility of their residents in a sustainable, cost-effective manner. For a reasonable membership fee ($95 annual in NYC), bikeshares enable commuters to make short trips, typically under 30 minutes (without additional charges), to another dock that may be their final destination or connect them to the next leg of a longer transit trip. Bikeshares therefore can help many riders solve the "first-and-last mile" problem in accessing the subway, bus, or train.
Proponents also argue that, in keeping many cars off the road, bikeshares reduce traffic congestion, cut pollution, save fuel, and decrease public expenditures on auto-related infrastructure. In addition to the immediate transport efficiencies, supporters also say that riders benefit from improved health (exercise) and a generally enhanced quality of life.
An opinion piece from David Byrne in the New York Times crystallizes this notion:
"For me, and lots of other people, the answer to the question 'What would improve the quality of our urban life?' involves simple things like ... um ... bicycles, which make getting around — and being in — the city easier, more pleasant and more affordable. New York is one of many cities that are creating all kinds of new green spaces, riverside parks and bike programs, all of which are symptomatic of our desire to make our cities into our homes."
The need for efficient urban transportation will also increase as more Americans choose to migrate or remain in big cities as part of what some analysts describe as an "urban renaissance" (LAT). According to census data, the country's 51 metro areas (> 1 million pop.) grew faster from 2010-2011 than their suburban counterparts, a dramatic shift from the prior decade when suburb population growth rates tripled that of cities.