Policy Initiative Spotlight: Employing Post-9/11 Veterans
The Obama administration's "Joining Forces" initiative hopes to decrease the high rate of unemployment for new (post-9/11) vets.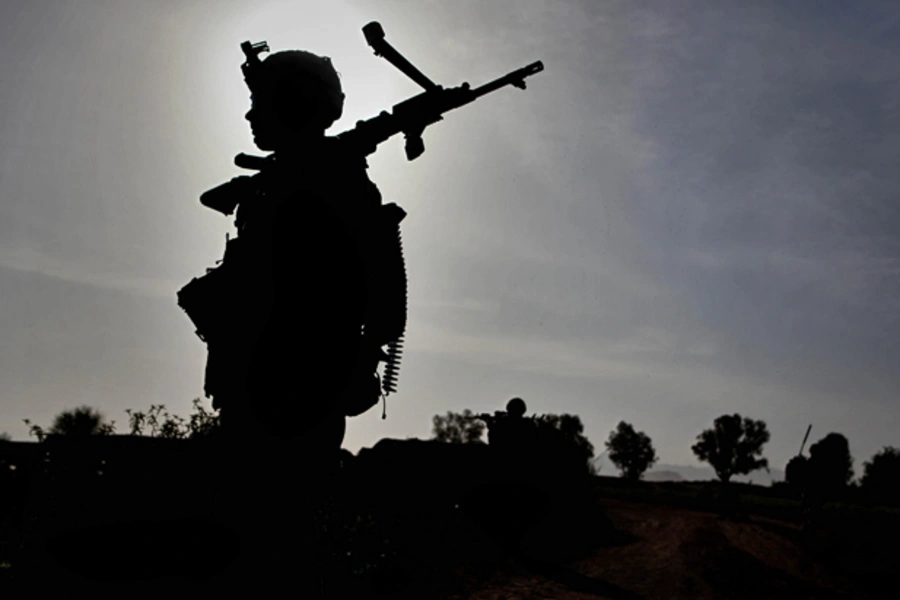 On Monday, Memorial Day, Wal-Mart will begin fulfilling its promise to hire any recent, honorably discharged veteran that wants a job (at least part-time). The world's largest retailer says its pledge, part of the Obama administration's "Joining Forces" initiative, will result in the company hiring more than 100,000 vets over the next five years. "Wal-Mart is already the largest private employer of veterans -- and we want to hire more," says the company's website.
The White House launched Joining Forces nearly two years ago to help veterans and military spouses overcome the challenge many were having in transitioning to the civilian workforce. A particularly troublesome indicator was the high rate of unemployment for new (post-9/11) vets. According to the U.S. Bureau of Labor Statistics, joblessness among this group was 9.9 percent for 2012, nearly two points higher than for the general population.
Joining Forces helps vets and their families find work by promoting their unique advantages to employers—high levels of skill, training, and discipline—and providing them with various recruiting-related resources, such as job banks, career fairs, and other transition support services. At the same time, the government incentivizes businesses to hire veterans with a number of tax credits and, of course, a positive public relations opportunity.
The tax incentives are quite generous, especially for lower paying positions. Firms that hire unemployed vets can claim a maximum credit of $5,600 per hire (or 40 percent of the first $14,000 of wages), while those hiring vets with service-connected disabilities can claim a max credit of $9,600 per hire (or 40 percent of the first $24,000 of wages.)
In recent days, Michelle Obama and Jill Biden, who spearhead the initiative, have touted some of its successes in the press. Close to 300,000 vets and military spouses have already been hired or trained—nearly triple the original goal—and U.S. firms have committed to hire another 435,000 over the next five years. But significant challenges remain, including the disproportionately high jobless rate for post-9/11 vets, and the wave of more than a million new veterans expected to enter the job market in the coming years.
Helping these new veterans successfully transition into the civilian workforce requires an understanding of the particular challenges they face. Many analysts note that the higher joblessness rate for post-9/11 vets can be attributed to their relative youth, as younger workers are generally more likely to be unemployed.
However, a report issued earlier this year by the Federal Reserve Bank of Chicago found that unique service factors of this group also play a large role. "Extended deployments that began in late 2001 and continue to the present period have not only put a strain on these individuals during their military service, but also appear to be hampering their labor market outcomes once they return to civil­ian life."
A June 2012 report from the Center for a New American Security identifies several challenges that new vets face in moving into the civilian workforce—chief of these is skill translation. "Many (surveyed) firms commented that veterans do not represent their skills and expertise in ways that are relevant to civilian companies and that civilian companies do not know what kind of military skills to seek out, how to understand military jobs or how to discern the promising and high-performing veteran hires."
That same month, the White House created a Pentagon task force, another part of its Joining Forces initiative, to address this issue. Many vets are often forced to repeat training they had in the military in order to receive civilian qualifications. The administration's efforts, highlighted in a report issued earlier this year, include partnering with states and industry, particularly manufacturing, to streamline the credentialing and licensing of vets moving into the civilian labor force. For instance, just last month, the first lady unveiled a new program to certify vets for jobs in the information technology industry.
Alternatively, other organizations, like Syracuse University's Institute for Veterans and Military Families, are focusing on training new veterans in business management. The IVMF, featured recently on CBS' 60 Minutes, offers post 9/11 veterans with service-related disabilities an "entrepreneurship bootcamp" which includes a month-long online course and a 10-day onsite program covering the spectrum of business education. Similarly, The Fullbridge Program offers new vets a "business immersion experience" in a 2-4 week "bootcamp."
Building on the existing management skills of veterans seems to be another critical piece to the employment puzzle. Indeed, according to the CNAS report, the top reason companies hired vets was for leadership and teamwork skills. One firm's comment on this explains: "Ninety-five percent of the kids coming out of college have never managed before. They may be very smart, but they have no leadership experience. To find someone that is very smart and also has real leadership experience is huge for our business."