Political Splintering at the Root of Failing South Sudanese Peace Deals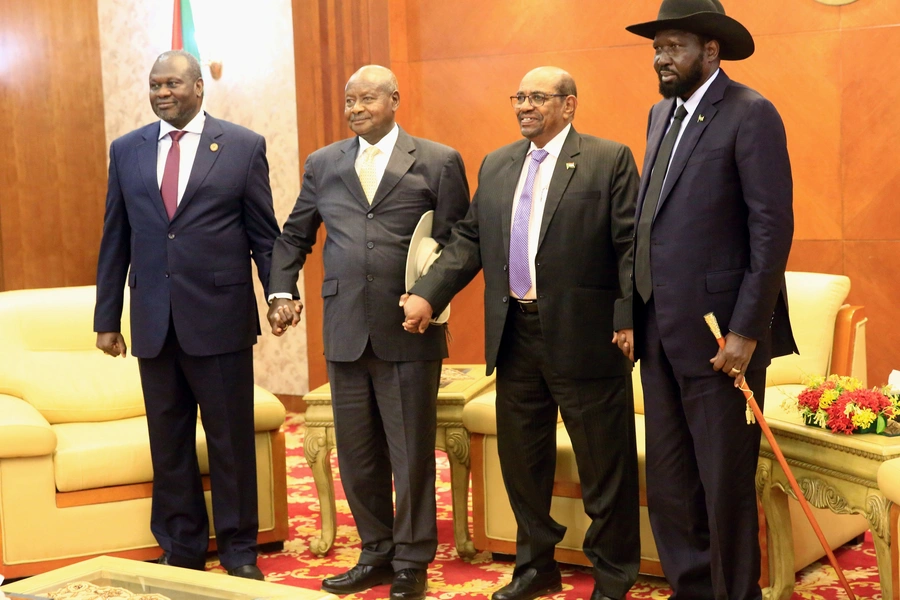 Abigail Van Buren is an interdepartmental program assistant at the Council on Foreign Relations in New York. 
On June 27, South Sudanese President Salva Kiir and former Vice President Riek Machar met in person for the first time in two years and agreed to a ceasefire to end the civil war, now in its fifth year. Dubbed the Khartoum Declaration, this latest ceasefire may initially appear to be a victory, but violence resumed mere hours after it went into effect. Unfortunately, the violation of agreements is not the exception to the rule in South Sudan, but the rule itself. The continuous splintering of political groups and the lack of acknowledgement they subsequently receive, coupled with the competing agendas of regional states and organizations, all but dooms these deals from the start.
In 2011, the ruling SPLM party split in two. Kiir leads the Sudan People's Liberation Movement in Government (SPLM-IG), and Machar, the Sudan People's Liberation Movement in Opposition (SPLM-IO). Today, there are close to a dozen warring parties. Nevertheless, the Intergovernmental Authority on Development (IGAD) prioritizes a two-party negotiated settlement, effectively ignoring the interests of these splinter groups. Furthermore, the Khartoum Declaration holds that all relevant provisions of the 2015 Agreement on Resolution of Conflict in South Sudan (ARCSS) shall apply unless decided otherwise, but the new parties that emerged since ARCSS have demands that past agreements never addressed. For example, the South Sudan Opposition Alliance has requests that focus on addressing ethnic divisions in the nation. This raises questions about the acceptability and therefore feasibility of the Khartoum Declaration and the role these groups should play in negotiations. Currently, IGAD's stance on how much power Machar will have in the transitional government remains ambiguous, as does what kind of guarantees may be afforded to newer, smaller factions.
Further complicating conflict resolution are the disparate agendas of regional organizations and neighboring states. In recent agreements, the SPLM-IO only grudgingly acquiesced to provisions for the African Union (AU) and IGAD to oversee the ceasefire. The SPLM-IO perceives the Ugandan and Kenyan governments—both prominent members of IGAD—to be long-time supporters of the SPLM-IG. President Yoweri Museveni of Uganda has provided Kiir's government with military aid and has established his country as South Sudan's most important trading partner. Today, Uganda exports $189 million worth of goods to South Sudan. The fall of Kiir threatens these ties. In addition, Kiir has been heavily involved with Kenya's LAPSSET corridor, a large transportation infrastructure project part of Kenya's Vision 2030 strategy. Leadership changes in the South Sudanese government could therefore delay Kenya's infrastructure modernization timeline. 
On the other hand, Sudanese President Omar al-Bashir has continued to show personal support to Machar as most of the oil fields are in Nuer (Machar's ethnic group) territory. Moreover, Sudan owns the only viable transport route for South Sudanese oil to reach international markets. This means that all of Kiir's oil revenue depends on Sudan's infrastructure, though the LAPSSET corridor could change that. Al-Bashir's strategic relationship with the two men gives him strong sway over negotiations, but could also corrupt the integrity of the peace agreement if his sole motive is increasing his country's oil revenue. 
The splintering of political parties and the parochial economic interests of regional countries are two significant roadblocks to the success of the Khartoum Declaration ceasefire. The mediators and signatories of South Sudanese reconciliation negotiations must work together to create a new, comprehensive peace agreement that is more than just a renewal of ARCSS by focusing on sincere conflict resolution over temporary satiation of fighting groups. For lasting peace, stakeholders must be more inclusive of new political factions by considering all grievances and ensure that regional country interests are not fulfilled at the expense of regular South Sudanese citizens.