Pregnant in a War Zone: Why Respectful Maternity Care Matters in Humanitarian Settings
Last month, White Ribbon Alliance and the American Refugee Committee convened a first-of-its-kind consultation to forge a new path for prioritizing respectful maternity care in humanitarian settings. This post is authored by Betsy McCallon, CEO of the White Ribbon Alliance.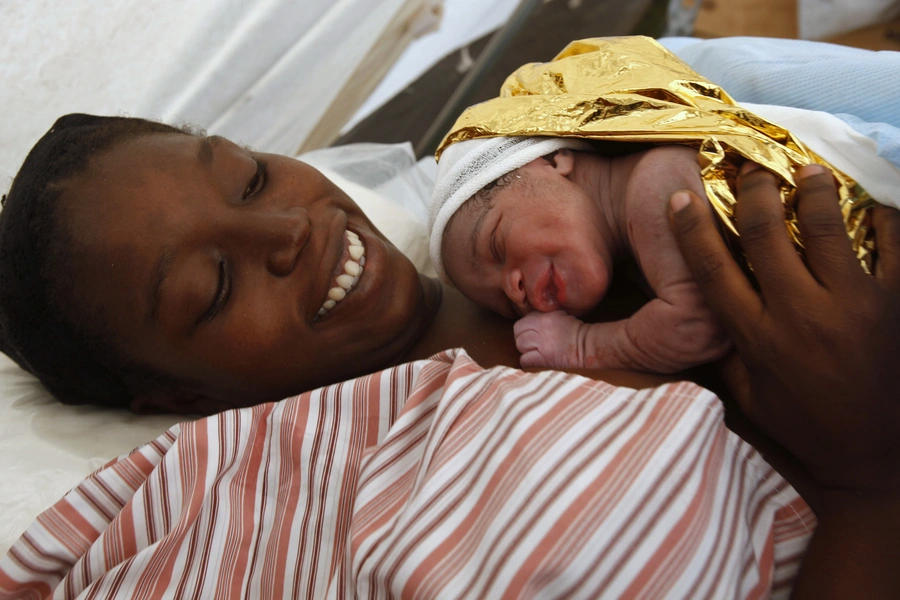 Voices from the Field features contributions from scholars and practitioners highlighting new research, thinking, and approaches to development challenges. This piece is authored by Betsy McCallon, CEO, White Ribbon Alliance. 
Respectful maternity care (RMC) is a human right and an integral component of comprehensive health services. Components of RMC include privacy, education about rights and choices, freedom from abuse, and treatment with dignity. Receiving RMC has direct health outcomes, and is a key determinant for whether women seek recommended antenatal care and deliver their baby with a skilled birth attendant in the future. However, disrespect and abuse during pregnancy are a well-documented phenomenon. A woman's maternal health experience is directly linked to power relations, and broader contexts of instability in families, communities and nations.
In 2011, amidst growing evidence of mistreatment in childbirth, White Ribbon Alliance led a group of global organizations to develop a ground breaking consensus document, the Respectful Maternity Care Charter. Seven years after this document first enshrined maternal health rights as human rights, White Ribbon Alliance and the American Refugee Committee—members of the steering committee for the Interagency Working Group for Reproductive Health in Crises—convened nearly 100 thinkers, doers, policy makers, and health and protection advocates to forge a new path for prioritizing respect and dignity as central to quality maternity care in humanitarian settings.
"The reproduction of a community is especially fraught and meaningful when a community is under siege – in war, genocide or displacement. Pregnancy and childbirth are also a prism through which historical injustice plays out," said Lynn Freedman of the Mailman School of Public Health Averting Maternal Death and Disability Program. "For program interventions to be effective, they have to be about fundamentally dislodging and reconfiguring the way that power works within a health system and a wider community," she continued.
While much of the focus has rightfully been on childbearing women and mothers, RMC also depends on health providers, who face their own set of challenges in crisis. The largest global survey of midwives to date, Midwives Voices, Midwives Realities, revealed that they are overworked, underpaid and disrespected; its findings demonstrate that gender discrimination hinders the provision of quality care in every day circumstances, much less in humanitarian settings.
"What about the health providers in crisis? Those providing care during floods, earthquakes or tornedos? And the worst kind of disasters, the human-made crisis of war?" asked Dr. Bushra Al-Makaleh, who hails from war-torn Yemen. "Can you imagine your life with continuous stress? Under bombs all the time? Having no electricity to see your patient? No water to wash your hands and clean your tools? And the worst of all – having a woman bleed to death in front of your eyes and you have no life-saving drugs available to save her life? This is more than anyone can handle or imagine."
Sonia Walia, Public Health Advisor for USAID's Office of US Foreign Disaster Assistance, spoke of women scheduling C-sections when there was a lull in the fighting. With the number of humanitarian emergencies on the rise, we cannot wait for a lull to ensure that all women and newborns get the respectful care they deserve, because RMC is perhaps most vital, but sometimes neglected, during a humanitarian crisis when the priority is to maintain or quickly re-establish basic healthcare services.
Resource constraints and security challenges found in humanitarian settings exacerbate the systematic causes of mistreatment in childbirth, including underlying social determinants and gender norms that perpetuate violence against women. With 134 million people in need of humanitarian assistance and protection around the world, humanitarian, maternal and newborn health, and protection communities must identify effective strategies for ensuring safe, timely, respectful, and culturally appropriate maternity care in crises. Because the universal rights of childbearing women apply regardless of where a woman gives birth and contribute to her overall health and well-being and that of her baby. To ensure these rights, we have begun to outline next steps for immediate action, research and advocacy.
As a larger community, we must continue to build a movement around prioritizing and advocating for RMC for every woman, everywhere.
We can begin to integrate reproductive justice into humanitarian settings by working with affected populations and humanitarian coordinating bodies to ensure that women leaders are empowered in emergency response efforts and that women are brought into the conversations from the outset to ensure efforts are not siloed.
We must create a consensus around definitions of RMC and disrespect and abuse, and a shared understanding of the drivers of disrespect and abuse in different contexts.
We must ensure that RMC is a central part of our thinking and everyday work – in program design, implementation and evaluation – and involve women every step of the way.
We must inform women and families of their rights while orienting providers and health management on the principles of RMC.
We must work to incorporate RMC tools, principles and indicators into existing guidelines and programs, such as the Minimum Initial Service Package for reproductive health in crisis. 
We must call on donor governments who prioritize humanitarian response, such as the United States the United Kingdom, to ensure that respectful maternity care is included in all guidelines and funding requests to truly make RMC norm, rather than the exception.
We must also prioritize supplies, staffing and other infrastructure needs. All of this will help to create a culture of respect in health systems where RMC is the norm.
There must be better coordination between all sectors that contribute to whether a woman receives respectful maternity care during conflict, natural disaster or disease outbreak and demand that donors prioritize quality, respectful care.