The President's Inbox: The Killing of Qasem Soleimani
Each week between now and the Iowa caucuses, I'm talking with experts with differing views on how the United States should handle a foreign policy challenge it faces. These special episodes are part of CFR's Election 2020 activities, which are made possible in part by a grant from the Carnegie Corporation of New York.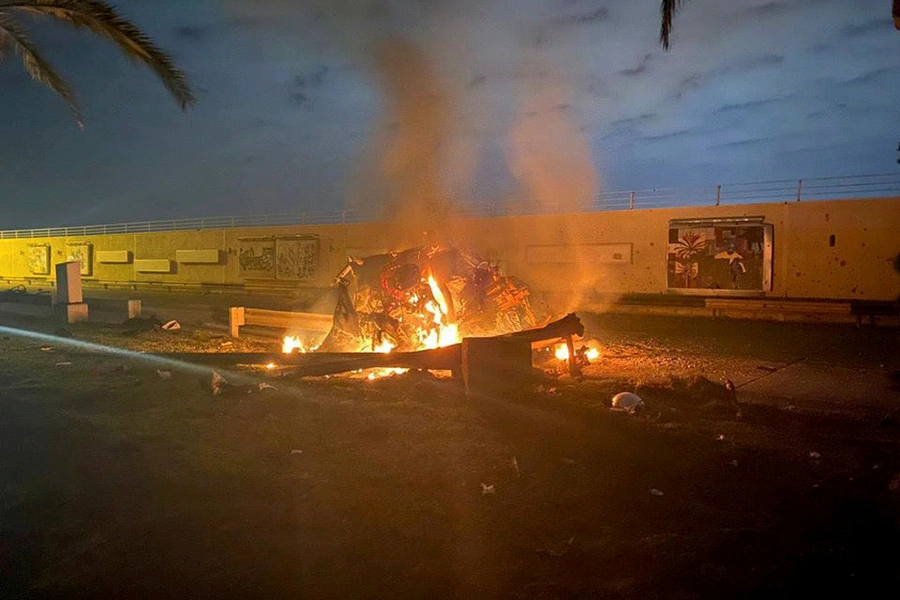 The latest episode of The President's Inbox is live. This week, I sat down with three of CFR's experts: Steven A. Cook, Eni Enrico Mattei senior fellow for Middle East and Africa studies; Philip H. Gordon, Mary and David Boies senior fellow in U.S. foreign policy; and Ray Takeyh, Hasib J. Sabbagh senior fellow for Middle East studies. We discussed what the killing of Iranian commander Qasem Soleimani means for the Middle East and for U.S. foreign policy.
Here are three takeaways from our conversation:
1. Soleimani had a lot of blood on his hands. In his role as head of the Quds Force, he plotted attacks against almost everyone, including his fellow Iranians. Dexter Filkins, who back in 2013 wrote the best English-language profile of the Iranian major general, concluded that Soleimani had "sought to reshape the Middle East in Iran's favor, working as a power broker and as a military force: assassinating rivals, arming allies, and, for most of a decade, directing a network of militant groups that killed hundreds of Americans in Iraq."
2. Experts disagree on what will happen next. Steven and Phil argued that we might be at the start of an escalatory spiral, though they cautioned that Iran might wait before retaliating. Ray countered that the attack put the mullahs on their back foot, making significant future Iranian provocations less likely. Just hours after we recorded the podcast, Iranian rockets hit a U.S. base in Iraq. No one was killed. Tehran framed the attack as having "concluded" its retaliation. President Donald Trump looks to have limited U.S. retaliation to intensified economic sanctions. Whether this represents a real de-escalation in military activities, or merely a lull, remains to be seen.
3. War isn't inevitable, and perhaps not even likely, but events can have a life of their own. Steven, Phil, and Ray all agreed that neither Iran nor the United States is eager for what would be a bloody and costly war. But as Phil pointed out, the Middle East provides a lot of examples of wars that shouldn't have happened but did. And assuming war is avoided, the challenge of how to deal with Iran's nuclear and missile programs remains.
Steven, Phil, and Ray have weighed in on the debate over the Soleimani killing. Steven wrote just after the news of the drone strike broke that "the Mideast just turned more dangerous." He followed that up by writing a piece that argued "there is nothing left for Americans to do in Iraq" and that the United States should remove its forces from the country. Both pieces came on the heels of a year-end piece he wrote noting that street demonstrations had surged across the Middle East in 2019 and cautioning that no one knows where they might lead.
Phil cowrote a piece for the New York Times on Monday warning that if the Trump administration doesn't move to de-escalate tensions with Iran, "it will soon find itself facing the very dilemma the nuclear deal was designed to avoid: the choice between a nuclear Iran or the need to start a war to prevent one." Phil has been consistent on this point. He wrote in Foreign Affairs last May that the Trump administration's maximum pressure strategy could pave "a path to war with Iran." Phil wrote another piece on Monday exploring the consequences of Iran's decision to no longer observe the restrictions placed on its nuclear activities by the 2015 Joint Comprehensive Plan of Action.
Ray wrote immediately after Soleimani's death that the attack had dealt "a crippling blow to the Iranian regime." He also wrote that Iran had been losing its grip on Iraq even before the drone strike and that the attack, combined with U.S. sanctions, showed that "the Trump administration has taken an important step in shrinking the imperial imprint of Iran in the Middle East." In another article, Ray argued that the talk of Iranian retaliation and the march to war has been overblown. He thinks that the strike on Soleimani and the continuation of the maximum pressure strategy could "temper the clerical oligarchs, who tend to retreat in face of American determination" rather than start "World War III."
The legality of the drone strike has been a hot topic. Lawfare, which offers the best day-by-day coverage of the legal aspects of U.S. foreign policy, was quick to post two useful analyses, one by Jack Goldsmith and the other by Scott Anderson. The upshot of both pieces is that it's difficult to imagine a U.S. court ruling that President Trump acted illegally. That won't stop some legal experts from arguing that he did.
If you want to learn more about the Islamic Revolutionary Guard Corps, of which the Quds Force that Soleimani commanded is a part, here is an explainer on what it is and how it has developed since Iran's 1979 revolution.
Margaret Gach helped in the preparation of this post.