Campaign Foreign Policy Roundup: The Killing of Qasem Soleimani
Each Friday, I look at what the presidential challengers are saying about foreign policy. This week: the U.S. drone strike that killed an Iranian general, the wisdom of Joe Biden's Iraq vote, and foreign policy's importance in the election.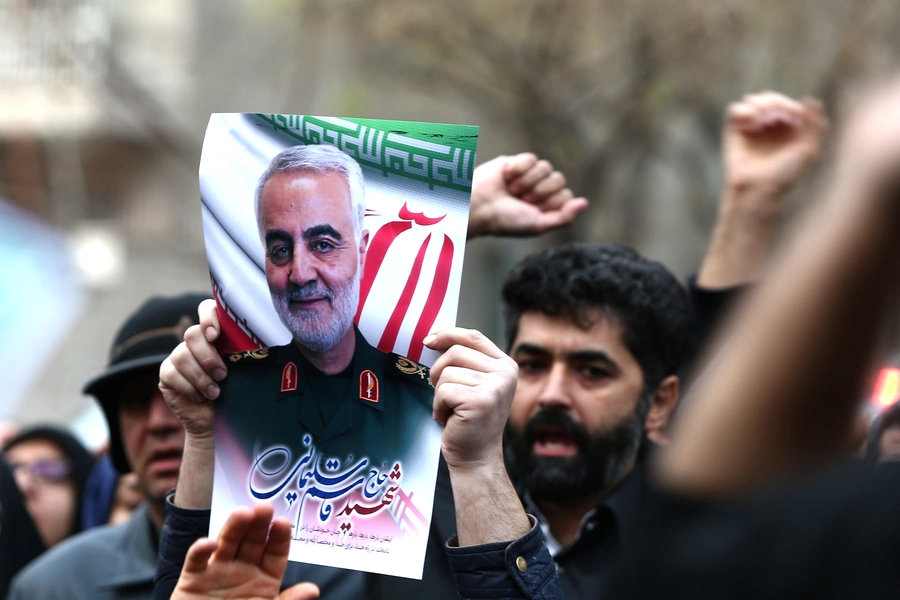 Yesterday's U.S. drone strike that killed Maj. Gen. Qasem Soleimani, the commander of the Quds Force of Iran's Islamic Revolutionary Guards Corps, has pushed foreign policy to the top of the agenda for all the presidential challengers—at least temporarily. Most of them took care in their initial reactions to the news to denounce Soleimani's sins, calling him variously, and fairly, a "bad person," "a murderer," "evil," and "a significant danger to our troops." But all of them also highlighted the risk of escalation, more or less agreeing with Joe Biden's assessment that "President Trump just tossed a stick of dynamite into a tinderbox." As Marianne Williamson correctly noted, the drone strike wasn't "about whether Soleimani was a 'good man' any more than it was about whether Saddam was a good man. It's about smart versus stupid use of military power." The weeks to come will tell us which it was.
Candidates in Their Own Words
Biden has taken a lot of heat for his 2002 vote to authorize the Iraq War. Bernie Sanders said late last month that Trump would "eat Biden's lunch" over the former vice president's vote on the Iraq War. Just last week, Pete Buttigieg said that Biden had supported "the worst foreign policy decision made by the United States in my lifetime."
Biden's response to Sanders was brief. He offered to invite the Vermont senator "to come and I'll give him dessert at the White House." His response to Buttigieg was longer, and included this passage:
Look if I'm Pete, I'm going to go after one vote that's out there, but remember the context of that vote. The context of that vote was that the president in my meetings with him promised me that it was only to determine to get the Security Council to vote whether or not we can get inspectors to determine what Saddam Hussein was doing and he did that. But then he went to war. You might remember, when we got elected, the first person the president turned to, President Obama, he said, Joe get those 150,000 troops out of there. I'm the guy that ran that for the defense department, the national security apparatus and the foreign policy of the United States and we got them out. So the point is that I believe that my judgment on how to proceed in everywhere from Afghanistan to Libya and how to deal with Syria, etc., will stand the test of time…. I'm very proud of my record and I'm delighted to debate foreign policy with my friend.
Buttigieg's campaign released a list of 218 foreign policy experts who endorsed the former mayor's candidacy, an answer to the list of 133 endorsements the Biden campaign released back in November. Experts endorsing Buttigieg included former National Security Advisor Anthony Lake and former Secretary of the Army Eric Fanning. In the interest of full disclosure, five of my colleagues—Paul Angelo, Elizabeth Economy, Philip Gordon, Jennifer Hillman, and Caroline Netchvolodoff—were among those who endorsed Buttigieg.
Tom Steyer kicked off his "People Over Profits" bus tour across Iowa on New Year's Day. He got a foreign policy question on first stop, Council Bluffs. He used it to say that Trump's foreign policy is a "stupid, stupid, thing. You do stupid things you get bad outcomes."
What the Pundits Are Saying
The Washington Post's Michael Kranish reported that Mike Bloomberg "could present a whole new level of overseas entanglements—with China as a prime example." Bloomberg the firm derives 1 percent of its revenues from its business activities in China and 4 percent from its business activities in Hong Kong. (Bloomberg the candidate owns an 88 percent stake in the firm.) The former mayor declined to be interviewed for the story, but his campaign spokesperson said that "as President, Mike will speak up about areas where we have profound differences with China, including on human rights, democratic freedoms and trade."
Dani Rodrik, a professor at Harvard, plugged Elizabeth Warren's trade proposals, arguing they will help redistribute the benefits of globalization for all. He particularly applauded Warren's vow to negotiate trade agreements only with countries that observe internationally recognized standards on labor, human rights, corruption, and tax evasion, and that are signatories to the Paris climate agreement. One problem with this approach, as Rodrik admits, is that the United States itself doesn't satisfy all of these preconditions. Another problem, which Rodrik doesn't address, is that other major economies, including other major industrialized democracies, won't limit their trade negotiations in the same way. They will continue to make deals with one and all, which will leave U.S. exporters competing at a disadvantage. The biggest problem, though, is it isn't clear that "better" trade deals of the sort Warren proposes will do much to solve the very real challenges facing the working and middle classes in the United States. The reasons for stagnating wages and income inequality run far deeper than bad trade deals.
Andrew Hammond, an associate at the London School of Economics' foreign policy think tank, predicts that "foreign policy will factor hugely" in the 2020 election because "Trump has—unlike many presidents in the modern era put a very significant amount of emphasis on foreign policy in the first three years of his presidency."
Diane Hessan offered the opposite perspective. Since 2016 she has been speaking with 500 voters across the political spectrum. What she has found from talking to them is telegraphed by the headline to her piece: "When Voters Hear About Foreign Policy, They Yawn." To buttress her case, she cited the September poll by Ipsos and FiveThirtyEight that asked Democrats which issues mattered most to them in 2020. Foreign policy didn't make the top ten.
Hessan has the better of the argument on the merits. But if Election 2020 does break the mold with foreign policy becoming a decisive issue, it won't be for the reason that Hammond suggests. Foreign policy figured prominently in the first terms of Ronald Reagan, George H.W. Bush, Bill Clinton, and George W. Bush, yet their reelection battles all turned on domestic issues. Rather, as yesterday's killing of Soleimani reminds us, foreign policy moves to the top of the political agenda when events abroad come to directly affect voters here at home.
Campaign Updates
The Democratic field narrowed further this week. Julián Castro, the only Latino candidate in the race, dropped out yesterday. He released a video explaining his decision to end his candidacy.
Buttigieg is now the former Mayor Pete. His eight years as mayor of South Bend, Indiana, ended on New Year's Day.
The seventh Democratic presidential debate is set to be held on Tuesday, January 14, at Drake University in Des Moines. CNN and the Des Moines Register will be the hosts. To qualify, candidates need to have 225,000 unique donors and to register either 5 percent in four national polls or 7 percent in two early state polls. The deadline for hitting those targets is January 10. So far five Democrats have qualified: Biden, Buttigieg, Amy Klobuchar, Sanders, and Warren. The debate could be scratched, though, if the impeachment trial of President Donald Trump starts before then. Senators Klobuchar, Sanders, and Warren will need to be in Washington for the trial.
The Iowa caucuses take place exactly one month from today. There are 305 days until Election Day.
Margaret Gach assisted in the preparation of this post.