The President's Inbox Recap: The Biden-Yoon Summit
Presidents Joe Biden and Yoon Suk Yeol commemorated the seventieth anniversary of the U.S.-ROK alliance amidst growing a growing threat from North Korea.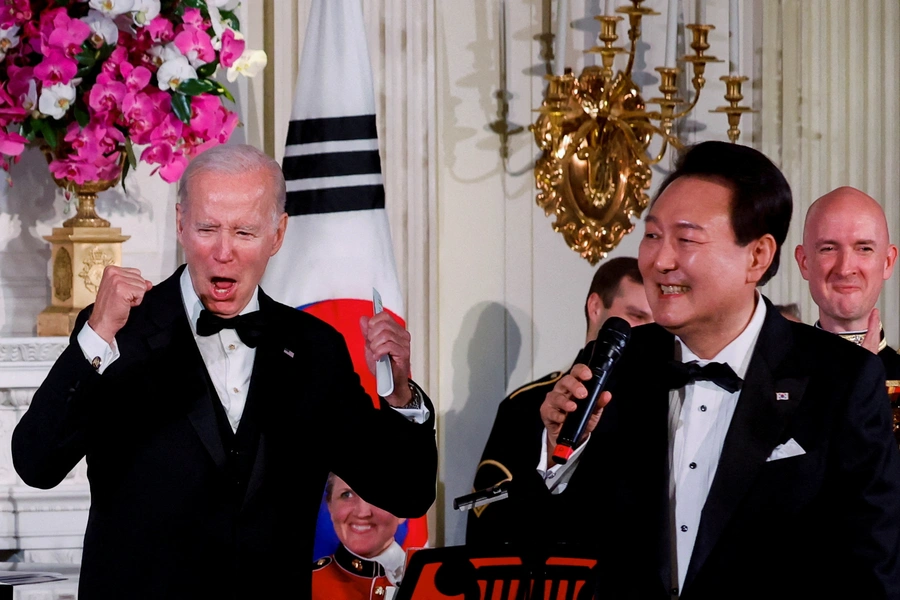 The latest episode of The President's Inbox is live. This week Jim sat down with Scott Snyder, senior fellow for Korea studies and director of the program on U.S.-Korea policy at CFR.
Scott Snyder, a senior fellow for Korea studies and the director of the program on U.S.-Korea policy at the Council, sits down with James M. Lindsay to discuss South Korean President Yoon Suk-yeol's recent state visit with U.S. President Joe Biden and its implications for the U.S.-South Korean alliance.
May 1, 2023 — 32:05 min
They discussed the South Korean President Yoon Suk Yeol's state visit to Washington last week to celebrate the 70th anniversary of the U.S.-ROK alliance.
Here are four takeaways from the conversation:
1. Strengthening deterrence against North Korea and protecting South Korean industries against American economic nationalism were the two issues topping Yoon's agenda.  Faced with North Korea's growing nuclear and missile capabilities, South Koreans worry that U.S. security guarantees are eroding and that in a crisis Washington won't risk San Francisco to save Seoul. Meanwhile, recent U.S. economic initiatives like the CHIPs and Science Act, the Inflation Reduction Act, and the ban on the sale of advanced semiconductor technology to China have put many South Korea firms in a difficult spot.
2. Yoon got some of what he wanted on the security front. Biden issued an explicit warning to North Korean leader Kim Jong-un, saying that an attack on the United States or its partners "is unacceptable and will result in the end of whatever regime were to take such an action." (Biden didn't say that he'd necessarily use nuclear weapons to retaliate.) Biden and Yoon then issued the Washington Declaration, which strengthened nuclear collaboration between the two countries. Biden promised to consult with Yoon about how to respond should North Korea attack South Korea with nuclear weapons. The two presidents also committed to convening a nuclear consultative group and to having U.S. ballistic missile submarines docking at South Korean ports. The declaration stopped short, however, of deploying nuclear weapons in South Korea. The United States withdrew tactical nuclear weapons from the peninsula in 1991. Yoon suggested in his follow-up statements that the declaration amounted to a nuclear weapon sharing agreement. Biden administration officials were quick to knock down that claim.
3. Yoon achieved few of his economic policy goals. The two presidents didn't issue any statements on the economic front equivalent to the Washington Declaration. That had to be a disappointment to Yoon. As Scott put it, Yoon has to worry "whether or not South Korean firms can get a fair shake in the U.S. economy" and remain economically competitive. Yoon could face a tough job reorienting South Korean companies and investors from China to the United States.
4. The two presidents didn't say much publicly about Ukraine. The question of whether South Korea will agree to send military aid to Ukraine hung over the visit. This is a problem for Yoon at home.  If South Korea sends weapons directly or indirectly to Ukraine, Russia might respond by providing more weapons to North Korea—something it has threatened to do. Scott thinks that Yoon will eventually give in to pressure from the United States: "So far, the policy itself has not shifted, but it certainly appears that President Yoon has laid the groundwork for being able to shift the policy at some point in the future if he so desires."
Scott has written several pieces on the Biden-Yoon summit. He wrote a piece for Korea on Point that argued Yoon was elevating the U.S.-ROK alliance at political risk to himself. He also analyzed the durability of the Washington Declaration and the primary challenges it faces for CFR's Asia Unbound blog. In an In Brief for CFR.org, he explained that the sustainability of the alliance that the United States and South Korea "forged in blood" will "depend both on shared democratic values and on convergent economic interests that enable deeper integration of supply chains and technology."