Yoon Is Revitalizing a Seventy-Year-Old Alliance by Taking Political Chances
The upcoming state visit by South Korean President Yoon Suk-yeol is likely to elevate and reaffirm the alliance, but it may not provide an immediate political boost to President Yoon.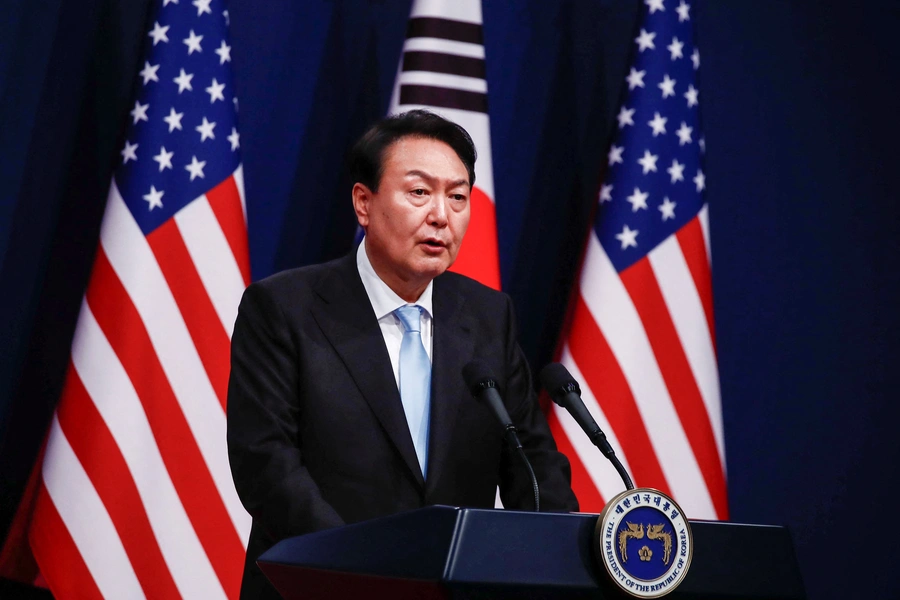 Since his inauguration in May 2022, South Korean President Yoon Suk-yeol has placed the "comprehensive strategic alliance" with the United States as the centerpiece of South Korea's foreign policy, fulfilling the campaign pledges he made as a presidential candidate. Yoon's favorable attitudes toward the United States broadly reflect South Korean public support for close relations with the United States, which regularly garners public approval ratings of over 80 percent. Under these circumstances, one would think that leading a state visit to the United States to mark the seventieth anniversary of the U.S.-South Korea alliance would both consolidate South Korea's foreign policy strategy and provide a political boost to Yoon, whose approval ratings have hovered in the low thirties and recently dipped below 30 percent. Paradoxically, it is increasingly likely that a successful anniversary summit may not give Yoon an immediate political boost, even though the summit is likely to elevate and reaffirm the U.S.-South Korea alliance.
The Joe Biden administration has warmly welcomed Yoon's prioritization of the alliance with the United States precisely because it bolsters the Biden administration's objective of strengthening alliances with like-minded countries to support a rules-based international order in the face of growing authoritarianism. Yoon is also clearly on the same page as Biden in opposing North Korea's internal repression and military modernization, including the regularization of joint U.S.-South Korea military exercises to enhance readiness and bolster deterrence against North Korea. Yoon has undertaken, at great political cost to his own domestic popularity, a bold effort to prioritize future-oriented relations with Japan that has received strong approval from the Biden administration. In doing so, Yoon brushed aside historical grievances over forced labor that had paralyzed Japan-South Korea relations under his predecessor, Moon Jae-in.
However, by placing the alliance with the United States as the centerpiece of South Korean foreign policy, Yoon has raised criticisms from the South Korean opposition party that he has rushed to appease Japan and the United States without sufficiently defending South Korea's national interests. Critics of the Yoon administration view Yoon's willingness to support the establishment of a South Korean private sector-funded foundation to compensate South Korean victims of Japanese forced labor rather than challenging the 1965 Japan-South Korea Normalization Treaty by demanding compensation from Japanese companies based on a South Korean court ruling as a "unilateral surrender." They believe that South Korean efforts to accommodate Japan and appease the United States are exacerbating tensions with North Korea and inviting retaliation from China and Russia.
Yoon's domestic critics are anxious that the resumption of U.S.-South Korean military exercises is unduly provocative toward a North Korea that is increasingly aligned with China and Russia in a "new cold war" on the Peninsula. Those same critics perceive Yoon's embrace of the alliance with the United States as overly enthusiastic. They argue that the Yoon administration has pulled punches on revelations of U.S. surveillance of South Korean top officials, failed to defend South Korean economic interests against protectionist laws passed by the U.S. Congress, and is on the verge of caving to U.S. pressure to sell armaments directly to Ukraine.
Anxieties within South Korea about U.S. reliability are evident, despite the public's strong approval of the alliance with the United States. North Korea has directed threats to use tactical nuclear weapons against South Korea, heightening the sense of vulnerability in South Korea and raising doubts about U.S. willingness to defend South Korea in the face of North Korean possible threats to attack the United States with nuclear weapons. The public sense of vulnerability is evident from opinion polls showing South Korean support for developing its own nuclear weapons capability has surpassed the 70 percent level. 
South Korean support for a nuclear option has become a source of political pressure on Yoon, who publicly mentioned the hypothetical possibility that South Korea might go nuclear in January. He then mentioned increased efforts by the U.S. and South Korean governments to strengthen South Korean understanding of the U.S. nuclear planning process and the holding of tabletop exercises (TTX) designed to map out counter-responses to North Korean nuclear use scenarios on the Peninsula. In contrast, U.S. nonproliferation specialists argue that South Korea's independent pursuit of nuclear weapons would be costly and that U.S. reintroduction of tactical nuclear weapons to the Peninsula is impractical and potentially destabilizing.
Although the Biden administration abandoned the Donald Trump-era transactional approach of demanding much greater financial contributions in return for U.S. pledges to defend South Korea from external attack, some South Korean media outlets have described Biden's policies using the Trump-era moniker "America First" due to protectionist provisions contained in the Inflation Reduction Act (IRA). In the run-up to the U.S.-South Korea summit, the Biden administration announced that foreign-built vehicles leased from Hyundai may qualify for the tax credit until U.S. factory production of Hyundai electric vehicles begins in 2025. But it is unclear whether this outcome will be enough to win over South Korean public opinion despite the fact that the IRA's climate change-related provisions may generate substantial opportunities for U.S. and South Korean companies to expand cooperation and generate enormous returns in the clean technology sphere. In addition, Yoon's state visit may provide framing opportunities for expanded cooperation in intelligence sharing, cybersecurity, space, and energy, all of which have the potential to generate long-term returns for the alliance despite the absence of immediate tangible benefits.
Yoon has stated that he does not intend to pursue policies in order to derive short-term political gains. But the Biden administration should be concerned that some aspects of South Korea's cooperation with the United States would be hampered if an unpopular South Korean president were to become mired in domestic difficulties and unable to deliver on many of his aspirations for South Korea's global role. It remains to be seen how and whether the Biden administration will be able to deliver tangible benefits to Yoon beyond the glitz and glamour of a state visit, which is intended to show U.S. appreciation and expectations for an even more robust relationship with South Korea.
The Biden and Yoon administrations will roll out a raft of new initiatives intended to expand bilateral cooperation in the intelligence, cybersecurity, and space domains, but these frameworks will not generate immediate deliverables in the eyes of the South Korean public. Biden himself will no doubt express both his appreciation and his commitment to the defense of South Korea, but South Koreans may devalue the meaning of the rhetoric due to its familiarity. It is likely that the most compelling event for South Koreans may be Yoon's meeting with iconic U.S. media and production companies, rather than with Biden, because it will affirm recognition of South Korea as a leading player in cultural exports to the United States.
Yoon has already made significant advance payments on the alliance, and some of the most meaningful and tangible returns for the alliance will involve deferred diplomatic and economic payoffs months or years down the road. As a result, Yoon's state visit is unlikely to provide immediate political gratification in the form of higher approval ratings. Instead, it will be prudent to have modest expectations for the public response in South Korea to Yoon's visit despite the pomp and circumstance of the state visit.
The article was originally published on Korea on Point by the Korean Association of International Studies.