The President's Inbox Recap: Erdogan's Victory
Erdogan's re-election could mean further democratic backsliding in Turkey.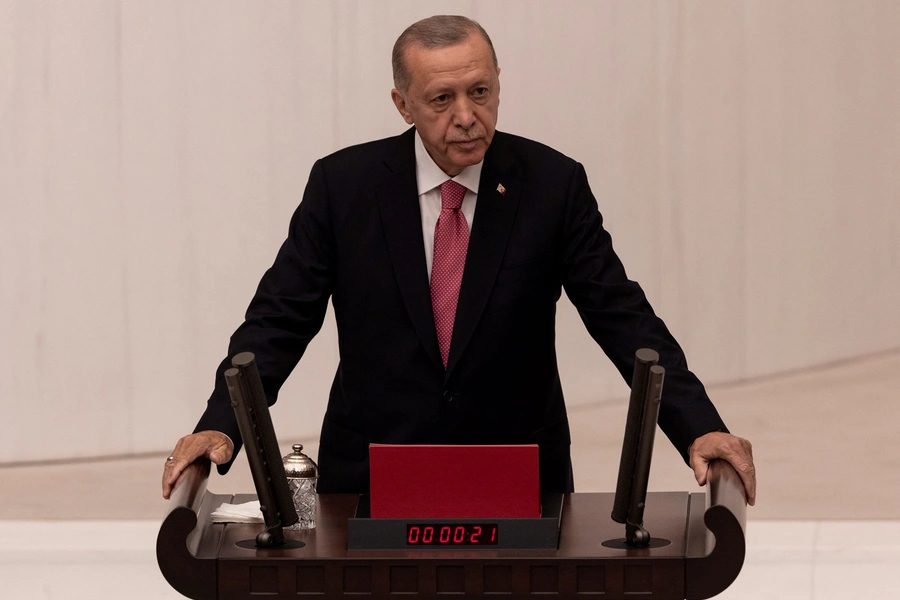 The latest episode of The President's Inbox is live. This week Jim sat down with Steven Cook, the Eni Enrico Mattei Senior Fellow for Middle East and Africa Studies.
Steven A. Cook, the Eni Enrico Mattei senior fellow for Middle East and Africa studies at the Council, sits down with James M. Lindsay to discuss what the reelection of President Recep Tayyip Erdoğan means for U.S.-Turkey relations and the future of NATO.
June 5, 2023 — 32:50 min
They discussed Recep Tayyip Erdogan's re-election and what it means for U.S.-Turkey relations and NATO.
Here are four takeaways from their discussion:
1.)   Erdogan defied expectations in winning reelection. Turkey's general election this year looked like it would end Erdogan's twenty-year domination of Turkish politics. The economy is faltering, inflation is soaring, and a deadly earthquake killed more than 50,000 people and displaced nearly six million. Nonetheless, Erdogan secured another five years in power. Steven noted, "despite all of the challenges, Erdogan still had a message about traditional values, about culture, about national identity that resonated with at least half of the population."
2.)   Erdogan will likely further Turkey's democratic backsliding during his third term. Last month's election was not entirely fair nor free. Erdogan clearly tipped the scales in his favor. A few months before voters headed to the polls, a Turkish court jailed Ekrem Imamoglu, Erdogan's greatest rival, and banned him from politics for insulting the justices of the supreme election council. Then days before Election Day, Erdogan announced a 45 percent pay increase for public workers. Also, he has gained effective control of 90 percent of the country's media. And he has used that influence. He threatened the Turkish media earlier this year, discouraging them from publishing anything that opposes "national moral values." He now wants to enact a new constitution that will codify changes that reflect his party's values.
3.)   Erdogan doesn't look to have a solution to Turkey's deep-seated economic problems.  While in office, Erdogan has rejected economic orthodoxy.  Rather than raising interest rates to counter inflation, he has pushed the central bank to slash them. "Erdoganomics" hasn't worked. The Turkish lira hit record lows last week against the dollar. It could keep plummeting, making imports even more expensive. Erdogan's new finance minister may walk back some aspects of Erdoganomics. One thing propping up the Turkish economy is financial support from Saudi Arabia and the United Arab Emirates. Steven says that "Gulf leaders believe that investment in Turkey is a way for them to get leverage over Erdogan" since "they are concerned about the exercise of Turkish power in the region." 
4.)   Erdogan isn't likely to take direction from the White House. With a third term now in hand, Erdogan might approve Sweden's membership in NATO ahead of the alliance's annual summit in July. But he will likely demand something in return.  That looks to be U.S.-made F-16 fighter jets. The Biden administration has indicated its support for selling F-16s to Turkey. Congress, however, may not be willing to sign off on such a deal.
If you're looking for more of Steven's analysis, check out the piece he co-wrote for Foreign Policy that explained why election analysts whiffed on Erdogan's re-election.
Kali Robinson wrote a great backgrounder for CFR.org that analyzes Turkey's foreign policy ambitions and how Erdogan has contributed to its transformation.