Meet Chris Christie, Republican Presidential Candidate
The former New Jersey governor announced his candidacy for the 2024 Republican presidential nomination.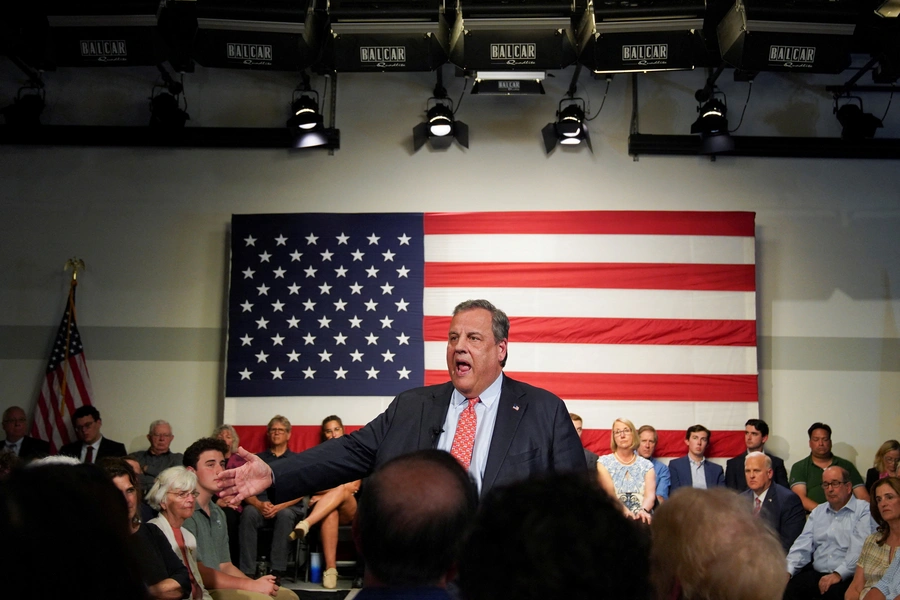 If at first you don't succeed, try, try again. Former New Jersey Governor Chris Christie is taking that adage to heart. He ran for the presidency in 2016. It didn't go well. He only made it to the second nominating event, dropping out of the race after winning less than 8 percent of the vote in the New Hampshire primary. Christie now hopes that the second time is the charm. If he wins, he would join Grover Cleveland as the only president born in the Garden State. (Woodrow Wilson was governor of New Jersey when he was elected president, but he was born in Virginia.) Christie shares one thing in common with the man he hopes to succeed as president, Joe Biden. They are both graduates of the University of Delaware.
The Basics
Name: Christopher James Christie
Date of Birth: September 6, 1962
Place of Birth: Newark, New Jersey
Religion: Catholic
Marital Status: Married (Mary Pat)
Children: Andrew (30), Sarah (27), Patrick (22), and Bridget (20)
Alma Mater: University of Delaware, B.A. in political science, 1987; Seton Hall University School of Law, J.D., 1987
Career: Managing Partner, Christie 55 Solutions (2018-present); Partner, Christie Law Firm (2018-present); Governor of New Jersey (2010-2018); U.S. Attorney for the District of New Jersey (2002-2008); Freeholder, Morris County (1995-1998)
Campaign Website: ChrisChristie.com
Twitter Handle: @GovChristie
Instagram Handle: @ChrisChristie
Christie's Announcement
Christie announced his candidacy the old-fashioned way—at a town-hall meeting in New Hampshire. But his message wasn't old-fashioned. He didn't offer soaring oratory about liberty, or American greatness, or the promise of a better future. Instead, he focused much of what he said over more than two hours—twenty-seven minutes of opening remarks plus more than ninety minutes answering questions from the audience—on Donald Trump's manifest lack of fitness to be elected a second time.
Christie went after Trump in unusually personal terms. He called Trump "a bitter, angry man who wants power back for himself, not for you," labeled him a "a lonely, self-consumed, self-serving mirror hog," and argued that he had "made us smaller by dividing us even further and pitting one group against another." Christie also mocked Trump's achievements. Speaking of the effort to build a wall on the U.S. southern border, Christie said: Trump "got a quarter of the wall built and Mexico hasn't given us our first peso. We paid for all of it." 
Christie even went after Trump's family:
The grift from this family is breathtaking. It's breathtaking. Jared Kushner and Ivanka Kushner walk out of the White House and months later get $2 billion from the Saudis. Two billion dollars from the Saudis. You think it's 'cause he's some kind of investing genius? Or do you think it's because he was sitting next to the president of the United States for four years doing favors for the Saudis? That's your money. That's your money he stole and gave it to his family. You know what that makes us? A banana republic. That's what it makes us.
Christie was equally unsparing in his remarks about other candidates for the Republican nomination. He dismissed them as "pretenders" who are frightened to criticize Trump. To them, the former president "is, for those of you who read the Harry Potter books, like Voldemort. He is 'He Who Shall Not Be Named.'" President Joe Biden also didn't go unscathed. Christie said that Biden is "out of his depth, because he's not the guy he used to be" and that "Father Time always wins."
Christie rejected charges that he is jumping into the race to "destroy" Trump rather than to win. He says his reasons for attacking Trump are "twofold: One, he deserves it, and two, it's the way to win."
Foreign policy didn't feature prominently in Christie's opening remarks. He did take the time to praise both Woodrow Wilson and Franklin Delano Roosevelt for resisting the temptation to think small and instead making the right decision to stand up to dictatorships. He also rejected claims by some of his rivals that the United States doesn't have a significant stake in Ukraine.
Christie's Story
Christie was born in Newark, New Jersey. His family moved to the nearby township of Livingston after the 1967 Newark riots. His father, Wilbur James "Bill" Christie, is a Korean War veteran who graduated from the Rutgers Business School and became a CPA. His mother, Sondra Christie, worked as a telephone receptionist. A life-long smoker, she died of lung cancer in 2004. Christie's father is a Republican and his mother was a Democrat, but she is the reason he became a Republican. In 1977, she encouraged him to volunteer to help a local Republican assemblyman who was running for governor. That candidate, Tom Kean, won the race and became Christie's political role model. (That didn't stop Christie years later from trying to oust Kean's son as the leader of the Republicans in the New Jersey state senate. That effort failed.) Bitten by the politics bug, Christie was elected student class president his senior year in high school and president of the student government his senior year at Delaware.
Christie began his career as a lawyer. He won his first election in 1994 as a freeholder for Morris County but lost the next year when he ran for a seat in the New Jersey State Assembly. Christie moved to New Jersey's capital, Trenton, in 1998, not as an elected official but as a lobbyist for energy companies. He raised funds for the George W. Bush campaign in 2000. In 2002, Bush appointed him U.S. attorney for New Jersey. He held the position until 2008. In 2009, he won the New Jersey governorship by defeating incumbent Governor Jon Corzine.
Christie quickly became a hot commodity in GOP circles as a tough-talking governor of a state that typically goes blue in presidential elections. So hot, in fact, that some Republicans tried to recruit him to run for president in 2012. Christie passed. But in a twist of fate, he became part of the election conversation anyway. Just days before Election Day, Hurricane Sandy devastated the New Jersey coast. Once the waters subsided, Christie praised President Barack Obama's handling of the storm response and then exchanged a friendly handshake with him when he visited New Jersey to see the damage firsthand. Some Republicans railed at Christie for hugging Obama and helping him win the presidency. Christie responded: "There was no hug. Stop." His response that he had been too gracious toward Obama was equally terse: "I will not apologize for doing my job."
Christie's political star was in ascendance again in 2013 when he won reelection by twenty-two percentage points. That momentum was soon derailed by the "Bridgegate" scandal. In September 2013, a traffic jam at the entrance to the George Washington Bridge, one of the major crossing points over the Hudson River into New York, snarled traffic in Fort Lee, New Jersey, for four days. It later emerged that members of Christie's staff had ordered the lane closures that caused the jam. They allegedly wanted to punish Fort Lee's Democratic mayor for failing to endorse Christie's reelection bid. Federal authorities charged two Christie staffers and another New Jersey official with using state resources for political ends. One pled guilty; the other two were convicted. Christie denied playing a role in the lane closures; an internal probe he commissioned by an outside law firm cleared him of abusing his office. In 2020, the U.S. Supreme Court overturned the two Bridgegate convictions, finding that while "wrongdoing" had occurred, the misdeeds did not amount to a crime under federal law.
Two weeks after dropping out of the 2016 presidential race, Christie endorsed Donald Trump for president, becoming the first high-profile establishment Republican to do so. Whereas he previously criticized Trump, he now argued that "there is no one who is better prepared to provide America with the strong leadership that it needs, both at home and around the world, than Donald Trump." That May, Trump named Christie the head of his presidential transition team, a position of considerable influence in the Trump campaign and in the formation of a Trump presidency. That fall, he played Hillary Clinton in debate prep for Trump. However, on the day after the election, Mike Pence was put in charge of the transition team and Christie was demoted to one of six vice chairs. Staffers he had hired were fired, and the materials they had prepared for the transition were thrown out. Trump didn't explain the decision, so speculation abounded. A popular explanation was that Christie's demotion had been engineered by Jared Kushner, Trump's son-in-law. Christie had successfully prosecuted Kushner's father on corruption charges while he was a U.S. attorney. More than two years later, Christie would write that Kushner had in fact been out to get him.
Christie did not join the Trump administration, despite being offered Cabinet positions. He preferred instead to finish out his term as governor. After leaving office, he founded a business and public policy consulting firm, opened a law firm, and worked as a senior legal and political commentator for ABC News. (ABC suspended the relationship late last month after the news broke that he intended to run for president again.) Christie turned his talents to lobbying, promoting the interests of New Jersey hospitals and a Tennessee-based chain of addiction treatment centers, among others. It's not often that a registered lobbyist decides to run for president.
Christie's Message
Christie's campaign slogan in 2016 was "Telling it like it is." He promised to call things as he saw them. His 2024 campaign looks to be built on a similar promise. This time the slogan is "Because the Truth Matters."
Based on Christie's statements in recent weeks and his campaign announcement, that slogan translates specifically into the argument that Trump, and the candidates who echo him, will take the Republicans to defeat in November 2024. That was the focus of his campaign announcement, not traditional issues like jobs, taxes, and foreign threats—or any of the cultural issues like Second Amendment freedoms, abortion, transgender athletes, and "woke" corporations that currently animate base Republican voters.
One question is whether Christie is the right candidate to push an anti-Trump message. Another is whether undecided and "movable" Republican voters will get to hear him. On the first point, Christie's favorability ratings with Republican voters are the worst of any of the current or conceivable contenders for the nomination. A recent CNN poll found that 60 percent of Republican voters say he is a candidate they "would not support under any circumstances." Being heard depends on being trusted. Christie may not be by MAGA Republicans, especially when Trump (and others) will say that Christie was for him before he was against him.
Of course, voters' opinions are often more fluid than fixed. They can change what they think based on what they hear. But being heard also depends on being able to get to the podium. Here, Christie's presumed strategy of taking Trump down in a debate, as he did to devastating effect against Marco Rubio in 2016, may not work. The Republican Party recently toughened its standards for making the debate stage. To qualify for the GOP's officially sanctioned debates, the first of which is scheduled for August 23 in Milwaukee, candidates must: 1) register 1 percent support in some combination of polls that the GOP has recognized; 2) have at least 40,000 unique contributors to their presidential campaign committee, with at least two hundred in twenty states or territories; and 3) pledge to support the eventual Republican nominee, share data with the Republican National Committee, and avoid any debates the Republican National Committee does not sanction. Christie is currently polling at 0 percent, and there is the paradox of whether he should pledge to potentially endorse someone he argues is unfit to be the nominee and whom he has said publicly he will not vote for. Even if Christie meets those three criteria, he runs the risk that Trump will boycott the debates, leaving him arguing with an empty lectern.
Trump and Christie
Christie remained on good terms with Trump even after he was demoted as the head of Trump's transition team in November 2016. A year later in an interview with Politico, he insisted that based on "conversations I've had with the president, I just don't believe this [the demotion] was the president's decision." He endorsed Trump in 2020 and helped prep him for his debates against Joe Biden. He criticized Trump in the wake of January 6. On January 9, 2021, he told the New Yorker that "the last eight weeks has been the worst behavior I have seen by this President in the four years he has been there, and the one that has angered and disturbed me the most." Still, Christie declined to repudiate Trump. In November 2021, he told Fox New host Laura Ingraham that "the line of supporting Donald Trump starts behind me."
That was then. This is now. Christie is no longer on Team Trump. In March, he said that "since Donald Trump has been leading our party, all we've done is lose. And if Trump is the nominee in 2024, we'll lose to Biden again." Christie has been even more biting on Twitter. Last month, he challenged Trump to a debate:
Trump seems like a guy who's afraid to get on the debate stage. And if he's too scared to debate, he has no business being president.https://t.co/dNkAxba08b

— Chris Christie (@GovChristie) May 3, 2023
Christie also isn't buying Trump's claims that he can end the war in Ukraine:
Donald Trump says he would end the war in Ukraine in 24 hours tonight on CNN. Despite how ridiculous that is to say, I suspect he would try to do it by turning Ukraine over to Putin and Russia. #Putin'sPuppet

— Chris Christie (@GovChristie) May 11, 2023
Not content to say that Trump took direction from the Kremlin, Christie also blasted Trump's claims at a CNN Town Hall meeting last month that he had been tough on border security:
More nonsense from Donald Trump last night. Fact: He promised to build a big beautiful wall on the border. Fact: He did not deliver & immigrants are pouring over the border. Fact: He said Mexico would pay for it. Fact: We have not gotten one peso yet. He failed us on immigration.

— Chris Christie (@GovChristie) May 11, 2023
Trump has fired back. In a now deleted post on Truth Social, he wrote that "Chris Christie... was just absolutely massacred by his statements that Republicans have to move on from the past...Everybody remembers that Chris left New Jersey with a less than 9% approval rating– a record low, and they didn't want to hear this from him!" In a speech in New Hampshire in late April, Trump took another swipe at Christie, saying "he's got a big mouth, that's all he's got." He followed that up last week at a Fox Town Hall in Iowa with another jab: "I hear Chris Christie's coming in. He's at–he was at 6% in New Jersey, which is–I love New Jersey, but 6% approval rating in New Jersey. What's the purpose? And he's polling at zero."
Trump was similarly dismissive of Christie's campaign announcement. In another post on Truth Social, he wrote that Christie's "speech was SMALL, and not very good. It rambled all over the place, and nobody had a clue what he was talking about. Hard to watch, boring, but that's what you get from a failed Governor." Trump then posted an altered video showing Christie at a buffet.
A Trump-Christie, or Christie-Trump, ticket doesn't seem to be in the offing.
Foreign Policy Views
Christie ran for the presidency in 2016 articulating a conventional conservative internationalist foreign policy. He accused Obama of being weak and allowing American power to "retreat." He said he would pursue a more assertive foreign policy and that "what we say and what we do here at home affects how others see us and in turn affects what it is they say and do." In that vein, he argued that his reputation for telling it like it is would pay dividends with friends and foes. He called for a "military approach" to China's island-building activities in the South China Sea, opposed the nuclear deal with Iran, and supported pursuing free-trade agreements like the Transatlantic Trade and Investment Partnership and the Trans-Pacific Partnership while expressing skepticism that Obama could negotiate good deals on either. Christie agreed that human activity is changing the Earth's climate but argued that the United States "can't be acting unilaterally…when folks in China are doing things to the environment that we would never be done in our country."
Much has changed in the world and in Republican foreign policy thinking in the eight years since Christie threw his hat into the presidential ring the first time. Foreign policy didn't figure prominently in his final two years as governor or in his work since then. So it is hard to say with certainty how much his thinking has evolved—or how he might adapt his policy preferences to the America-first elements of the GOP.
That said, initial indications are that Christie plans to stick to his guns. At a March town hall meeting in New Hampshire, he mocked candidates for embracing America First:
It would be much easier, it's easy to say America First. Who's against America First? It's one of those great political lines, right, that, you know, you imagine that you are the candidate that comes out and says, "I am for American Third." …The question is what makes America first? And one of the things I think that makes America first is that we have friendships and alliances all over the world that come to us freely because they believe in our system. They believe in liberty and freedom of choice for people. We don't have to buy our friendships. China has to run around the world and buy friendships.
It is for that reason that Christie says that he strongly endorses U.S. support for Ukraine. At that same New Hampshire town hall meeting, Christie was asked whether the United States should be investing the money intended for Ukraine at home instead. He responded by saying that U.S. support for Ukraine was "an investment in freedom," an investment that will save the United States much more down the road:
It is an investment to make sure that we don't have to spend more treasure and more lives later because we gave the Chinese and the Russians the impression that we were pulling back from the rest of the world. Because if we pull back, they are gonna wanna fill our spot. If we don't pull back, they will stay away from fighting with the United States because they know they cannot win a war with us.
Speaking of China, Christie continues to favor taking a hard line in dealing with Beijing. Like all the current presidential candidates, he wants to check China's rise. He was emphatic on that point at the New Hampshire town hall:
I don't want to live a world, everybody, nor do I want my children to live in a world, where China is the leading government in the world. It's authoritarian. It's communist. It's deceitful. It steals our intellectual property. It doesn't regard human rights. It tells people how many children they can have.
Christie thinks we are already in a "proxy war" with China—a jab at rival candidate Ron DeSantis, who back in February justified his criticism of Biden's support for Ukraine by saying it risked starting "a proxy war with China." The only question is, Christie argues, "Who is going to win." On that score, he thinks Trump's "biggest failing" as president was his frequent public admiration of Xi Jinping. Xi "didn't deserve it, and it sent the wrong message to the American people," and "it sent the wrong message to the Chinese."
Christie wants to take tougher action against China and Mexico to tackle America's fentanyl epidemic. Christie chaired the President's Commission on Combating Drug Addiction and the Opioid Crisis during the Trump administration, so he understands the toll that fentanyl is taking on the country. He recognizes that any effective solution will require doing new and different things at home, not just in terms of improving border security but in terms of treatment as well. But he also wants Mexico to do more. As he put it in New Hampshire, Mexican officials "have to work with us in stopping the drug trade... and if they don't, we need to back away from[our] economic relationship." Given that Mexico is the United States' second largest trading partner, that threat is a double-edged sword.
Christie repeated many of these points with some slight variation during the question-and-answer session of his campaign announcement event.
More on Christie
Christie has written two books since stepping down as governor of New Jersey. The first was Let Me Finish: Trump, the Kushners, Bannon, New Jersey, and the Power of In-Your Face-Politics, which came out in 2019. The memoir is Christie's effort to "set the record straight" on his governorship, his presidential campaign, and his support for Trump. Not surprisingly, Christie doesn't have nice things to say about Jared Kushner, nor about many of Trump's other advisers for that matter. 
In 2021, Christie released Republican Rescue: Saving the Party from Truth Deniers, Conspiracy Theorists, and the Dangerous Policies of Joe Biden. In it he writes that "very few people were as publicly invested in the success of Donald Trump as I was" and that he told Trump "hard truths when no one else would." While the book offers some criticisms of Trump, Christie's overall tone is more much cordial to the forty-fifth president than his current tweets and speeches. As one review put it, Republican Rescue offers some criticisms of Trump, but never grapples fully with his presidency and "maintains over-all fealty to Trump."
With his political career seemingly in eclipse, Christie has not been the subject of many magazine profiles in recent years. That was not always the case. The New York Times Magazine profiled him in 2011. New York Magazine profiled him in 2013. The New Yorker profiled him in 2014. GQ profiled him in 2017.
Other posts in this series:
Meet Doug Burgum, Republican Presidential Candidate
Meet Chris Christie, Republican Presidential Candidate
Meet Ron DeSantis, Republican Presidential Candidate
Meet Nikki Haley, Republican Presidential Candidate
Meet Will Hurd, Republican Presidential Candidate
Meet Asa Hutchinson, Republican Presidential Candidate
Meet Vivek Ramaswamy, Republican Presidential Candidate
Meet Tim Scott, Republican Presidential Candidate
Meet Francis X. Suarez, Republican Presidential Candidate
Meet Marianne Williamson, Democratic Presidential Candidate
Sinet Adous assisted in the preparation of this post.