Protected at Home, China's Medical Device Industry Looks Abroad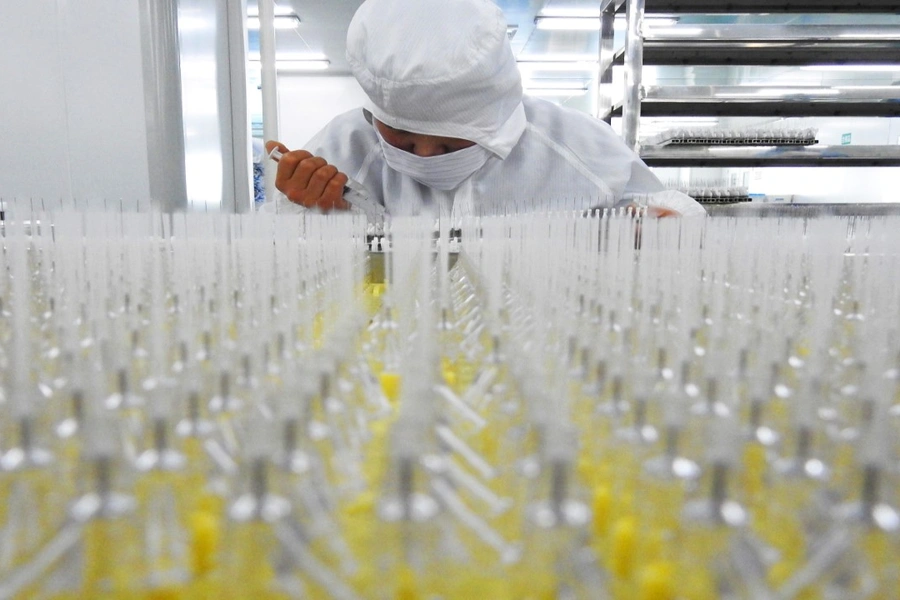 Michael Collins is a research associate for Asia Studies at the Council on Foreign Relations.
Over the past three decades, China has experienced consistent double-digit growth in its medical device market. In 2016, the market was valued at nearly $54 billion. Just three years later, its value has nearly doubled to an estimated $96 billion. U.S. medical device producers such as Johnson & Johnson and GE have profited handsomely from the Chinese market, but their total market share has decreased from 33.3% in 2016 to 31.1% in 2018. At the same time, Chinese medical device producers like Mindray, valued at 9 billion RMB ($1.28 billion) in 2016 and 13.7 billion RMB ($1.95 billion) in 2018, are enjoying larger market shares due to a host of favorable financial and trade policies which fall under the broad umbrella of Made in China 2025 (MIC 2025).
Launched in May of 2015, MIC 2025 is the country's latest ambitious industrial strategy. The plan targets ten critical areas of industry in which China wants to lead in global production by 2025. While much of the foreign concern around MIC 2025 focuses on the high-profile issues of telecommunications and AI, it is equally important to pay attention to other affected technologies. With a rapidly aging population and a health care market projected to be worth a trillion dollars by 2020, China's drive to become a leading producer of medical devices, for example, will have enormous economic repercussions for foreign multinationals.
Already several Chinese provinces have taken the first steps toward realizing Beijing's ambitions through procurement and insurance policies which preference domestic producers over foreign imports. In 2018, state hospitals in Sichuan province were required to procure domestically produced devices in 15 categories or risk losing out on lucrative state-insurance reimbursements. In 2019, provinces and major cities across China released a series of increasingly restrictive procurement policies. Ningxia province was first to release a notice requiring state hospitals to justify any foreign medical device imports with a lengthy audit. Suzhou and Tianjin, major economic hubs, soon followed suit with identical notices. Not to be outdone, Shandong province limited all device imports to only 488 items, mainly high tech diagnostic devices not produced in China. Zhejiang province soon after limited state hospital imports to 232 items. These restrictive policies are a double-edged sword. They benefit China's medical device industry by insulating it from foreign competition while also forcing hospitals to expend resources searching for products which comply with changing regulations and which, in some cases, may be of lesser quality than foreign alternatives. These policies also have become tests of officials' loyalty to the party whose industrial policy is inseparable from its aspirations to become a great power on par with the United States.
As China cracks down on the use of foreign medical devices domestically, it is also looking to sell its own devices abroad, especially in Africa. Until 2011, China's main medical device exports were low-end disposables, such as syringes and gloves. In the last eight years, however, Chinese medical devices have moved up the value chain to include higher-tech devices like therapeutic and diagnostic equipment. According to Chinese Customs data, Africa this year has imported nearly $460 million worth of Chinese medical devices ranging from low end disposable to advanced diagnostic tools. This is an increase of almost $100 million from last year, helping to replace some of the lost revenue due to U.S. tariffs on Chinese medical devices as part of the ongoing trade war.
China is also offloading excess medical device capacity through its foreign aid program in Africa. Since 1963, China has sent medical teams to provide primary care services and build healthcare capacity across Africa. With MIC 2025 in mind, China has continued to leverage these strong historical ties to advantage domestic medical device producers. Following the most recent Forum on China-Africa Cooperation in 2018, China pledged to "make...medical products more accessible" to African nations in order to improve healthcare across the continent. While China does not disclose exactly how many medical devices it donates in a given year, national and provincial level Health Commissions regularly report individual successful device donation efforts. These donations can range in value from several boxes of disposable tools to advanced diagnostic machines. Not only do these donations buy goodwill for China in recipient countries, they also build the capacity for future healthcare markets for Chinese producers. At the same time, by portraying these donations as beneficial for domestic industry and recipient countries, Chinese officials further their commitment to so-called "win-win cooperation."
China's foreign aid program in Africa extends beyond direct humanitarian donations, though. Over the past decade, Beijing has invested in the construction of a number of hospitals and clinics across Africa with twenty-six facilities planned for construction in South Sudan this year alone. Aside from their humanitarian benefits, each hospital or clinic constructed is a new market for the Chinese medical device industry to capitalize on. While some are eventually handed over to the host country, others remain administered and staffed by Chinese personnel. China keeps the exact details of these bilateral agreements a secret, but it is plausible that continued staffing is contingent upon the hospital using procurement policies similar to domestic Chinese hospitals. This strategy has been employed by China before in Belt and Road initiative to offload excess domestic industrial capacity at the expense of host countries' labor and industry.
China's strategy for global industrial leadership is on full display in its medical device industry. As 2025 approaches, this strategy could be replicated in other MIC 2025 industrial sectors. Coupling protectionism at home with opportunistic aid abroad is truly win-win – a win for China and a win for its manufacturers.