Protecting Our Heroes From Disinformation on Social Media
The Department of Defense should implement a program to help service members and their families avoid falling victim to disinformation.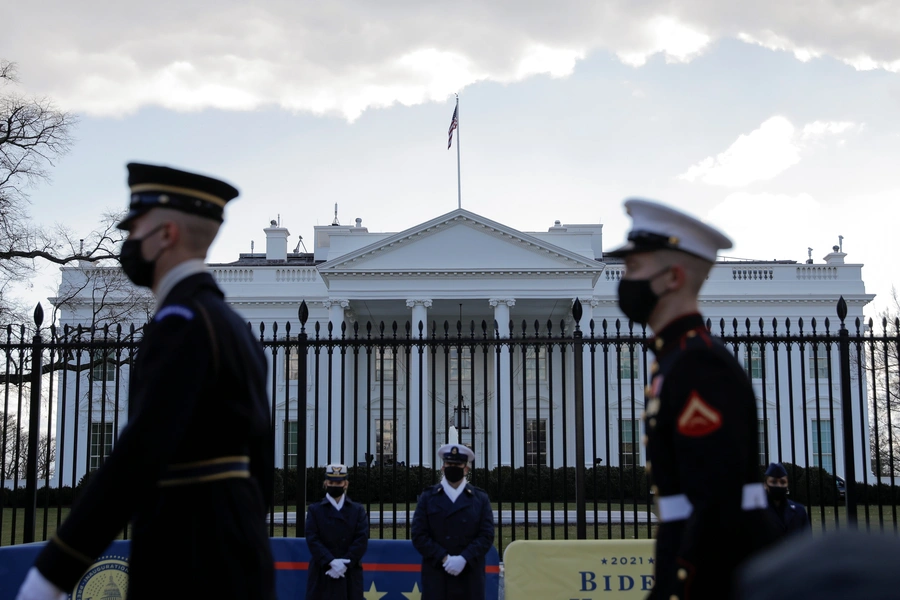 Captain Robert Francis is a naval officer, specializing in surface ships, and a military fellow at the Council on Foreign Relations (CFR). The opinions expressed in this article are solely those of the author and do not reflect any official policy or view of CFR or the U.S. government.
There was a period of time when the average U.S. military service member's closest encounter with foreign intelligence agents and spies was through the lens of a Hollywood movie. Today, many of our service members unknowingly interact with actors who spread disinformation through social media, but the Department of Defense (DOD) has been slow to adapt to this new reality. This leaves service members and their families to be targeted by highly-trained foreign agents using military-style techniques to influence their thoughts and actions. The DOD should move with haste to formally educate service members, civil servants, and their families about disinformation to minimize the damage from this national security threat.
Propagating disinformation proves to be particularly effective at shaping opinion, especially when audiences are unaware that they are being targeted. Russian disinformation campaigns have successfully targeted service members and their families since before the 2016 U.S. election, influencing political views and engraining preferences for candidates. This means that foreign agents no longer need access to our military bases to practice their tradecraft on our nation's defenders of freedom. All they need is a computer with internet access to reach thousands of service members at once on sites like Linkedin, Twitter, and Facebook.
A recent study found that disinformation reaches people six times faster than factually accurate news. This is because fake stories are more likely to be spread by humans and not bots. Bots are just as likely to spread a real story as a fake one. Humans, on the other hand, like spreading sensational, unique, and headline-grabbing stories. Social psychologists [PDF] confirm that when a person's beliefs are reinforced with misleading or false facts, figures, and claims, the information source is unlikely to be questioned. Furthermore, any attempt to refute the false information once an opinion has been formed may only result in reinforcing the views for those individuals with the strongest ideological beliefs.
One can infer from the findings above that disinformation should be stopped at its source on social media. Platforms have been urged to strengthen online accountability by verifying accounts, using artificial intelligence and other technological solutions to detect and remove false information, and preventing users from benefiting financially from spreading false information. Nonetheless, a growing body of evidence shows that educating targeted audiences to identify false and manipulative information and giving them the tools needed to make informed decisions is an effective strategy, and the DOD should give it serious consideration.
With our adversaries successfully targeting military members and their dependents through social media, DOD leadership should act with urgency to regain control of the information war online. This effort is even more critical given the allegation that current and former military members participated in the U.S. Capitol assault. A first step would be for the department to introduce formal and mandatory disinformation literacy and response training for service members, with a congruent voluntary training program for civil servants and military dependents. This training should be conducted at regular intervals to address the changing threats and tactics being employed online. Additionally, the department should provide resources, such as information hotlines, for its personnel to report questionable information and get disinformation-related questions answered.
Some critics could interpret a DOD digital literacy program aimed at combating disinformation as government overreach, especially if domestic threats are also addressed. This concern could be alleviated through a carefully crafted educational program that narrowly focuses on how to evaluate online content's credibility and teaches the tactics being employed to spread disinformation online by nefarious actors.
Organizations like Mill City Church in Minneapolis offer a disinformation course that could serve as a model for the DOD. The church teaches highly popular classes to help its constituents debunk conspiracy theories. They also offer an anonymous hotline that members can call to better make sense of questionable online content. The closest DOD comes to a similar effort is in the annual anti-terrorism training that service members must complete, where topics such as internal threats and espionage are covered. Missing from annual training requirements is specific training on current strategies being employed by foreign entities online, even though a two-year investigation [PDF] by the Vietnam Veterans of America highlighted extensive penetration of military and veteran groups online by skilled and sophisticated agents in Russia, China, and Iran.
With the nature of warfare constantly evolving, DOD needs to acknowledge that service members are being targeted in unconventional and subtle ways. These new tactics are surprisingly effective at changing the narrative and views of those who have taken an oath to defend the United States. Just like anti-terrorism training aims to identify and neutralize threats by educating and enlisting the assistance of every service member, so too should an anti-disinformation training program aim to educate and minimize the reach and impact of foreign agents online. Failing to pursue such a department-wide effort will leave our military services at increased risk of internal threats, espionage, and manipulation.