The Putin Regime Will Never Tire of Imposing Internet Control: Developments in Digital Legislation in Russia
Moscow's recently introduced bills are the latest in a long history of efforts to bring the internet more tightly under its control.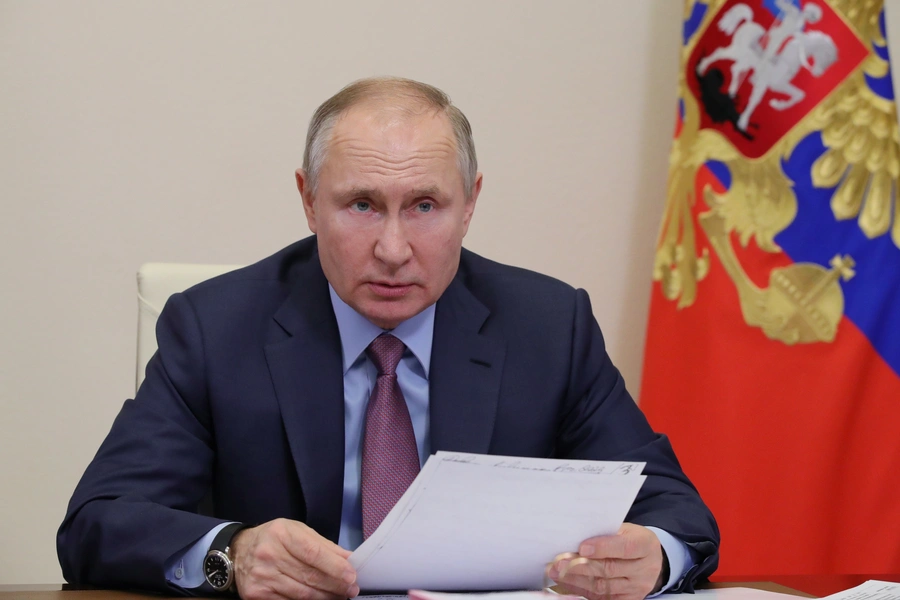 Baurzhan Rakhmetov is a PhD candidate at Cardiff University. His dissertation studies the dynamics of internet control globally and in post-Soviet states.
Over the last decade, Russian authorities have built legal tools and technical capacities to be able to control internet infrastructure and digital content. Moscow's most recent attempt to tame the internet consists of a pair of bills signed by President Putin on December 30, 2020 (N482-FZ and N511-FZ) that sanction online platforms for censoring Russian media and fines them for not removing information banned in Russia. Recently, one of these bills was applied amid the January 2021 mass protests following the arrest of the opposition leader Aleksei Navalny.
According to the Federal law N482-FZ, internet platforms—including YouTube, Facebook, and Twitter—can be penalized for censorship of Russian media. Sanctions include fines, throttling of internet traffic, and blockage. This means that Twitter (and other tech giants) could now be fined or blocked if, for example, they censor RT (formerly Russia Today), one of the Kremlin's tools for spreading propaganda abroad.
Although the Russian government is deeply involved in internet censorship, lawmakers justified these restrictive measures on the basis that foreign social media platforms were unjustly censoring online content from Kremlin-affiliated outlets such as RT, RIA Novosti, Sputnik, and Crimea 24. According to Roskomnadzor, the state regulator, foreign platforms censored Russian media twenty-four times in 2020. N482-FZ echoes President Trump's May 2020 Executive Order, which tried to eliminate legal protections of social media companies guaranteed under the Communications Decency Act's Section 230. The apparent overlap between Russian and U.S. efforts to exert influence on the tech giants will make proponents of a free and open internet uncomfortable.
The second newly signed Federal law (N511-FZ) levies fines for websites' refusal to remove information banned in Russia. On January 21—two days before the first anti-government protests organized in response to Navalny's arrest—Roskomnadzor threatened to fine TikTok, Facebook, Twitter, Instagram, YouTube, and the popular Russian social network VKontakte for allowing the dissemination of calls for minors to take to the streets. As a result, social media companies deleted some protest-related content. On January 29, representatives of Facebook, TikTok, Telegram, and VKontakte were summoned by Roskomnadzor for not taking adequate steps to delete calls to join the second protests planned for January 31.
With N511-FZ, the Russian government has obtained an additional legal instrument to restrict the dissemination of anti-government digital information. It is of note that before the arrest of Navalny, currently considered to be the "number two politician" in Russia, he was smartly using social media to undermine the legitimacy of the Putin regime. Navalny's anti-corruption investigations have hit hundreds of millions of views on YouTube, and the latest one about Putin's palace was viewed 96 million times over just a week. It is, therefore, unsurprising that the new restrictive legislation was applied amid protests over his arrest.
Both aforementioned laws build on an extensive and restrictive legal framework for internet control. For example, in May 2019, President Putin signed the Federal law N90-FZ, known as the sovereign internet law, which seeks to establish a separate Russian internet. The law outlines the creation of a national domain name system to substitute for the global one managed in part by ICANN. It also obliges internet service providers (ISPs) to implement deep packet inspection at internet exchange points (IXP)—which would have to be approved by the government—for analysis and filtering of internet traffic. Control over domestic IXPs enables the government to block online content and websites, circumventing the need for cooperation with ISPs.
In July 2017, Russia adopted the Federal law N276-FZ, prohibiting the use of anonymizers and virtual private networks to access 412,000 blacklisted websites. In July 2016, the Federal law N374-FZ (known as the Yarovaya law) came into force, requiring communications operators to store subscribers' metadata for three years. The Yarovaya law, in turn, builds on the 2014 Federal law N242-FZ (known as the data localization law), which requires companies to store data about Russians on servers located in Russia. In December 2013, Federal law N398-FZ (known as the Lugovoi law) was passed, enabling the government to block websites containing extremist content and calls for riots without a court order.
Thus, the December 2020 laws clearly supplement numerous restrictive bills passed since President Putin's re-election in 2012. Before that, the digital public sphere was vibrant and comparatively free of state involvement. However, social media-empowered mass street protests in 2011-12 signaled to the Putin regime that the internet should be strictly controlled for the sake of its political survival. As the Russian parliament at the time ceased to be a fully independent body, it became easy for the Kremlin to pass laws and regulations to grant itself sweeping powers to control the digital domain and resort to censorship and surveillance on the internet.
Put simply, the Putin regime does not want internet-enabled popular uprisings and revolutions in Russia. The latest restrictions enacted last December are merely the latest in a long history of efforts to bring the internet more tightly under President Putin's control.