Putin's Aggression Against Ukraine Deals a Blow to China's Hopes for Taiwan
China's support for Russia risks working against its desire to bring Taiwan under its control.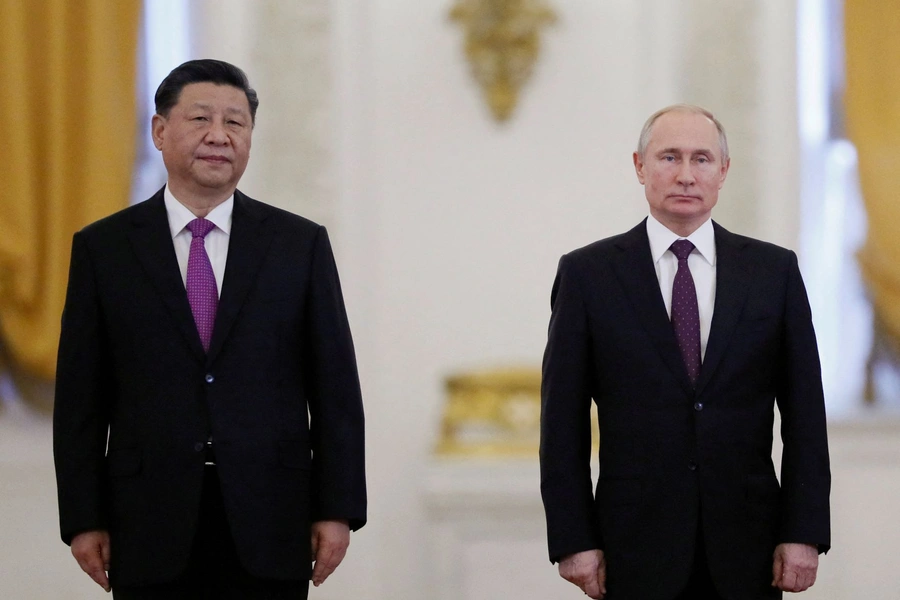 On June 25, 1950, with Joseph Stalin's backing, North Korean leader Kim Il-Sung sent troops across the thirty-eighth parallel, hoping to unify the Korean Peninsula by force. China's leader, Mao Zedong, lent his support to the effort, but soon found that doing so put Taiwan out of his reach. While the United States had essentially washed its hands of the nationalists one year prior, President Truman declared that "in these circumstances the occupation of Formosa by Communist forces would be a direct threat to the security of the Pacific area." To prevent an attack on Formosa (Taiwan), President Truman ordered the Seventh Fleet to patrol the Taiwan Strait. The Soviet Union's decision to encourage North Korean aggression ended up costing China the chance to bring Taiwan under its control. Nearly three-quarters of a century later, China's support of Russian aggression against Ukraine will similarly undermine its interests in the Taiwan Strait.
Counterintuitively, the months leading up to Putin's attack on Ukraine have increased the focus on Taiwan, with analysts weighing whether Russian aggression against Ukraine would invite a similar Chinese attack on Taiwan. Many who are advocating the United States do less to counteract Russian aggression against Ukraine are doing so by arguing that it is a distraction from the graver danger: a Chinese invasion of Taiwan. The upshot is that the current crisis in Europe has sharpened a debate about where the United States should deploy its finite resources, with a growing chorus advocating that the United States should direct its energy toward preparing to defend Taiwan. A heightened U.S. focus on Taiwan and a consensus that it needs to prepare for a conflict in the Taiwan Strait would not be welcomed in Beijing.
In addition, a Chinese attack on Taiwan, following on the heels of a Russian invasion of Ukraine, is now far more likely to trigger a U.S. and allied response. If the United States were to stand aside in the face of blatant aggression by its two principal geopolitical rivals, it would lose credibility among its allies in Europe and Asia and watch as the two most critical regions to the global balance of power fall under the sway of Russia and China. China will find that Putin's gambit has increased Taiwan's salience in Washington, Brussels, and Tokyo and makes intervention almost a certainty. In the face of Russia's attack, the United States and its allies and partners will also likely strengthen ties with Taiwan both to reassure Taiwan and deter China.
Putin's decision to recognize the so-called Donetsk and Luhansk People's Republics as "independent" states also sets a dangerous precedent for China. In effect, Putin is asserting that a state has the right to declare that portions of another state are independent. Given that China views Taiwan as a renegade province, this would be akin to the United States recognizing Taiwan as an independent country and sending the Seventh Fleet in as "peacekeepers" to ensure its independence. Chinese policymakers are likely deeply uneasy with this sequence of events. 
Taiwan is also using this crisis as an opportunity to demonstrate its value as a partner of the United States. Given Taiwan's position as the global hub of semiconductor manufacturing and the critical role its companies play in technology supply chains, its support will be critical in making sanctions against Russia hurt. According to reports, Taiwan is among four Asian partners (alongside Australia, Japan, and Singapore) that have agreed to implement strict export controls on Russia. This sets up a stark contrast with China, which will likely help Russia evade sanctions. By lending its support to the U.S. and allied effort to punish Putin for his aggression, Taiwan is building goodwill with Washington and drawing a favorable contrast between itself and China.
Finally, Russia's invasion of Ukraine will likely prompt Taiwan to further increase its defense spending and invest in bolstering deterrence, while raising the public's threat perception. Events of the past week have demonstrated the risk of relying on abstract principles of international law to guarantee one's security. Instead, in an era where powerful countries can use force to redraw borders, Taiwan's leaders will likely heed the warning and invest in defense. President Tsai Ing-wen has already stated that in response to recent events Taiwan will "continue to strengthen our readiness to respond to military developments in the Taiwan Strait" and "comprehensively strengthen our response to cognitive warfare in order to shore up public morale."
The United States should still seek to ensure that China does not learn the wrong lessons from the Ukraine conflict. Senior U.S. officials should publicly highlight the differences between Taiwan and Ukraine, as national security adviser Jake Sullivan recently did. The United States should conduct military exercises with its allies and partners in the Indo-Pacific, which would stand as proof that it can remain focused on Asia even during a crisis in Europe. The Biden administration should consider sending a high-level official to Taiwan as a measure of reassurance, while a bipartisan congressional delegation should also visit the island.
Russia's invasion of Ukraine, by raising Taiwan's profile, highlighting its contributions as a reliable U.S. partner, and increasing the probability of a U.S. intervention on Taiwan's behalf, sets back China's ambitions for Taiwan. For the second time in the post-War era, China's support for Russia risks working against its desire to bring Taiwan under its control.