Q&A on Cambodia with Sophal Ear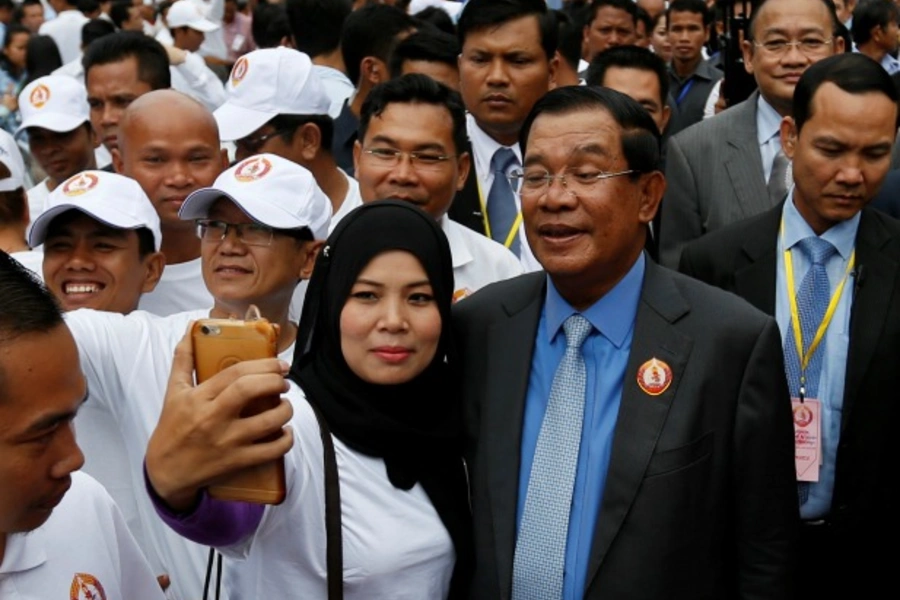 Last week, I spoke via email with Sophal Ear, Associate Professor of Diplomacy & World Affairs at Occidental College, and author of Aid Dependence in Cambodia: How Foreign Assistance Undermines Democracy, about the current crisis in Cambodian politics. After a brief truce following elections in 2013, in which the opposition Cambodian National Rescue Party (CNRP) shocked the ruling Cambodian People's Party (CPP) by nearly winning control of the National Assembly, any semblance of détente has broken down. One opposition leader, Sam Rainsy, remains in exile; if he returns home he could face charges of defamation. Another opposition leader, Kem Sokha, has been holed up in the CNRP's headquarters for weeks. If he comes out, he faces charges of "procurement of prostitution." A prominent government critic, Kem Ley, was gunned to death in broad daylight one morning two weeks ago, raising fears that, in the run up to national elections in 2018, the country may be returning to the violent politics of the 1990s and early 2000s, when many opposition, politicians, activists, and journalists were killed. I asked Prof. Ear for his insights about the current crisis.
Joshua Kurlantzick: To start, what do you think the ultimate outcome of the current CPP- CNRP standoff will be?
Sophal Ear: The ultimate outcome of the current CPP-CNRP standoff is likely to be eventual denouement sometime before the election. At some point, Sam Rainsy/Kem Sokha and Hun Sen will have rapprochement—in 2013, it was the passing (from old age) of Hun Sen's father that triggered some head clearing. The rhythm and pattern of previous electoral cycles suggests this, but this time could be different of course. There's no parent left for Hun Sen to shed tears over and there's growing worry that his vise will not loosen. In that case, we'd be in relatively unchartered waters whereby the elections would take place without opposition leader Sam Rainsy present in-country and his deputy unable to campaign outside of party headquarters since he is holed up there. In the five national elections Cambodia has held from 1993 to date, this has never happened.
Joshua Kurlantzick: Can the opposition mount a campaign, even under these circumstances?
Sophal Ear: If the ruling party continues to turn up the heat, the opposition won't have to lift a finger---the campaigning for the opposition will be done by the ruling party for them. But we have seen this movie before; back in 1993, the royalist party, FUNCINPEC, won national elections, but the CPP still finagled a co-Prime Ministership. The stakes were high then, but they're even higher now for the ruling party. There's hundreds of millions of dollars at stake just for one ruling family. Across the entire ruling party, there could be billions. How many dead critics and arrested opposition folk does it take to get people mad enough to the point where they're not going to take it anymore? From Cambodia's past, it seems a lot more than what's happened so far, so expect still more tragedy going forward. In fact, there's already talk in ruling party-aligned media that the opposition was behind government critic Kem Ley's murder. The next logical step is to involve the courts which will of course be "independent" in their handling of this matter.
Joshua Kurlantzick: Is there a likelihood that, if the opposition wins, there are some elements of institutions, like the armed forces, that would not go along with a 1993-type situation?
Sophal Ear: If the opposition wins (something I don't think will be permitted), but let's say that if by some miracle they do, sure there's always a chance, however small, that some elements like the Royal Cambodian Armed Forces (RCAF), would try to stand-up and prevent another 1993 "No winners/No losers" election.
Joshua Kurlantzick: Is there a way out of this cycle?
Sophal Ear: It's hard to imagine much changing while Hun Sen is on the scene because it's not as if he'll wake up one day and decide that the system he put in place needs to change. Too much is at stake; his family's regal status and wealth are all on the line. Electoral pressure occasionally forces his hand (after the 2013 election, he did swap out some ministers, and also more recently, but increasingly, it's looking like musical chairs). At best, the changes are incremental. What we know for sure though is that no one escapes old age, sickness and death. I know that's very Buddhist of me to say in a very Buddhist country, but it is what it is.
Joshua Kurlantzick: What is the outlet for young Cambodians' dislike of politics as usual, if they don't get a change in government?
Sophal Ear: Social media is the obvious outlet for young Cambodians' venting and they really do not like what they're seeing. A three-star general complained on social media about having $200,000 worth of jewelry stolen from his gym locker (yes, that is not a typo, there are five zeros). He was mercilessly mocked online for having so much jewelry to begin with while on his government salary. Of course, this being Cambodia, they promptly charged some hotel employees even though the CCTV footage apparently exculpates them. In another case, a leading social media critic with a million followers on Facebook and an early supporter of the CNRP decided to sue Kem Sokha for defamation over the scandal now embroiling him (having a mistress—said prostitute he allegedly procured—with whom he was secretly recorded speaking unflatteringly of the social media critic). That social media critic has since been savaged online. Passions and mass sentiment on the internet can also be incredibly destructive. In 2003, a mass chain of emails kept being forwarded about a Thai soap opera actress claiming that Angkor Wat was Thailand's and that she'd rather be reborn a dog than Khmer. I knew immediately it was completely bogus, but it led to the anti-Thai riots and the burning of the Thai Embassy in Phnom Penh. Even Hun Sen got into the act before the riots, saying the actress wasn't worth a blade of grass. I'm sure the authorities see this and know that if they cannot mollify young people or co-opt them online, they've got a powder keg on their hands in a country where more than half the population is 24 years old or younger.