Reinvigorating Internet Policy by Doubling Down on Human Rights
A new approach to internet regulation and governance by the Biden administration should articulate a broad, coherent vision for an open internet anchored on core human rights and democratic values.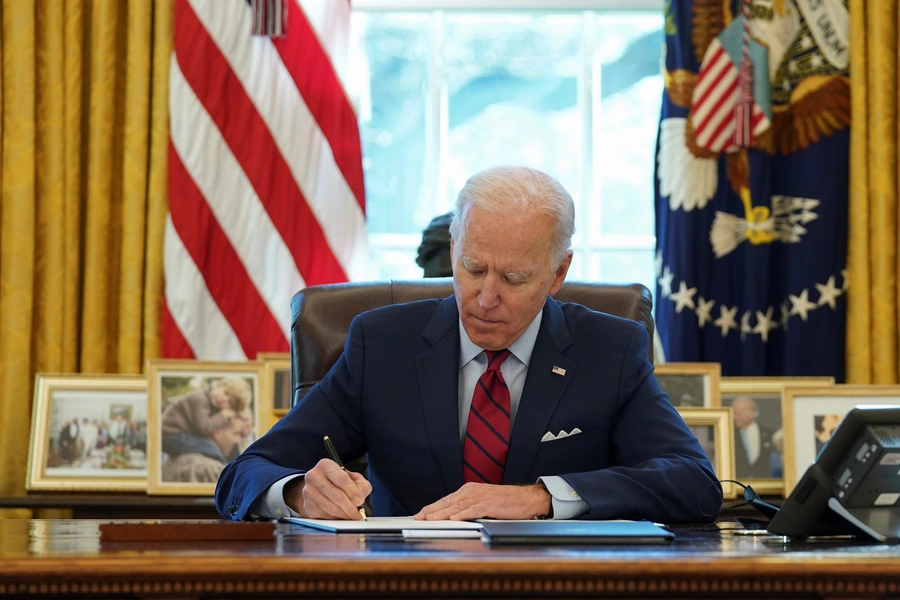 The Biden administration will have to decide quickly how it will approach internet regulation and governance. Any successful approach should not only be consistent across domestic and foreign policy, but also attract support from other governmental and non-governmental allies. The Biden administration can do this by articulating a broad, coherent vision for an open internet anchored on core human rights and democratic values.
A New Open Internet Agenda
As the liberating potential of the internet became clear through examples like the Arab Spring, Western governments, companies, and advocates developed a set of norms, policies, and institutions dedicated explicitly to the protection and expansion of human rights online—the so-called "internet freedom" agenda.
Lack of White House attention, inconsistent messaging, and increasing hostility to U.S. technology companies led many to argue that the internet freedom agenda was dead (although, as I have pointed out, there is a risk of throwing the baby out with the bathwater). The incoming Biden administration is well positioned to reframe the U.S. approach to internet policy in more concrete and realistic terms. This agenda should acknowledge present challenges and articulate a purposeful, multifaceted, and coordinated response that can reinvigorate and expand multilateral and multistakeholder alignment in favor of digital freedom and interoperability. This is not about enhancing a niche set of human rights objectives, but rather recognizing that human rights and democratic values are core to our national security and should guide digital policy.
Leading by Example
All good foreign policy starts at home. It is past time for the U.S. to revisit the way it regulates internet-based services in order to enhance trust in the broader ecosystem and undercut those who argue for authoritarian solutions. The incoming administration should formulate a comprehensive approach to internet regulation based on principles of transparency, due process, and accountability. These principles can not only appeal across partisan lines and reinforce the Biden administration's broader approach to foreign policy, they also helpfully align with some of the European Union's emerging regulatory efforts.
Meanwhile, within the executive branch, the Biden administration will need to foster interagency coordination and exercise White House leadership to ensure coherent, rights-centered approaches to cybersecurity, law enforcement, and other priorities that build credibility and trust in government. It can start by working to establish clear lines of authority on cyber issues by elevating but not stovepiping coordination responsibilities within the White House and the State Department.
Expanding Democratic Alliances
While any effective approach to internet policy should begin at home, it will only succeed if it achieves support abroad. Authoritarian governments have become increasingly capable of co-opting the internet—both to prevent liberalization at home and exert influence abroad, including by moving strategically to enhance influence over other governments, multilateral institutions, and standards bodies. China and Russia, for example, have promoted a new UN treaty on cybercrime that raise serious human rights concerns. To quickly rebuild trust and establish credibility, the Biden administration's open internet agenda should roll back inconsistent, unilateral Trump administration actions, strengthen relationships with democratic allies, and empower civil society organizations, independent media, and others to foster collaborative and flexible problem solving that can prove sustainable over time.
Fortunately, the pool of capable non-governmental actors committed to such problem solving is deep and there are good examples of how creative governance can work in the tech space. One legacy of the internet freedom era that is ripe for reinvigoration is the Freedom Online Coalition (FOC), a decade-old alliance of democratic states that effectively coordinates technology-related diplomacy in multilateral venues. Instead of creating new multilateral alliances from scratch, a limited expansion of the FOC's scope, combined with the right investment of political and economic capital, could turn it into a meaningful tool for trust-building and accountability among democratic states, a mechanism for coordinating approaches to technology-related sanction, supply chain, and data policies, and a means to proactively collaborate with and support developing democracies.
Investing in Rights-Protecting Digital Technology
Finally, the incoming administration should expand creative approaches to research and development of open-source, user-empowering technologies. Over the last decade, the Open Technology Fund (OTF) and the State Department's Bureau of Democracy, Human Rights, and Labor have quietly but effectively worked to counter better-funded investments in "surveillance tech," by working with academics and front-line human rights defenders to understand and counter authoritarian digital threats. Congress has increased its bipartisan support for these efforts over the years, despite an increasingly discredited and politically motivated attack which almost succeeded in destroying OTF.
The Biden administration should enhance these efforts, which empower vulnerable groups to expose authoritarian governments' repressive tools and tactics, and then provide funding for appropriate solutions. These solutions can then have broader applications. For example, OTF's support has helped Open Whisper Systems develop the encryption protocol used today by Signal, WhatsApp, and other secure messaging services. The insights from and fruits of this work can also help democratic governments better anticipate and prepare for attacks against critical networks and democratic systems and serve as a wellspring for accelerating the development of new, human rights-enhancing technologies.
The Stakes are High
The deck has been reshuffled and the U.S. government's hand is not as dominant as it once was. But our strongest cards remain the same, and we should continue to play to our strengths by going all in on demonstrating our commitment to a democratic approach to internet policy.
Jason Pielemeier is the policy director at the Global Network Initiative and previously led the U.S. Department of State's Internet Freedom, Business, and Human Rights Section. The views expressed here are his own. He is a member of the Freedom Online Coalition's non-governmental Advisory Network.