"Road Kill in a Game of Chicken": China, Canada, and the United States
It has been over two years since Chinese officials detained Canadians Michael Kovrig and Michael Spavor. How the next U.S. administration handles this issue could foreshadow the future of U.S.-Canada relations.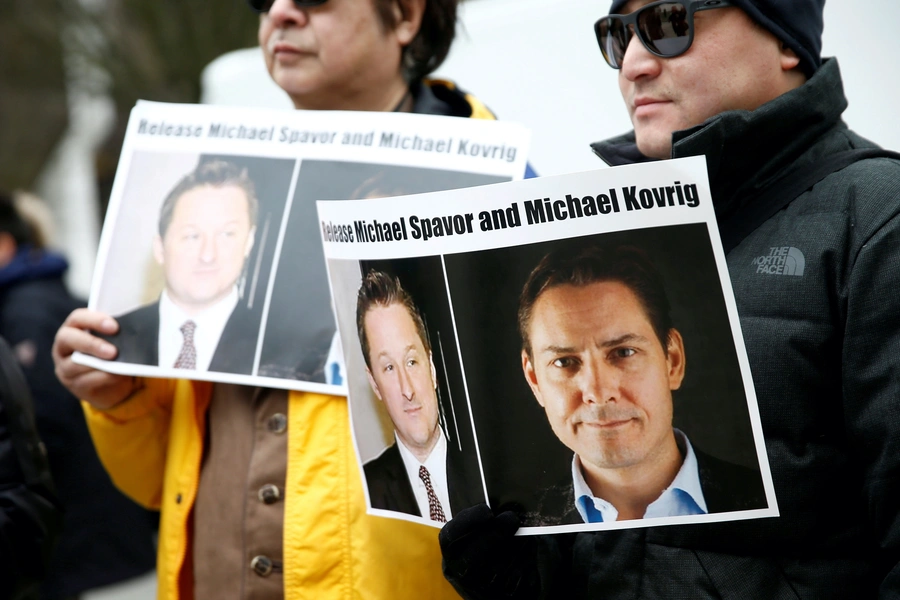 Christopher W. Bishop is Council on Foreign Relations International Affairs Fellow in Canada at the University of Ottawa Centre for International Policy Studies and a fellow at the Canadian Global Affairs Institute. A career U.S. Foreign Service Officer, he is currently on leave from the Department of State. These are his personal views, and do not necessarily represent the views of the Department of State or the U.S. Government.
It has now been over two years since Chinese officials detained Canadians Michael Kovrig and Michael Spavor for "endangering state security"—ten days after the Royal Canadian Mounted Police arrested Huawei Chief Financial Officer Meng Wanzhou on an extradition warrant from the United States, where she had been indicted for bank fraud. Since being taken into custody on December 10, 2018, the "two Michaels" have been held in solitary confinement for prolonged periods and questioned repeatedly about their activities, with very limited access to Canadian consular officials or legal counsel. (Kovrig had served as a Canadian diplomat in Beijing before joining the International Crisis Group, while Spavor worked as a consultant arranging tours and cultural exchanges with North Korea.)  By contrast, Meng has been living in one of her two Vancouver mansions, albeit with an ankle bracelet and 24-hour surveillance that she pays for herself, as her case moves through a British Columbia court. She has also hired some of the best known defense lawyers in Canada, who have filed multiple preliminary motions in an effort to delay a final extradition hearing, now expected for spring 2021.
Not surprisingly, China's detention of the two Michaels and its broader campaign of "coercive diplomacy" in response to Meng's arrest—including restrictions on Canadian canola exports, and temporary bans on Canadian pork and beef—have only backfired. Prime Minister Justin Trudeau, who once considered making Canada the first G7 country to negotiate a free trade agreement with China, has refused to intervene in Meng's extradition proceedings or negotiate a "prisoner exchange" with Beijing, despite calls from former senior officials—including some in his own party. Moreover, public attitudes towards China have hardened as well. According to a recent Pew survey, 73 percent of Canadians have an unfavorable view of China, up from 45 percent in October 2018, just before the two Michaels' detention. Similarly, a study by the Asia Pacific Foundation of Canada found only 35 percent of Canadians now see China's economic power as more of an opportunity than a threat—down from 60 percent two years ago.
More surprising, however, is how many Canadians also blame the United States for the two Michaels' predicament. As Roland Paris from the University of Ottawa put it, Canada has become "road kill in a game of chicken" between Washington and Beijing. Some Canadians have argued Trudeau should have simply declined the U.S. request to arrest Meng, or even warned her to stay away from Canada, to avoid being dragged into a U.S.-China rivalry. Others charge the Trump administration is simply using Meng as a bargaining chip in its quest for a trade deal with China or as a check on China's 5G ambitions. The timing of the two Michaels' detention—at the same time the United States had imposed steel and aluminum tariffs on Canada for national security reasons, and shortly after contentious negotiations for a new U.S.-Mexico-Canada free trade agreement, which effectively gave the United States a veto over any future Canadian trade deal with China, didn't help either. Some 63 percent of Canadians now have an unfavorable view of the United States, up nearly 10 percent from 2018. More strikingly, 11 percent of Canadians now see the United States—Canada's largest trading partner and closest ally, with whom it shares a 5,500 mile long undefended border—as an "enemy."
To Engage U.S. Allies on China, Start with Canada
President-Elect Joe Biden has called for working with the United States' allies in Europe and Asia to develop a common strategy for dealing with China. But as the United States' neighbor, Canada should not just be part of this process—it should be the starting point. Although Canada is a NATO ally with deep historical ties to Europe, like the United States, its future is increasingly tied to Asia. Even before it joined the Comprehensive and Progressive Agreement for Trans-Pacific Partnership (CPTPP) in 2018, Canada's trade with Asia was greater than its combined trade with Europe, Latin America, and Africa. Nearly 18 percent of Canadians claim Asian ancestry—twice as high as in the United States—and in cities like Toronto and Vancouver, Mandarin and Cantonese are more widely spoken than French. Moreover, an estimated 300,000 Canadians live in Hong Kong—the second largest concentration of Canadians abroad—giving Canada a special interest in the city's fate and China's future. Canada may not yet be a Pacific power, but it is undoubtedly a Pacific player.
Canada also shares the United States' concerns about China's unfair trade practices, its human rights abuses, its influence operations overseas, and its growing interest in the Arctic. Similarly, although Canada is not a "frontline state" in the western Pacific like Japan, South Korea, or Australia, it has spoken out against China's militarization of the South China Sea, and routinely participates in naval exercises in the region. To be clear, Canada will not blindly follow the United States' lead in confronting China. It has a proud tradition of an "independent foreign policy"—especially relating to China—dating back to Prime Minister Pierre Trudeau, who established diplomatic relations with the People's Republic two years before President Richard Nixon visited Beijing. But it would be hard to imagine a successful U.S. strategy for dealing with China that doesn't include Canada or take advantage of Canada's expertise in building international coalitions. And if Canada doesn't sign up, it could be a sign that other allies—whose history, values, and interests may be less aligned with the United States—might decide to sit on the fence as well.
Of course, many Canadians also hope the Biden administration will do more to win the release of the two Michaels, whether by increasing pressure on Beijing or striking a plea deal with Meng to clear the way for their return. Moreover, they will likely measure the success of any common China strategy by how quickly it brings the two Michaels home. But exactly what the next Administration does to free the two Michaels is probably less important than how it does it, and what kind of relationship it signals it wants to build with Canada in the process. Does the United States see Canada as a trade competitor and national security threat or as its closest ally and partner in managing a rising China?
Canadians still proudly recall the role Canadian Ambassador Ken Taylor played in helping six American diplomats escape Iran after the sacking of the U.S. Embassy in Tehran in 1979—the "Canadian caper" dramatized (with considerable artistic license) in the movie Argo. Now, as Canada begins the third year of what many consider its own "hostage crisis" in China, the United States has an opportunity to return the favor, to re-engage with its neighbor, and to work together—as a friend.