Shinzo Abe Transformed Japan's Relationship With Taiwan to Counter Threats from China
One of Shinzo Abe's most significant moves was adjusting Japan's relationship with Taiwan.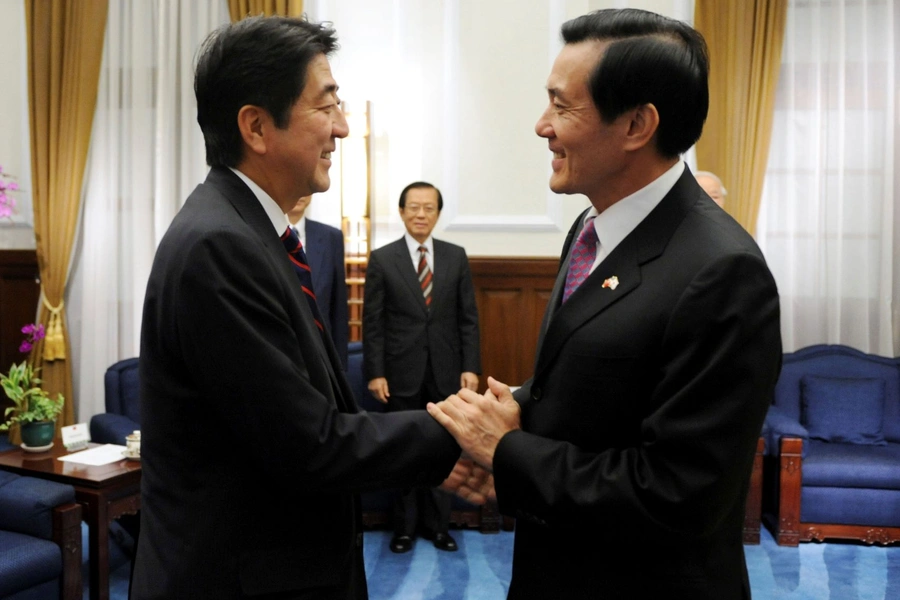 Shinzo Abe left an indelible mark on Japanese foreign policy, steering the country from one that was largely reactive to events in the Indo-Pacific to one that actively shapes its regional environment. For all of his accomplishments, Abe's most significant legacy could prove to be profoundly adjusting Japanese policy toward Taiwan.
Prior to Abe's tenure as prime minister, Japanese officials were deeply uncomfortable talking about a potential Chinese use of force against Taiwan, the implications of such a move for Japanese security, and how Japan should respond to such a scenario. Recognizing the threat that an increasingly assertive China posed to Taiwan, however, Abe sought to reorient Japanese policy toward the island. He began by publicly emphasizing shared values between Japan and Taiwan. In 2015, Abe started referring to Taiwan as an "important partner" and "precious friend," a formulation that the government subsequently adopted. While a seemingly small step, this helped reframe the conversation about Taiwan in Tokyo.
Beyond statements, under Abe's leadership Japan and Taiwan addressed one of the most significant irritants in their bilateral relationship. Following 17 years of negotiations, in 2013 Japan and Taiwan concluded a landmark agreement that addressed fishing rights in the East China Sea (Taiwan formally shares the same territorial claims as China in the East China Sea, which means it maintains a claim to the Senkaku Islands). This, too, helped usher in a new era of closer bilateral ties. In 2019, for instance, Japan became a cosponsor of the Global Cooperation and Training Framework (GCTF), an initiative that Taiwan and the United States established in 2015 to host workshops that allow Taiwan to showcase its expertise in fields like public health, disaster relief, women's empowerment, and good governance.
After he stepped down, Abe continued to use his influence within the Liberal Democratic Party to drive the policy debate on Taiwan. In November 2021, he forcefully argued, "A Taiwan emergency is a Japanese emergency, and therefore an emergency for the Japan-U.S. alliance. People in Beijing, President Xi Jinping in particular, should never have a misunderstanding in recognizing this." He participated in trilateral dialogues with lawmakers from the United States and Taiwan, remarking that "what happened in Hong Kong must never happen in Taiwan." In a demonstration of solidarity with Taiwan after China banned the importation of Taiwanese pineapples, Abe posted a photo on Twitter showing him holding up the fruit. One of the last pieces he wrote was an op-ed in the Los Angeles Times, where he argued that the U.S. policy of strategic ambiguity toward Taiwan was "fostering instability in the Indo-Pacific region" and called for the United States "to make clear that it will defend Taiwan against any attempted Chinese invasion."
Abe's efforts were largely successful, and his successors have continued where he left off. The joint statement issued by his immediate successor, Yoshihide Suga, and President Joe Biden in April 2021 included a clause on Taiwan, the first time the two countries mentioned Taiwan in a leader-level joint statement in five decades. Suga's successor, Fumio Kishida, has argued that "the front line of the clash between authoritarianism and democracy is Asia, and particularly Taiwan." President Biden and Prime Minister Kishida, in their May 2022 joint leaders' statement, "reiterated the importance of peace and stability across the Taiwan Strait as an indispensable element in security and prosperity in the international community." Elliptically referring to Taiwan, Kishida recently warned, "Today's Ukraine may be tomorrow's East Asia."
This shift is evident elsewhere. In June 2021, Minister of Defense (and Shinzo Abe's brother) Nobuo Kishi stated that "the peace and stability of Taiwan is directly connected to Japan." Japan's most recent annual defense white paper spoke of Taiwan in an unprecedented manner, emphasizing that "stabilizing the situation surrounding Taiwan is important for Japan's security and the stability of the international community. Therefore, it is necessary we pay close attention to the situation with a sense of crisis more than ever before." This signals a level of institutional buy-in to the shift on Taiwan.
In addition to strong public statements, Abe's successors have sought to continue to bolster ties with Taiwan. Japan has donated millions of doses of COVID-19 vaccines to Taiwan and supported its bid to join the Comprehensive and Progressive Agreement for Trans-Pacific Partnership (CPTPP).
These steps have resonated with the Japanese public. One recent poll found that nearly three-quarters of those surveyed favored the Japanese government being involved in maintaining peace in the Taiwan Strait.
Affection among Taiwanese for Japan has also reached a record high. Sixty percent of Taiwanese report that Japan is their favorite foreign country, according to a recent poll, up from 52 percent in 2010. In many ways, the Taiwanese public's growing fondness for Japan reflects Abe's efforts to expand the Japan-Taiwan bilateral relationship.
It should come as no surprise that after news emerged that Abe had been shot, President Tsai Ing-wen called him "Taiwan's most loyal best friend." After Abe passed away, Tsai said that Taiwan had "lost an important and close friend" and ordered that the national flag be flown at half-mast. This stands in stark contrast to the jubilation expressed by many Chinese netizens after learning of Abe's assassination. Taiwan's vice president Lai Ching-te attended Abe's private funeral in Tokyo, becoming the highest-level Taiwanese official to visit Japan for an extended visit since Japan severed diplomatic relations with Taiwan in 1972.
The work that Abe started, however, remains unfinished. The United States and Japan need to urgently increase their coordination and preparation for a Taiwan conflict, which should become the top priority for the U.S.-Japan alliance. The allies should prioritize consultations that focus on what the United States would need from Japan in order to defeat Chinese aggression and how it can address any Japanese concerns. The United States and Japan should also explore economic frameworks with Taiwan that will help the island avoid economic marginalization in the Indo-Pacific and address supply chain security issues relating to critical technologies such as semiconductors.
Shinzo Abe left an impressive legacy in foreign affairs, including the significant efforts he made to adapt Japan's policy toward Taiwan in light of an increasingly assertive China. It is now up to his successors to carry his legacy forward.