State Pardon for Former Governors Puts Nigeria's Anticorruption Drive in Jeopardy
Nigeria's pardon for former corrupt governors damages the country's anticorruption campaign and undermines democratic institutions.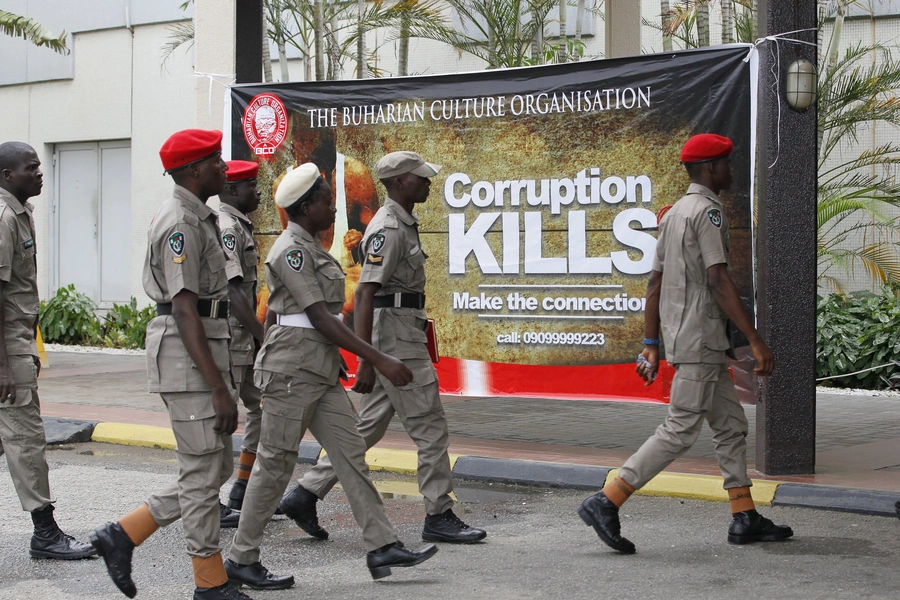 The unexpected pardon last week of two leading politicians convicted earlier on charges of corruption has brought renewed focus on Nigeria's flailing anticorruption drive.
Following a meeting of the country's Council of State, Joshua Dariye and Jolly Nyame, governors respectively of the central and northeastern states of Plateau and Taraba from 1997 to 2007 were pardoned along with 157 other convicts.
An organ of the federal government charged with advising the executive branch on policy matters, the Nigerian Council of State comprises the president, past presidents, the vice president, senate president, speaker of the House of Representatives, both serving and past chief justices of the country, the attorney general of the federation, all serving governors, and the minister of the Federal Capital Territory (FCT).
In granting a pardon to the convicts, the Council of State considered the recommendation of the Presidential Advisory Committee on Prerogative of Mercy (PACPM), a twelve-member committee constituted by President Buhari in August 2018 and headed by Minister of Justice and Attorney-General of the Federation Abubakar Malami.
Dariye was convicted by a High Court of the Federal Capital Territory in 2018 and sentenced to fourteen years in prison for "systematic looting" and "diverting public funds to the tune of N1.126 billion" after being found guilty on fifteen out of the twenty-three charges preferred against him by the Economic and Financial Crimes Commission (EFCC). Although an appeal court would later commute his prison term from fourteen to ten years, the Supreme Court of Nigeria ultimately upheld his conviction in March 2021.
Dariye pleaded not guilty, claiming that he had been "deceived" by his bank.
An ordained reverend, Nyame was similarly found guilty on twenty-seven of the forty-one charges of "money laundering, criminal breach of trust, and misappropriation of funds" to the tune of N1.64 billion brought against him by the EFCC and sentenced to fourteen years in prison in May 2018. While his total jail term was slashed by two years upon appeal, the Supreme Court in February 2020 affirmed the judgment of the lower courts.
Nyame too pleaded not guilty, insisting that the charges brought against him were "incompetent and brought in bad faith."
Condemnation of the pardon across Nigerian civil society and media was swift and almost universal. The Civil Society Legislative Advocacy Centre (CISLAC), the Nigerian chapter of Transparency International (TI), lamented that the pardon has "rubbished the work of the EFCC" and validated criticism of the Buhari government's anticorruption campaign as nothing but "a means to settle political scores and pardon those in its camp." Pointing to the huge financial outlay on the investigation and prosecution of the convicts by the EFCC, other civil society organizations bemoaned the pardon as a slap on the face of the country's anticorruption campaigners and a major setback to the country's halting progress in the fight against corruption. Angered at the administration's apparent nepotism, human rights lawyer Femi Falana sarcastically called for the same pardon to be extended to "all criminals and petty thieves."  
To be sure, President Buhari is not the first Nigerian ruler to issue a controversial pardon to politicians or officials convicted of corruption. During the military era, President Ibrahim Babangida (1985- 1993) was criticized for setting an ugly precedent by "pardoning corrupt officials convicted by his predecessors and returning their seized properties." In 2013, opposition activists were incensed after President Goodluck Jonathan (2010- 2015) pardoned his former boss and political benefactor, Diepreye Alamieyeseigha. Alamieyeseigha had jumped bail after being charged with money laundering in London in 2005 and was convicted of embezzling state funds in Nigeria in 2007.
Nor is this the first time that President Buhari has come under fire for his administration's perceived poor track record in combating corruption. Although he had campaigned on a promise to root out corruption, asserting that "if Nigeria does not kill corruption, then corruption will kill Nigeria," critics have pointed out that the situation has deteriorated on his watch. In 2020, the House of Representatives launched an investigation after N100 billion reportedly went missing from the accounts of the North-East Development Commission (NEDC). NEDC was established by Buhari in 2017 "to lead the reconstruction and development of Nigeria's northeast." Former Secretary to the Government of the Federation Babachir David Lawal is currently on trial for allegedly stealing N500 million being "cumulative proceeds of grass cutting contracts… to companies he had interests in."
Recent reports by Transparency International and the U.S. State Department appear to lend weight to critics' charge. According to TI's 2021 Corruption Perception Index (CPI), Nigeria ranks 154 out of 180 (the lower the more corrupt) countries and is the second most corrupt country in West Africa. The recently released State Department Human Rights Report references "serious government corruption" as a continuing challenge.
Although official corruption is indeed persistent, corruption in Nigeria is by no means exclusive to the state. The key problem, as many recent studies have shown, is that it is well-nigh impossible to conduct any transaction in the country without parting with some unreceipted toll. The United Nations (UN) estimates that "some 117 million bribes are paid in Nigeria on a yearly basis." Police demand for bribe from motorists at checkpoints frequently results in use of lethal force.
More troublingly, the attitude of most Nigerians toward corruption is ambiguous at best. While many continue to denounce it and see it as the most formidable impediment to the country's development, they rarely hesitate in rallying behind co-ethnics who have been accused of corruption. Peter Ekeh's "Colonialism and the Two Publics in Africa: A Theoretical Statement" remains the most cogent explanation of this sociological paradox. After Alamieyeseigha had skipped bail in 2005, "crowds cheered and waved leaves" to welcome him back.  
For all the recent outrage, Dariye and Nyame remain hugely popular across their respective states, where reports of their pardon were received with wild jubilation, and critics see their pardon as a political move by the Buhari's All Progressives Congress (APC) to curry favor ahead of next year's crucial state and presidential elections.                
Support for those accused of corruption contrasts sharply with the often-harsh treatment of anticorruption crusaders. As head of the EFCC, Nuhu Ribadu faced persecution and escaped assassination twice before seeking exile in the United Kingdom in 2009. Witch hunt of whistleblowers is not unique to Nigeria. Michela Wrong's famous account of the hounding of journalist John Githongo by Kenyan authorities has parallels across Africa. 
While corruption is not limited to the state, the selective nature of state pardons can increase public distrust of the system even as it confirms widely held belief that the game is rigged, and that punishment is for poor people or those otherwise lacking the "connection" or resources to purchase influence.
Although it remains to be seen whether Buhari or the ruling APC ultimately pays the political penalty, there is no question as to the symbolic damage that this pardon does to the country's anticorruption campaign, particularly the institutions vested with its prosecution.
While Western governments and transparency advocates have no control over who a state pardons, they can and must continue to support the rule of law broadly, while providing moral and material support for African civil society groups seeking to hold office holders to account.
This publication is part of the Diamonstein-Spielvogel Project on the Future of Democracy