The States and Reopening Under COVID-19: Why We Need North American Cooperation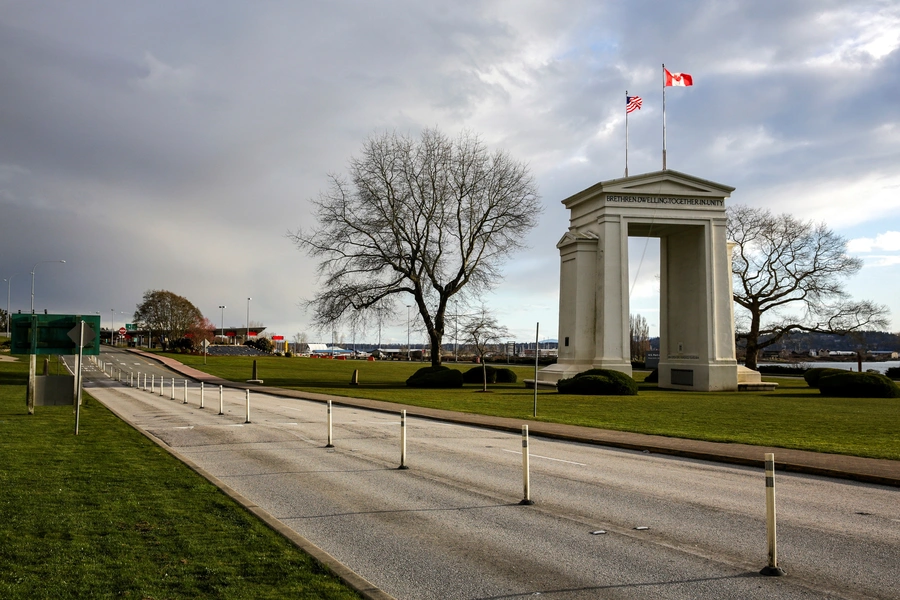 This post is coauthored by Laurie Trautman, the director of the Border Policy Research Institute at Western Washington University, and a global fellow at the Woodrow Wilson Center; and Edward Alden, the Bernard L. Schwartz senior fellow at the Council on Foreign Relations, and the Ross distinguished visiting professor of U.S.-Canada economic relations at Western Washington University.
Governors across the United States, reacting to the absence of federal leadership and direction, have been forming regional compacts to try to agree on guidelines for reopening their economies as the new infection rates from the novel coronavirus (COVID-19) begin to diminish.
Three arrangements were announced this month: a northeast pact among Delaware, Massachusetts, New Jersey, New York, Pennsylvania, and Rhode Island; a midwest pact among Illinois, Indiana, Kentucky, Michigan, Minnesota, Ohio, and Wisconsin; and a western states pact signed by the governors of California, Oregon, and Washington.
These initiatives are encouraging, and could create a model for the rest of the country for how neighbors should cooperate when their joint safety and prosperity is under threat.
But there is big hole in these efforts. Since the U.S.-Canada Free Trade Agreement in 1989 and the 1995 North American Free Trade Agreement (NAFTA), the U.S. economy has become increasingly integrated with its northern and southern neighbors. Since the outbreak of the virus in March, those borders have been closed to travel for all but essential workers, increasing the damage to local economies that depend on cross-border exchange.
Out in Washington state where we both live, there is a real danger that the western U.S. states will go one way on the speed and rules for reopening while western Canada goes another. This would drive a wedge into a vital component of economic growth in our region, which rests on building a more prosperous, cross-border Cascadia corridor extending from British Columbia to Oregon.
In a story that has been replicated across the border states north and south, the virtual shutdown of the U.S.-Canada border at Peace Arch since March 20, 2020, has been one of the most disruptive actions taken by governments in the crisis. The thousands of crossings each day have become a trickle; cross-border passenger travel between Washington and British Columbia has fallen by roughly 98 percent, with steep costs for business on both sides of the border.
Those costs may continue even after the U.S. starts to reopen its economy. Canadian Prime Minister Justin Trudeau has said the border will remain restricted for "many weeks", and the only way the border will fully reopen is if officials on both sides are confident that cross-border travelers will not become a new vector for disseminating the virus. The growing calls from U.S. President Donald Trump urging the states to restart economic activity even as the virus continues to spread in many parts of the country will not help reassure our northern neighbors.
On the west coast, the province of British Columbia will need a lot of persuasion to start welcoming Americans again. To date, the province has seen just over 1,700 cases and fewer than 100 deaths, compared to more than 12,000 cases and nearly 700 deaths in Washington alone. The gaps between New York state and the province of Quebec, and Michigan and Ontario, are similarly striking.
Both Canada and the United States have a strong stake in reviving cross-border ties as soon as safely possible, and the platform for doing so already exists. The western region, in particular, has a long history of collaboration across various scales of government and industry. Recent initiatives like the Cascadia Innovation Corridor, spearheaded by former Washington state governor Christine Gregoire, are aimed at developing the Pacific Northwest as a global hub of innovation in health care, technology, and other sectors, leveraging the strengths of both the western states and British Columbia.
This region is also widely viewed as an innovative border policy incubator for both Canada and the United States, serving as a testing ground for programs like NEXUS and Enhanced Driver's Licenses, which are later implemented across the northern border. Such accomplishments are unparalleled in other cross-border regions between the United States and Canada.
There is a reason that so much energy is invested in the cross-border relationship, and why so many in the region see the value of strengthening those ties. Families, businesses, tribes, and First Nations straddle our shared border, and the social and economic costs of prolonged restrictions are incalculable. If border restrictions persist, or become asymmetrical in nature, there will be long lasting damage, particularly to norther border businesses that depend on Canadian consumers. Such businesses may not recover, despite targeted economic assistance.
There is another reason to include discussions with Canada as soon as possible. The pandemic has encouraged nations around the world to pull up their drawbridges, enacting not just sensible measures to restrict travel but harmful ones to restrict the flow of life-saving drugs, protective equipment, and other medical supplies. Even the close U.S.-Canada relationship has not been spared from such actions.
As a region, we have proven that we can do better, and we have reaped the benefits of a collaborative approach, not just within our nation's borders, but beyond them. A new west coast initiative on responsible reopening that includes Canada could become not just a model for the country but for the world in how countries can work together to restore their economies and enhance the safety of their citizens.