Staying Neutral on Ukraine Easier Said Than Done for African States
As the Kremlin-linked Wagner Group expands its Africa footprint, questions remain about what "neutrality" really looks like for African governments.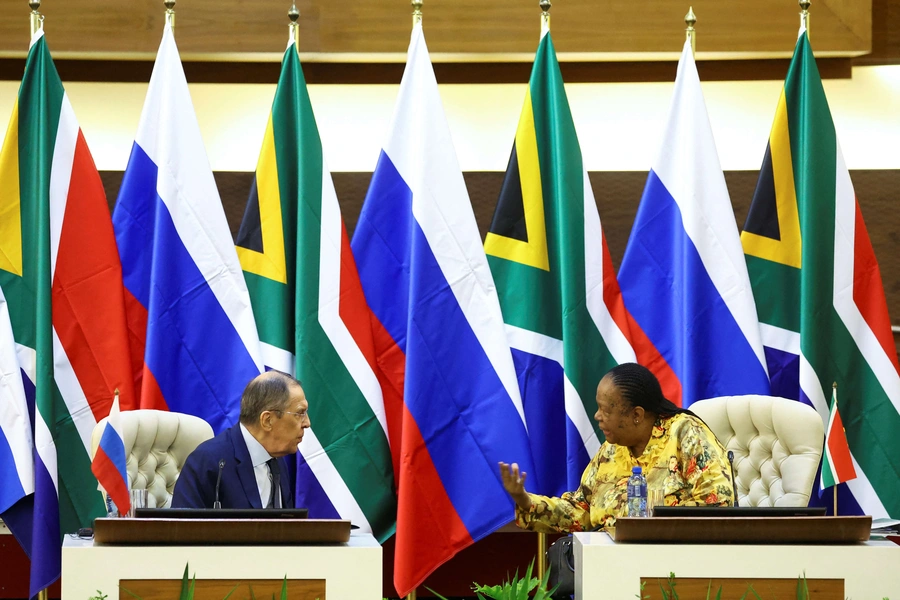 On New Year's Day, video emerged of a young Ivorian serving with the Wagner Group on the frontlines of Ukraine. While being interviewed by Yevgeny Prigozhin, a close ally to Vladimir Putin and head of the Wagner Group, the fighter reveals that he lived in Moscow, and was released from prison to fight with the infamous Russian paramilitary group. The account all but confirms earlier reporting that the Wagner Group was recruiting for the conflict in Russian prisons, and corroborates leaked video of Prigozhin promising amnesty to any prisoner who committed to six months fighting in Ukraine.  
Unfortunately, for some Africans, this comes as no new story in recent months. Just days ago, it was announced that the body of Tanzanian student Nemes Tarimo would be repatriated from Russia after he was killed in Ukraine, reportedly joining the Wagner Group in exchange for his release from a Russian prison. In December, the remains of twenty-three year old Zambian national, Lemekhani Nathan Nyirenda, were returned to Zambia under similar circumstances. Prigozhin played a starring role in these events too, shocking Nyirenda's family when he claimed that the he was an eager recruit. On Russian social media, Prigozhin admitted to speaking with the Zambian, claiming that Nyirenda said, "You Russians helped us Africans gain independence for many years. When it was difficult for us, you extended your hand to us and continue to do now...The least I could do, probably, to pay our debts is go to war with you."  
The veracity of this bizarre account aside, these revelations, and the war in Ukraine more broadly, have shone a harsher light on the realities of Russian foreign policy in Africa, which may threaten to undermine its existing foreign policy narrative on the continent. Since the beginning of Russia's invasion of Ukraine, Russia has attempted to keep Africa "neutral" amidst growing condemnation from the United States, Europe, and multilateral institutions. In July, Russian Foreign Minister Sergey Lavrov conducted a four-country tour of Egypt, Ethiopia, Uganda, and the Republic of Congo, framing food shortages and surging energy prices as the fault of Western sanctions. The strategy was relatively effective. While many African states condemned the invasion of Ukraine, nineteen still chose to abstain from formal condemnation in the United Nations as recently as October.  
These efforts come amidst a years-long Russian effort to position itself as a true, historic partner to Africa, "not stained with the bloody crimes of colonialism." In the face of growing resentment towards former colonial powers, particularly France, Russia has utilized social media misinformation, strategic economic investments, and rapid deployment of the Wagner Group to uphold faltering regimes and military juntas in Libya, Sudan, Mali, Mozambique, and the Central African Republic (CAR). And its influence is only growing. In October, as Burkina Faso experienced its second coup d'état in nine months, supporters lined the streets waving Russian flags.  
Nevertheless, the growing desperation of the Kremlin to financially sustain the invasion of Ukraine might put this carefully crafted narrative at risk. Several investigations by groups like All Eyes on Wagner have uncovered Wagner-linked shell companies exploiting diamond and timber resources in CAR, as well as gold mines in Sudan and Mali. Exclusive resource extraction deals have been central to several security commitments between Russia and African governments, and these concessions can serve as a form of payment for Wagner Group security. However, the use of intimidation and violence by Wagner soldiers against small-scale and artisanal miners to enforce even greater access for Russian companies, go far beyond such agreements. In 2022, human rights groups documented at least three massacres of individual and small-scale miners by Wagner Group soldiers, with survivors terrorized to sell their findings only to Russian companies.     
The asymmetry between Russia's supposed reverence for African sovereignty with the reality of Wagner Group actions on the ground existed long before the Ukraine conflict began, but, as the war drags on, the deal has soured for the affected African countries. In CAR, where growing dependence on Wagner Group protection has left Bangui's government vulnerable to Russian pressure, it is reported that the Wagner Group has released dozens of rebel fighters from local prisons and recruited them to fight in Ukraine. Many of these rebels perpetrated gruesome, violent campaigns against civilians, including rape and murder, yet the Wagner Group can overrule local authorities to lure soldiers to their frontline.  
Within Russia, there are over twenty thousand Africans studying abroad, some of whom have reported harassment from university administrators and security officials offering inducements to fight in Ukraine. Increasingly, Russia's promoted policy of a Russian-African partnership "of intrinsic value that does not depend on fluctuations in the international environment" stands in direct contrast with accounts of Wagner Group pillaging and recruitment schemes to support the invasion. 
Ahead of the second Russian-African summit in July, Lavrov has embarked on another multi-country tour of Africa and continues to promote neutrality. To that end, it will be up to African governments to grapple with the growing contradictions of African-Russian foreign policy and decide whether they genuinely benefit from maintaining the status-quo in the relationship. A more desperate Kremlin may offer African governments the opportunity to leverage better terms.  
Plans for a joint-military training exercise between South Africa, China, and Russia may indicate that U.S. policymakers need to reevaluate their Africa strategy when it comes to the Ukraine conflict as well. Public indignation over the recent docking of a sanctioned Russian cargo ship in South Africa, in addition to legislation like the Countering Malign Russian Activities in Africa Act which passed in the House of Representatives in April, has only contributed to some existing grievances that the United States punishes African governments that won't fall in line. As all of these diplomatic efforts play out, it will be worth noting how Russian-African ties evolve, and where Africans on the ground draw the line when it comes to Russian influence and perception as a legitimate partner.