Taking Pandemic Preparedness Seriously: Lessons from COVID-19
The United States must finally translate its longstanding rhetoric about pandemic preparedness into concrete action.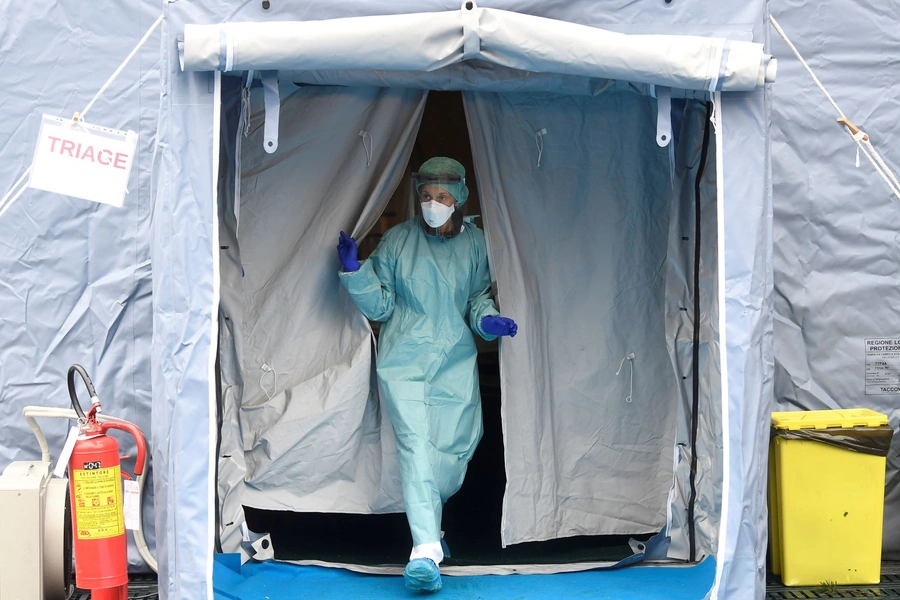 Last week's unsettling news that U.S. President Donald J. Trump, his wife, and multiple White House staff members had contracted the novel coronavirus underscores that this pandemic is far from over. Over the past nine months, COVID-19 has infected at least 36 million and killed more than 1 million worldwide, including more than 210,000 in the United States, while causing a global economic slump. The nation's daily infection rate is inching up again and could well spike as cooler autumn temperatures send people indoors. Even under the most optimistic vaccine scenario, this plague will be with us well into 2021, continuing to upend life as we once knew it.
It is not premature, however, to ask what went wrong in the early U.S. and global response to the pandemic and what can be done to ensure that the nation and the world are better prepared when the next one strikes—as it inevitably will. For the past six months, I have been honored to co-direct with my colleague Tom Bollyky a bipartisan CFR-sponsored Independent Task Force on these questions, co-chaired by Sylvia Mathews Burwell and Frances Fragos Townsend.
Today, the Task Force released its final report, Improving Pandemic Preparedness: Lessons From COVID-19. Its core message? The United States must finally translate its longstanding rhetoric about pandemic preparedness into concrete action.
What follows are some of the Task Force's main findings and recommendations.
The Inevitability of Pandemics and the Logic of Preparedness
Since 2000, successive administrations and independent commissions have defined infectious disease as a threat to U.S. national and international security. When it comes to investing in actual institutions, though, the nation has never put its money where its mouth is. The United States spends more than $700 billion annually on national defense and only a pittance on U.S. and global health security, and yet in 2020 it was a microbe rather than a foreign military adversary that brought the United States to its knees.
Pandemics may seem to come out of nowhere, but they are neither random nor especially rare. In recent decades, more than forty serious infectious diseases have emerged. Most are zoonotic, having jumped from animal to human hosts. In our interconnected world, dangerous pathogens that circulate anywhere are a threat everywhere. Some describe COVID-19 as a once-in-a-century crisis, but science provides no grounds for such optimism, especially as new diseases are appearing at a faster pace. The next pandemic could be just around the corner and prove far more deadly. A novel influenza virus could kill tens of millions globally, while inflicting economic catastrophe. These stakes make it imperative to distill lessons from the disorganized U.S. and global response to the current emergency.
Pandemics may be inevitable, but there was nothing preordained about the U.S. performance in confronting COVID-19, which the Task Force deems "deeply flawed." The nation and its leaders could and should have done better. President Trump has rightly complained about China's mendacity and opacity in the early days of the Wuhan outbreak, as well as the World Health Organization's (WHO) obsequiousness towards Beijing and its delays in declaring the epidemic a global public health emergency. However, other countries were dealt the same hand and managed the pandemic more effectively. The difference comes down to preparedness—and a readiness to execute on existing plans.
Consider South Korea, which recorded its first infection on January 20, within a day of the first U.S. case. That nation moved aggressively to implement tried-and-true public health measures, including robust testing and contact tracing, isolation of the sick and potentially infectious, and near-universal mask wearing. It worked. As of today, South Korea has recorded some 24,353 infections and 425 deaths, compared to more than 7.53 million cases and 211,000 fatalities in the United States (roughly fifty and eighty times the comparable Korean figures, adjusted for population).
What Went Wrong at Home
The sources of U.S. failure are multiple. Beyond longstanding complacency, they encompass underinvestment, ignorance, confusion, miscommunication, and, for want of a better word, callousness. Over the past two decades, U.S. funding for most state and local health systems, including for pandemic preparedness, has declined, leaving many hospitals and health-care staff overburdened and overwhelmed during crises. Once the pandemic hit, elected leaders and public health officials often found themselves flying blind, because the United States never developed a comprehensive, nationwide system of testing, tracing, and isolation. Lacking timely information about the disease's prevalence and rate of transmission, some governors and mayors resorted to blunt measures such as total economic shutdowns, rather than responses calibrated to local conditions. Others adopted cavalier policies, only to see infections spread.
Confusion also reigned when it came to roles and responsibilities within the U.S. federal system. The president, governors, and mayors argued over who should lead pandemic response, as well as over access to essential medicines and equipment in the Strategic National Stockpile (SNS). As some states took matters into their own hands—with the governor of Maryland relying on his South Korean-born wife to secure personal protective equipment (PPE), for instance—the nation risked devolving into a caricature of the Articles of Confederation.
Adding to the uncertainty, elected leaders including President Trump failed to provide U.S. citizens with clear, consistent guidance, grounded in science, about the dangers posed by COVID-19 and the commonsense precautions they should take to protect themselves and their communities. Risk communications were too often politicized, and the administration failed to defend some of the nation's leading medical experts and institutions, including the Centers for Disease Control and Prevention (CDC), from partisan attacks.
Most troublingly, the United States neglected to adequately protect some of its most vulnerable citizens, including nursing home residents and "essential workers"—the latter drawn disproportionately from the nation's African American, Latino, Native American, and low-income communities. COVID-19 has exposed stark societal inequities in access to quality health care, resulting in glaring differences in infection and mortality rates. 
What Went Wrong Globally
Pandemics, of course, are by definition global and can be defeated only through international cooperation. Unfortunately, the multilateral response to COVID-19 has been just as chaotic and haphazard as the domestic U.S. one.
Part of the explanation lies in WHO's inadequate authorities and resources, which hamstring its leadership in global health emergencies. From the outset of this pandemic, national governments failed to comply with the International Health Regulations (IHR), a binding international treaty that obliges nations to build baseline capacities to detect and respond to global public health emergencies, and to report to WHO any serious outbreaks as well as trade and travel restrictions they impose. Unable to enforce compliance with these obligations, the WHO is effectively toothless, explaining its deferential attitude toward member states like China. It is also under-resourced, scrambling to fulfill an ever-expanding mandate—including for pandemic response—with a paltry budget only half that of New York-Presbyterian Hospital. 
Beyond the WHO, multilateral cooperation on the pandemic has been often missing in action, as countries have moved to close borders, hoard medical equipment, and compete to develop and secure preferential access to promising vaccines and therapeutics. The most disturbing impediment to pandemic cooperation has been the poisonous and deepening geopolitical competition between the United States and China. During the Cold War, the United States and the Soviet Union managed to set aside their differences to cooperate on polio and the eradication of smallpox. In 2020, strategic rivalry between Washington and Beijing often brought global health cooperation to a grinding halt not only within WHO but in the UN Security Council, the G20, and even the G7 club of Western democracies.
Doing Better Next Time
The CFR Task Force offers several recommendations for how the United States and the world can perform better in the future. At home, the United States needs to approach pandemic preparedness with the same seriousness of purpose it devotes to national defense. The Task Force calls on the White House to designate a senior official to coordinate U.S. agencies involved in global health security, and for the State Department to designate an ambassador-level official to collaborate more effectively with the Department of Health and Human Services on the U.S. diplomatic response to global public health emergencies. Simultaneously, the executive branch should request and Congress appropriate funds for a comprehensive health security budget that is commensurate with the pandemic threats the nation faces.
To ensure that the nation has up-to-date situational awareness, the United States must immediately develop and adequately fund a coherent national strategy to support testing and contact tracing by states and localities, in line with CDC guidance. The government must also restore faith in that agency, whose once sterling reputation has been tarnished. The Task Force thus calls on Congress to appoint an independent commission to review CDC's record during COVID-19, identify obstacles to its effectiveness, and consider how it might improve, including on surveillance, data transparency, and testing. More generally, the Task Force implores all elected U.S. officials, including the president and state governors, to deliver non-partisan, science-based communications to the American people. To enhance the credibility of such guidance, we recommend putting health officials front and center in public briefings. 
To eliminate debilitating confusion in the U.S. pandemic response, the U.S. government should also review the respective roles and responsibilities of federal, state, local, and tribal authorities, providing detailed guidance to clarify any ambiguities. The executive branch and Congress should ensure that the SNS is appropriately resourced and stocked, and specify the terms governing access to its contents. In an extended pandemic crisis, the SNS system should be empowered to act as a central purchasing agent on behalf of state governments for essential medicines and materials. Simultaneously, the United States should take steps to diversify its global supply chains for critical medical supplies and PPE, to improve their resilience and reliability, without unduly distorting global trade.
Lastly, the Task Force calls on the nation to do better by its most vulnerable citizens. Going forward, the CDC, in collaboration with states and localities, should make it standard practice to collect and share data on at-risk populations, including the elderly, minority groups, and low-income Americans. The United States should use this information to promote health equity in hospitals and health systems, as well as to draft contingency plans for communities likely to be hardest hit by pandemics. These preparedness measures could include free and convenient testing facilities, universal paid sick leave in declared pandemics, public facilities for those in need of isolation and quarantine, and special workplace protections and PPE for essential workers. We consider such steps a matter of both social justice and U.S. health security.
Abroad, the Task Force endorses continued U.S. membership in the WHO, arguing that no multilateral substitute exists to advance U.S. interests in the current pandemic or the next one. At the same time, the United States should promote reforms to strengthen that body. Two priorities include increasing the assessed contributions of member states, including for WHO's Health Emergencies Program, and establishing a periodic review conference for the IHR, to explore ways to improve compliance with these treaty obligations, facilitate information sharing, and increase the transparency and independence of the WHO's Emergency Committee.
Beyond the WHO, the Task Force recommends a new framework for multilateral cooperation to address the broader economic, political, and security dimensions of pandemics. The report calls on the United Nations to establish a permanent global health security coordinator, reporting directly to the secretary-general, to ensure a unified response across the UN system. In parallel, the United States should spearhead the creation of a Health Security Coordination Committee, a standing coalition of likeminded nations, as well as private- and non-profit sector representatives, that can harmonize trade policies on essential medical supplies, increase shared access to vaccines and countermeasures, and work with international financial institutions and the United Nations to reduce pandemic-related political and economic turbulence, including by crafting relief packages for hard-hit nations.
At the same time, the United States should work with other governments as well as civil society partners to build a global epidemic surveillance system that is less reliant on the transparency and self-reporting of directly affected nations, such as China in this case. This voluntary, international sentinel surveillance network should incentivize health-care facilities around the world to regularly share hospitalization data, using anonymized patient information, to identify unusual trends. It would be linked to public health agencies in participating nations (including the CDC in the United States), which would use such data to inform preparedness and response activities.
Finally, the United States should support multilateral mechanisms to develop, manufacture, allocate, and deliver COVID-19 vaccines, therapeutics, and diagnostics in a globally fair manner consistent with public health needs, rather than seeking to hoard these for itself. While the siren song of vaccine nationalism exerts a powerful allure, we must resist this temptation. Any effort to lock up preferential access to life-saving medicines for U.S. citizens will breed global anger and resentment. It is also likely to backfire—if not in this pandemic then in the next—because as pharmaceutical innovation and manufacturing capacities spread to other countries, they are sure to return the favor. When it comes to pandemic disease, we are truly all in this together, globally as well as nationally.