Tanzania's COVID Denialism Harms its Economic Future
Beyond the immediate, detrimental effects for Tanzanians' health, President John Magufuli's aggressive COVID denialism is likely to dent the country's economic prospects.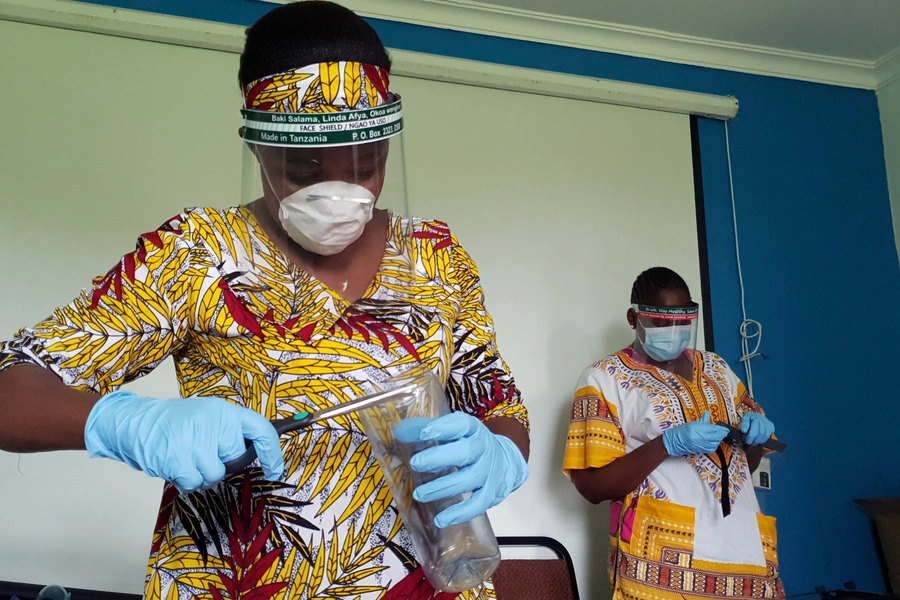 Nolan Quinn is a research associate for the Council on Foreign Relations' Africa Program.
The COVID-19 pandemic has seen populist leaders the world over downplay the disease in apparent attempts to project calm and confidence amid crisis. Yet perhaps none has been as brazen in their approach to the pandemic as Tanzanian President John Magufuli. The president previously declared the East African country free of the virus, but a recent spike in cases—officially attributed to pneumonia—along with deaths of members of parliament and other top officials suggests the reality is much different. Magufuli has nonetheless doubled down, refusing to accept vaccines and professing that Tanzania "managed to defeat these respiratory diseases through prayer last year. I am sure we will do so this year."
Beyond the immediate, detrimental effects for Tanzanians' health, Magufuli's aggressive COVID denialism is likely to dent the country's economic prospects. Tanzania has boasted one of the fastest-growing economies in Africa in recent years, with diverse sources of growth. Magufuli, a proponent of "authoritarian developmentalism," likely factored in the economic side effects of COVID-19 containment measures—initial forecasts following last year's lockdowns foretold a halving of growth—when considering his approach to the disease. Up to now, it could be argued his stance has been an economic boon: goods and tourists—mostly from Eastern Europe—have continued to flow into Tanzania, albeit at reduced levels. This helped it register the ninth-highest rate of growth globally in 2020, though economic statistics from Tanzania are of dubious veracity.
As the pandemic recedes elsewhere, the downsides of Tanzania's approach will become more apparent. Tourism had been among the country's fastest-growing sectors [PDF] before the pandemic, employing over 10 percent of the total workforce and serving as the largest single source of foreign currency. But receipts from tourism and travel were down 39.1 percent last year from 2019 totals. Globally, international tourism is expected to return to 2019 levels by 2023. In Tanzania, however, the number of tourist arrivals will likely remain subdued. Coverage of the government's COVID response and violence in last year's elections in Zanzibar, a popular tourist destination, could cause some travelers to reconsider or delay their trips.
Other countries' travel restrictions, where implemented, will be particularly damaging. Last year's dispute with neighboring Kenya, which has taken a more careful approach to the pandemic, over travel between the two countries spooked airlines and tourist companies. The United Kingdom, Tanzania's fourth largest source market for international tourist arrivals, last month added Tanzania to a list of African countries for which travel is restricted to curb the spread of a highly transmissible variant of COVID-19. And last week, Oman's health minister said the Gulf state was considering suspending flights from Tanzania after 18 percent of travelers arriving from the East African country tested positive for COVID-19. Without statistics on the disease's prevalence, travel restrictions will be slow to be lifted once they are in place. The head of the World Health Organization (WHO) over the weekend released a statement calling on Tanzania to start reporting cases and sharing data, but even if the government were to heed the WHO's call, any data that does exist is likely to be scarce, given that COVID-19 testing in Tanzania is limited and expensive: a test is $100 for nationals and foreigners alike. High testing costs and varied testing regimes are already hindering free movement of goods and people within the East African Community, crimping growth in the six-country trade bloc.
With respect to vaccines, Tanzania "may well have put itself at the back of a very long waiting list," worries Aidan Eyakuze, head of Tanzanian civil society organization Twaweza. Tanzania was not included on the list [PDF] published by the WHO for vaccine distribution through COVAX, having seemingly decided to opt out, and at present it appears doubtful Magufuli would accept any of the 270 million vaccines doses secured by the African Union to supplement COVAX. With vaccine passport systems being developed to facilitate travel, many Tanzanians are likely to continue to face difficulties when trying to cross borders, even after other African states have returned closer to normalcy.
A final concern with regard to the economic after-effects of COVID-19 in Tanzania is Magufuli's strident economic nationalism, undiminished amid the pandemic. Tanzania's president has rubbished testing kits and vaccines imported from abroad, and now, having admitted Tanzania is facing a wave of unspecified respiratory illness, he has urged citizens to wear masks—but only if they are manufactured domestically. With shortages of vaccines, drugs, and protective equipment afflicting even the most advanced economies, Tanzania will lag behind its peers in curbing COVID outbreaks—and fully reopening its economy—if the government continues to insist on domestic production.
An economic downturn related to Tanzania's approach to COVID-19 could prove more damaging for Magufuli politically than the pandemic's health effects. Even with the new spike in cases, calls for lockdowns—widely unpopular elsewhere and seen as unnecessary at this stage of the pandemic—will remain few in number. On-the-street sentiment suggests many Tanzanians agree with the government's light-touch approach, even if some might question the wisdom of the president's rhetoric. But for a leader who has tied his legitimacy to his ability to deliver economic development, a sustained slowdown in growth—especially if coupled with rapid rebounds in neighboring countries—could begin to chip away at the president's unquestioned political supremacy.