Temer's Gambit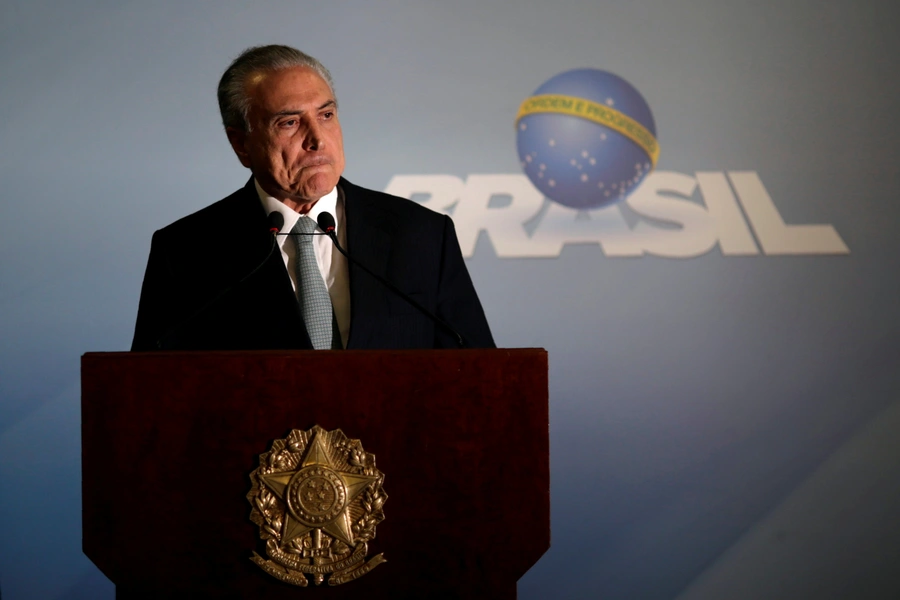 Until May 17, it seemed as though President Michel Temer could survive in the presidency until the 2018 elections, despite various pending allegations against him. These calculations have been turned on their head by news reports that meatpacking baron Joesley Batista taped Temer encouraging Batista to pay hush money to the jailed former president of the lower house, Eduardo Cunha. If news reports of the Federal Police's investigation are to be believed, authorities have accumulated indirect but damning evidence against Temer. 
The new scandal panicked Brazilian markets this week, as investors realized that the reforms they expected of Temer are now likely to fall victim to fresh political turmoil. The public is inflamed, and new protests have already begun to percolate on the streets of major cities. 
So it was shocking that when Temer gave a press conference on May 18, he categorically rejected any possibility of resignation, stating "I will not resign, I repeat, I will not resign."  It may be, of course, that Temer is innocent of the charges against him, as he claims. But the pressure against him is enormous, and cynics could be excused for seeing his press conference as a calculated gambit to clamp down on public speculation about the quickest path to his removal: resignation. 
With resignation apparently off the table, Brazil is now left with four bad options that suggest the resolution to this crisis will be measured at best in weeks, but more likely, in months. I list them below from fastest to slowest:
1.    Public pressure builds, and Temer resigns out of some combination of frustration, shame, and incapacitating political paralysis. This could happen as quickly as tomorrow, but it is more likely to take weeks or months, since Temer is a scrappy political fighter who has never given up easily.
2.    The investigation moves forward, with formal charges filed by prosecutors against Temer. In that case, the Supreme Federal Tribunal (STF) could rule that Temer should be removed from office for obstruction of justice. But the STF has been timid about getting involved in political affairs and always moves slowly. At best, this is a weeks-long scenario; more likely it would be a long slog. 
3.    The electoral court finally hears a pending case, filed against the Rousseff-Temer ticket for alleged campaign finance violations in the 2014 elections. The court had appeared to be kicking the can down the road to avoid confronting the sitting president, but in the face of public pressure it might decide it is worth moving forward at last. The only problem is that the Batista investigation has nothing to do with the 2014 election case, which might give rise to criticism of the electoral court's casuistic approach to law. Even if the electoral court did move, furthermore, progress will likely take weeks, and possibly months, and there is no guarantee that Temer will lose the case. 
4.    Impeachment is a fourth option, but this would take at least six months or longer, especially in light of the fact that many members of Congress know that their survival is closely linked to Temer's. 
The passage of time also factors into Temer's gambit to rule out resignation. Brazil is only 16 months away from elections, and every day the country moves closer to the elections diminishes the incentives opponents have to remove Temer from office by exceptional means. Opponents may also think twice as they look at the backup slate of politicians who would replace him—at least temporarily—which includes scandal-tainted figures such as Chamber president Rodrigo Maia and Senate president Eunício de Oliveira. Finally, there is no clear guarantee that the indirect elections that would likely follow Temer's removal would lead to a better successor, especially because the Congress that would select that successor is deeply rotten. 
Temer is not widely associated with probity, but few people question his political savvy. Vehemently rejecting resignation was a brilliant—if selfish—move, and may yet allow the Temer presidency to limp along to its natural end.