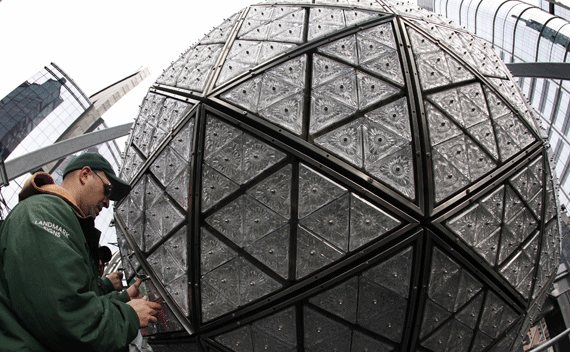 Year's end is time for taking stock, to count up successes and assess failures. It is also time to remember those who are no longer with us. Here are ten people who made a significant mark on the American foreign policy debate who died this past year.
Warren Christopher (b. 1925) served as secretary of state during Bill Clinton's first term. Christopher served in the Navy in the Pacific during World War II, clerked on the Supreme Court, had a successful career as a lawyer in private practice, and served as deputy attorney general at the end of the Johnson administration. He served as deputy secretary of state throughout the Carter administration; his greatest success was negotiating for the release of the fifty-two American hostages held in Iran. As secretary of state, Christopher also oversaw the signing of the 1995 Dayton accords, although much of the credit for the achievement went to assistant secretary Richard Holbrooke.
Lawrence Eagleburger (b. 1930) was the sixty-second secretary of state. He replaced James Baker as secretary of state in August 1992 on an acting basis after President George H.W. Bush convinced Baker to take over his reelection campaign. Eagleburger held the "acting" title until December 8, 1992, when President Bush made him secretary of state with a recess appointment. Eagleburger's fifty-three days as secretary of state is the second shortest tenure ever. (The shortest was for eleven days.) Eagleburger was a career foreign service officer (FSO) whose posts included ambassador to Yugoslavia. He was the first FSO ever to become secretary of state.
William Eagleton (b. 1926) served for forty-two years as an FSO, becoming one of the State Department's leading Middle East experts along the way. Eagleton joined the Foreign Service after serving in the U.S. Navy during World War II. He was posted across the Middle East, eventually serving as chief U.S. diplomat in Algeria, Libya, and Iraq, U.S. ambassador to Syria, and for six years as deputy commissioner-general of the United Nations Relief Works Agency for Palestinian Refugees (UNRWA). After leaving the Foreign Service, Eagleton worked at the United Nations as the Special Coordinator for Sarajevo and then Director of UN Operations in Western Sahara. In 2003, he rejoined the State Department to serve as Special Adviser for Northern Iraq. Eagleton was an expert on the Kurds and wrote a highly regarded book on Kurdish rugs.
Christopher Hitchens (b. 1949) was a polemicist par excellence who wrote on such varied subjects as the Turkish invasion of Cyprus, his personal experience with waterboarding, and his militant atheism. Hitchens was born in Britain but moved to the United States as an adult and became an American citizen. He wrote widely and often, and especially for publications like The Nation and Vanity Fair. Foreign policy was a frequent topic. He wrote The Trial of Henry Kissinger, Thomas Paine's Rights of Man, and The Enemy among other books. Hitchens, who began his career as a leftist, is perhaps best known in foreign policy circles for his adamant support of the Iraq war and for popularizing the term "Isalmofascism."
Mark Hatfield (b. 1922) served as U.S. senator from Oregon from 1967 to 1996. He is best remembered by Americans of a certain age for his opposition to the Vietnam War, a position that put him at odds with his fellow Republican, President Richard Nixon. He also co-sponsored a nuclear freeze resolution in the early 1980s, a stance that won him fans with a younger generation of Americans. Hatfield served in the Navy in the Pacific Theater during World War II. He was a college professor and administrator before serving two terms as Oregon's governor. Hatfield remains the longest-serving Oregon senator in history.
Bayless Manning (b 1923) was the first full-time president of the Council on Foreign Relations. During his service in the Army during World War II, he helped break the Japanese naval code. After graduating first in his class from Yale Law School, Manning clerked for the Supreme Court. He later returned to Yale, and then became Dean of the Stanford Law School. He published pioneering work on corporate law and legal ethics. Manning coined the term "intermestic" to describe the growth of issues that crossed traditional foreign and domestic policy lines. The term never really caught on, but it aptly described (long before most people recognized it) one of the fundamental realities of a globalized, interconnected world.
Charles Percy (b. 1919) was a three-time U.S. senator from Illinois and chairman of the Senate Foreign Relations Committee from 1981 to 1985. Percy was something of a boy wonder. He became president of Bell & Howell, a manufacturer of motion picture equipment, at the age of 29. A liberal Republican, Percy was first elected to the U.S. Senate in 1966. He often was at odds with Richard Nixon; in 1973 he sponsored a Senate resolution, which was unanimously adopted, demanding that Nixon appoint an independent prosecutor to investigate the Watergate scandal. He tried to champion a bipartisan foreign policy during his tenure as chairman of the Foreign Relations Committee, telling the Chicago Tribune: "I don't want foreign policy developed just by one party and ride roughshod over the other party." Percy narrowly lost his bid for a fourth term in 1984 to Paul Simon.
John Shalikashvili (b. 1936) was chairman of the Joint Chiefs of Staff from 1993 to 1997. Born in Poland to Georgian refugees, he became the first person born overseas to become chairman of the Joint Chiefs. Drafted into the Army a few months after he became an American citizen, Shalikashvili also became the first draftee to rise to the military's top spot. Shalikashvili's many positions in the U.S. Army included supreme allied commander for NATO and commander of all U.S. armed forces in Europe. After retiring from the military, Shalikashvili made headlines for changing his mind on "don't ask don't tell," a policy he supported as chairman.
Sargent Shriver (b. 1915) was the founding director of the Peace Corps and President John Kennedy's brother-in-law. Shriver initially opposed U.S. entry into World War II, and he helped found the America First Committee at Yale Law School. After Pearl Harbor, he volunteered for the Navy. After the war he met and married Eunice Kennedy, John Kennedy's sister. After Kennedy's assassination, Shriver remained in politics, helping President Johnson craft the "War on Poverty" and the Office of Economic Opportunity. He served as ambassador to France at the end of the Johnson administration. Shriver was the vice presidential candidate on George McGovern's 1972 presidential ticket, and he unsuccessfully sought the Democratic nomination in 1976.
Howard Wolpe (b. 1939) was a seven-term Democratic representative for Michigan who is best remembered for being the lead sponsor of the Comprehensive Anti-Apartheid Act of 1986, which placed sanctions on American companies that did business in South Africa and helped end white-only rule in Pretoria. (The Anti-Apartheid Act is the last significant piece of foreign policy legislation to be passed over a presidential veto.) When Nelson Mandela was released from prison in 1990, four years after the bill passed, one of his first calls was to Wolpe to say thank you. Trained as a political scientist, Wolpe chaired the Subcommittee on Africa for the House Foreign Affairs Committee and remained involved in Africa issues after his retirement from the House in 1992. During the Clinton administration, Wolpe was a Special Envoy to the Great Lakes region, working to end the civil wars in Burundi and the Democratic Republic of Congo.