Thailand and Cambodia Fighting Again Over Preah Vihear
April 26, 2011
Blog Post

Blog posts represent the views of CFR fellows and staff and not those of CFR, which takes no institutional positions.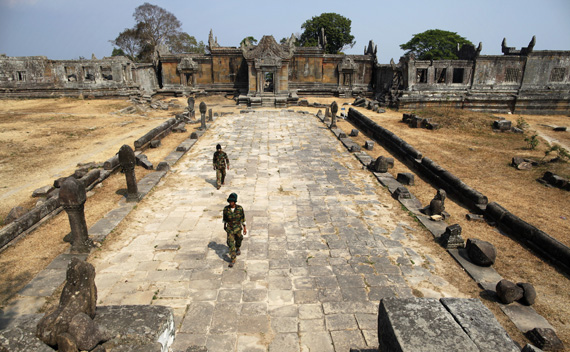 Over the past week, fighting has flared again between Thailand and Cambodia over the disputed Preah Vihear border temple. Already, in the past week, at least thirteen people have been killed in the last week as the two sides have exchanged heavy rifle and mortar fire.
Now, this is a tragedy, of course – soldiers and civilians dying over a disputed UNESCO World Heritage Site, and one that has been fought over for decades. But as Bangkok Pundit notes in an interesting blog post, it is important to remember that there is a critical domestic component to this conflict. Thailand is facing national elections within the next two months, and the Thai military, which has over the past five years regained a central role in politics, wants to show that it alone can guard the nation's security, and so deserves to continue playing that central role, rather than turning over power to real civilian rule.
The army has taken other steps recently to cement its power. Army chief Prayuth chan-Ocha increasingly has used the lèse majesté law to attack any government critics, explicitly putting the army in the center of the most important political battles in Thailand. Unfortunately, with Preah Vihear, this attempt by the Thai army is not only damaging Thailand's reputation but also costing lives.